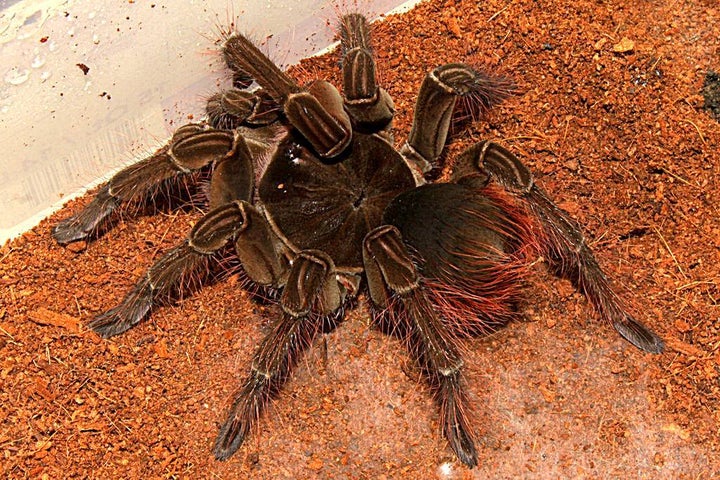 Would anyone like to adopt an orphaned creepy, cuddly tarantula? Although it's not unusual for couples with dogs or cats to separate, it's stranger than fiction when a separated Brighton couple abandoned their 200 pet tarantulas. Even worse, neither "parent" wanted custody of the furry orphans. Clearly, the former couple got overwhelmed and could no longer care for the tarantulas. Unfortunately, people who hoard animals, reptiles, and junk often encounter a similar problem.
So anyone who can offer a loving home to a tarantula on skid row should contact Brighton's Royal Society for the Prevention of Cruelty to Animals (RSPCA). The RSPCA is a U.K. based charity that rescues a wide assortment of abused animals. According to the charity's website, they take in foxes, dogs, cats, chickens, reptiles, and more.
Won't you consider adopting a homeless tarantula? Okay, so it's not as loyal as a dog and it won't play with yarn. But, it will impress your friends and family. You could become the talk of your neighborhood if you owned a bird-eating spider. For instance, the next time a neighbor brags about his dog, you can tell him you own a Burgundy Goliath Birdeater with legs that can grow up to ten inches long. Any spider that can eat a bird makes a great conversation starter.
If you aren't into spiders that eat birds, consider adopting one of these arachnids: Venezuelan Sun Tiger, Vietnam Blue, Brazilian White Knee, Arizona Blonde, Thai Rusty Earth Tiger, a Trinidad Chevron, or a Natal Brown Bird eater.
For now, the charity has to feed the spiders and get them healthy because they're underweight. The charity is hoping that experienced spider owners will adopt a new tarantula. The goal is to place them into a good environment. If you would like to adopt a furry eight-legged spider, you will need to visit Brighton in the U.K.
Popular in the Community