Who knows why we do what we do in life ... but we are all moved by an impulse deep in our hearts. When the spirit stares, it moves us into action, that is exactly what motivated me to get involved with theAdopt a Native Elder program.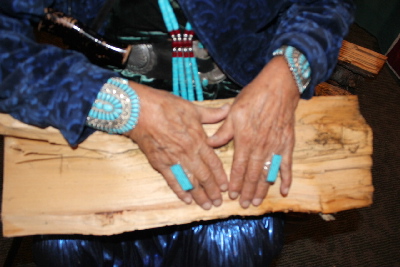 Linda Myers and Grace Yellow Hammer's endless drive over the last two decades has made Adopt a Native Elder program what it is today. More than 2,500 people from all over the world volunteer their time, expertise and love to raise money for one of the poorest demographics in America. But though they may be poor monetarily, they are some of the richest people in the world culturally. I'm talking about the Navajo, or more correctly, Dine' Elders who live traditionally in hogans with dirt floors and no running water or electricity. Most live simple but harsh lives, raising their sheep in the remote areas of Arizona and turning their wool into incredible works of art by creating their world famous Navajo rugs.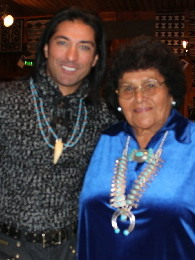 No two rugs are the same and each one is truly a piece of Sacred Art. The weavers are inspired by the spirit to weave the patterns that they see in their minds eye as they pray. Each rug carries positive vibrations and by taking one home, you raise the spiritual elevation of your home and feel the peace it brings to your family.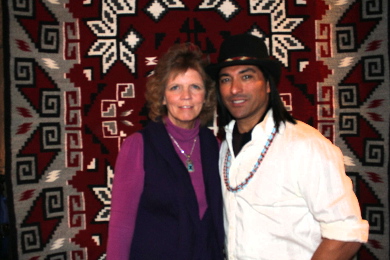 This grass roots organization has been give the highest possible rating -- four stars -- by Charity Navigator, America's premier independent charity evaluator. A four star rating means Adopt a Native Elder returns maximum funds raised to the elders they represent.
The selfless volunteers, who are as varied as the colors of the rainbow, support over 500 Elders on three different reservations in Arizona and Utah. We have two food and medicine runs each year that depend on donations. And we have the spectacular Annual Navajo Rug Show and Sale each November that is much more than just a trading show -- it's a true cultural festival and well worth the trip to Park City Utah!

My Warming Hearts program was born out of necessity, for the harsh winters are building in intensity and most of the Elders count on their fire wood to stay alive. It's just that simple and that serious folks.
Warming Hearts belongs to the ANE program. My focus is to raise much needed Fire Wood money for the harsh winters ahead. But what is most moving to me is that each year many folks that I have not met in person, take the risk by leaving their homes or states or country behind to travel to Park City Utah to volunteer their time at the annual Navajo Rug show which is held each year at the Snow Lodge in Deer Valley.
I'm also extremely proud of the volunteers who travel from the far corners of the world to give their time and energy to the food runs. Cherie Foster from Perth, Australia, tells her own story in these two ANE blog posts:
There are many reasons my life as an actor in Hollywood has benefits, but none more gratifying than for me to witness this act of generosity from total strangers who come to support a cause that is dear to my heart.
These are not fans or followers; these folks are what I call "Spirit Volunteers" and they come from all walks of life. Like Deborah and her son, Cartaze who both came from the Washington DC area. Cartaze is in a wheel chair, but that did not stop his mom and him from following their hearts to help out and learn from the Navajo Elders present at the rug show.
There are many stories like this: Rosita -- a talented young artist -- is another Spirit Volunteer who comes each year all the way from Holland to be part of the weekend festivities! Robert Doran is another example. He used his few vacation days to drive seven hours from Las Vegas to volunteer at the rug show with his wife, Margaret.
I also owe thanks to Masuda Medcalf, a judge in Utah, and writer Margaret Johnson Doran for spearheading the collective efforts to make Warming Hearts a reality. There are many others who equally deserve mention: Celeste Williams and Wendy Sandborn, for instance. I'm grateful to all of you!
I can go on, but for me, more than any fame in my show business career these kinds of selfless acts are what show me I am on the right track; and that beyond the superficial fame and glory of the entrainment business exists this realm where I can use the attention I get to motivate others in the right path. I don't take any credit for these folks. I am but a catalyst who is also a gate keeper; I point the way and watch the rest happen as it was meant to be.
Please take the time to check out my program Warming Hearts. The harsh winters are here and the Elders need the fire wood more than ever.
(Photos from top to bottom: Elders rely on firewood for life, Jay with Grace Yellowhammer at 2010 rug show, Jay with Linda Myers at 2010 rug show, Weavers demonstration at 2010 rug show, Jay with Deborah Frierson and Cartaze Frierson at 2010 rug show. All photos by Jay Tavare)
Popular in the Community