Little Miss Lexi and her sister, Pumpkin, are spokes-pups for Posh Pets Rescue in NYC, and they want you to consider adopting special needs and senior rescue dogs before hitting the pet shop.
Do you feel that dogs like you are often unfairly passed over for more able-bodied puppies?
Lexi: I see a lot of dogs that are passed over because they are not puppies, not a purebred, or have special needs. That is why I go to events and educate people that us special needs dogs are just as lively, friendly, loveable and trainable as any other dog. After seeing my winning personality and answering their questions, they realize that finding a pet that works with their lifestyle and personality is how you find your forever pet. When people see me out and about, a lot of them will say, "Awwwww." For the longest time, I thought that was my walking name.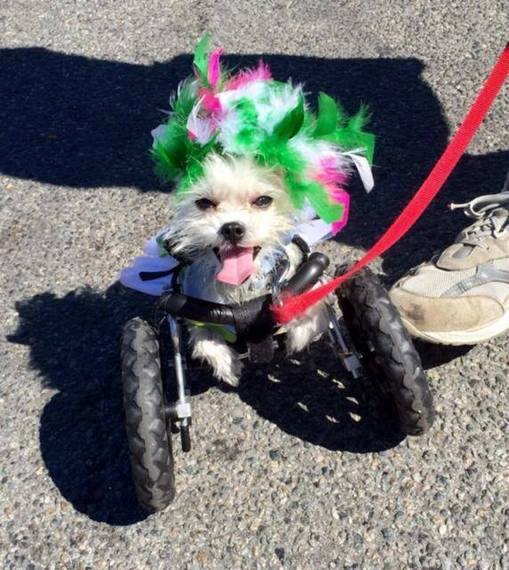 What is the biggest obstacle you've had to overcome?
Lexi: I was rescued when I was three months old and was afraid of strangers. Mommy said I would just scream if anyone came by me. I had to do this thing called socialization. This is why I went to work with her, where I oversee a few humans who handle my social media accounts. Since I'm a great worker, they made me the Director of Public Relations.
Don't you mean PupLick relations?
OMG. That's perfect. Mom, can you get to work on that? Thanks.
Pumpkin: I was an eight-year-old stray in Brooklyn with a broken back when I was taken into a very noisy shelter. Miss Linda from Posh Pets Rescue took me to special doctors to look at my back. My spine was severed and if they did the surgery, there was only a 5% chance of me walking. My front legs became weak while I was healing, so I had to do exercises to build up my strength. I would like you all to know that I mastered my chair a lot faster than Lexi.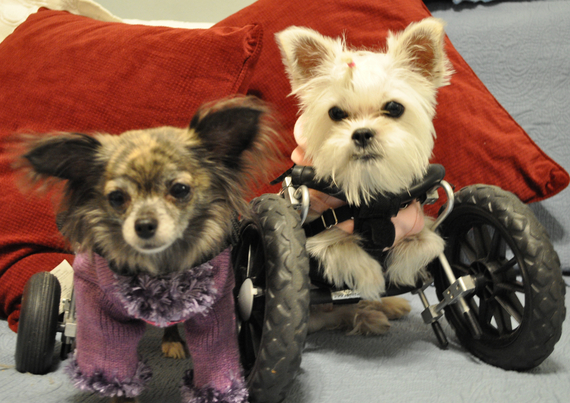 Tell me about the wheels.
Lexi: I was born with two front legs that didn't work, so I just hopped around like a bunny. I still do when I am not in my cart. The trickiest thing was learning to steer. My new biggest challenge is sleeping in the big bed with mommy and daddy. I have this strong desire to bounce on the bed, and they're afraid I'll bounce right off.
Pumpkin: I think it's funny when Lexi is removed from the big bed. We keep telling her not to bounce, but she's young and not a very good listener. She also didn't mention how she tips over in her wheels whenever she tries to show off.
How do other dogs react to your ride? Do they dig the wheels?
Pumpkin: Unlike Lexi, I'm very slow moving when I go out for walks. If we do meet other dogs, I prefer to just watch.
Is there a message you'd like to give people who are going to pet stores or breeders this holiday season?
Lexi: We have one thing to say: Adopt Don't Shop. A lot of our rescued friends were purchased at a store only to be surrendered to the shelter months later because they were impulse buys. The people never trained them and discovered they had no time for them. If you're thinking about getting a dog or cat as a family member, then do your research. One of the best ways to see if you are ready for a pet is to foster one first.
Pumpkin: If the pet stores put up the pictures of the conditions of the puppy mills these puppies and kittens came from, people would be horrified.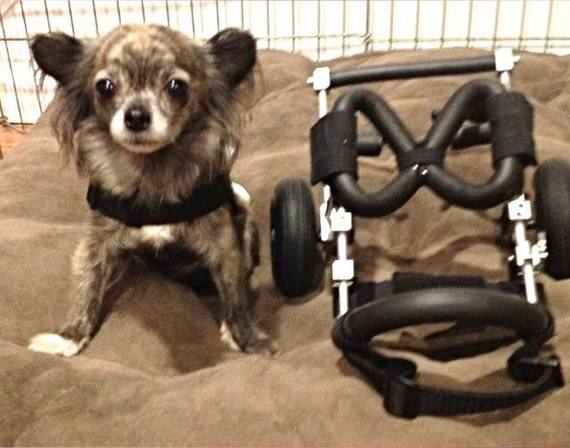 What was it like meeting your new mommy and daddy for the first time?
Pumpkin: I was only coming here to "get measured for my cart" but we all knew I was staying. I am still in the process of training the humans to my way of things.
What is it that makes you a Posh Pet?
Pumpkin: Any rescued animal that is taken into Posh Pets Rescue automatically becomes a "Posh" pet. Many of us come in looking really bad and have medical issues. By the time we are placed for adoption, we have a stylish new look, our medical issues have been dealt with, and we are spayed/neutered and up-to-date with our vaccinations. Since we are placed in foster homes, our foster families teach us manners and give of lots of love and cuddles.
What's on your Christmas wish list?
Lexi: I want to meet Santa Claus to tell him what I want. I want to have stuffed toys that squeak and to be able to sleep in the big bed.
Pumpkin: As long as Lexi bounces every time she is in the big bed, I doubt she will get that for Christmas.
You guys are quite the role models.
Lexi: Being a rescued dog, it is important that I show people that rescued dogs make great pets. I also show them how I have mastered my cart. It is great when I meet little children. Some are afraid of me, but mommy tells them this is my bike. Since they know what a bike is, they start to relax and will pet me. Most people see us for the first time and feel sorry for us, but we have great lives, fantastic wheels and a "can-do" attitude. After meeting us, they see our strengths and walk away knowing the whole world is ours to concur.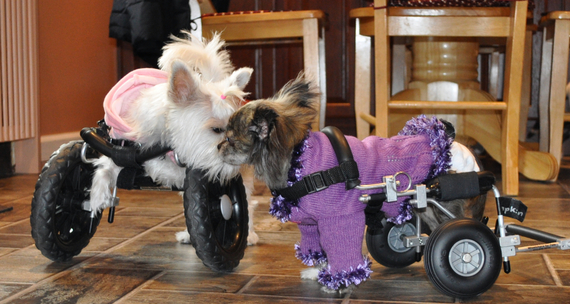 Related
Popular in the Community