For the second year, The Huffington Post is holding a week-long, community-driven effort to bust the myths and raise awareness about pit bulls, a maligned "breed" that often bears the brunt of dated, discriminatory legislation that can make it near impossible for these dogs to find a forever home. You can follow along with HuffPost Pit Bull Week here, or on social media where we'll be using the hashtag #PitBullWeek.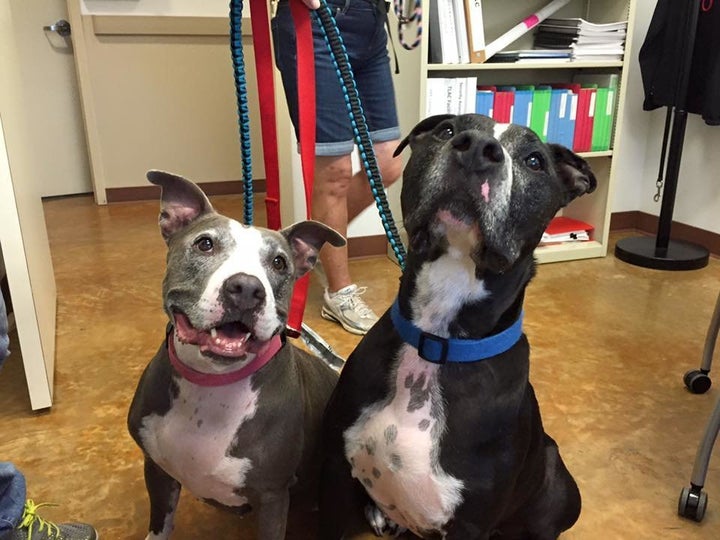 Cookie and Blue are two sweet pit bulls, who were given up about six months ago. Their previous owner moved to a rental, where blocky-headed dogs aren't allowed. 
Staff at the Austin Animal Center adore these two. They're taken on outings -- one loves to swim; the other is happy tagging along -- and get to hang around in the shelter office.
But these dogs belong at home. 
"Blue and Cookie want nothing more than to lay on either side of their person on a comfy couch," says Austin Animal Center's Kristen Auerbach. "They love each other a lot, but these low-key ladies are lonely without an adoring person hang out with."
The same can be said for each of the sweeties in this slideshow of adoptable pit bulls, representing a small percentage of the nearly 4 million dogs who enter U.S. shelters every year.
Some are young, some are old, and their life stories vary widely.
What they share is that, one and all, they are good dogs, looking for good homes, where someone will adore them -- and they can give the same right back. Probably in the form of a big slobbery kiss right on your grinning face.
Which we, of course, want to see. Show us your pits: Tag your dogs' photos for #PitBullWeek!
PHOTO GALLERY
These Pit Bulls Need Homes!
Get in touch at arin.greenwood@huffingtonpost.com!
Calling all HuffPost superfans!
Sign up for membership to become a founding member and help shape HuffPost's next chapter