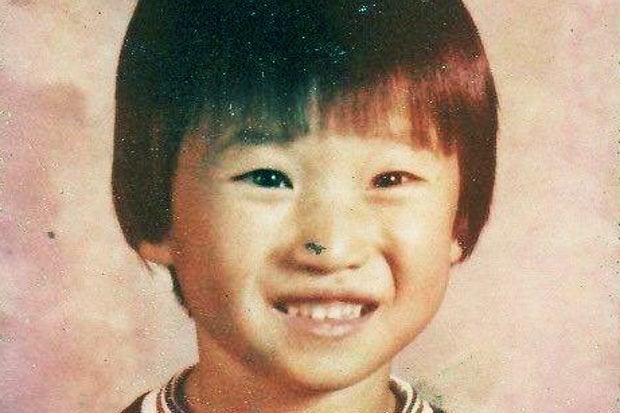 UPDATE: Oct. 27 ― A U.S. immigration judge on Thursday ordered the deportation of Adam Crapser back to his birth country of South Korea. Crapser, who was adopted in the U.S. at age 3 by parents who never completed his citizenship paperwork, has lived here for 37 years.
Judge John C. O'Dell declined to give Crapser, 40, a discretionary form of relief from deportation, known as "cancellation of removal," according to Lori Walls, Crapser's immigration attorney. Crapser, who has been detained for eight months, declined to appeal, she said.
"The judge weighed Adam's criminal history against the rest of his history (adoption, multiple instances of abandonment and unimaginable abuse, the fact that he is married and has children) and held that Adam did not deserve relief," Walls said via email.
The Korean consulate will issue a travel document for Crapser, who does not speak Korean, "within maybe a week," Walls estimated, although Immigration and Customs Enforcement may require additional time to arrange the deportation.
"Adam, his family, and advocates are heartbroken at the outcome," Walls told The Associated Press.
Like most Americans, Adam Crapser is eager to avoid any kind of run-in with the law. The difference for Crapser is that based on a few wrong moves, he could now be plucked from the U.S. and deported to an unfamiliar country ― and he's not alone.
Thousands of foreign-born adoptees raised in the U.S. are vulnerable to deportation as adults due to a failure of immigration law and inaction by their adoptive parents. Without U.S. citizenship, they can be tossed out of the only country they've ever really known.
"It's troubling that at any point, ICE could snatch me off the street and put me in a detention facility before I'm shipped off to Korea," Crapser said.
The 40-year-old Oregon resident came to the attention of the U.S. Immigration and Customs Enforcement agency when he tried to become a legal permanent resident in 2012 by applying for a green card. His adoptive parents had not filled out the paperwork to make him a citizen when he was a child, which he didn't realize until after 9/11, when he needed to produce proof of citizenship to get a job. Meanwhile, the visa on which he'd entered the country as a small child had long since lapsed.
Crapser has admitted his record is not perfect: He has a few convictions for small-time burglary, unlawful possession of a firearm and assault (he fought with a roommate). As he told The New York Times, "I've learned a lot of lessons the hard way."
But in recent years, he's tried to turn his life around. He's a married man with three daughters, and he'd like a legal job.
The U.S. government, however, hasn't issued him a green card. Without it, Crapser can't legally hold a job. At the beginning of this year, ICE agents informed him that the agency was starting deportation proceedings against him.
In a Portland, Oregon, immigration court on Thursday, Crapser filed for asylum in an effort to stay in the U.S.
"I wouldn't be able to live as a Korean. I'd be ostracized," Crapser said. "I'd be a gyu poh ― a foreign born Korean. People wouldn't associate with me because I don't know the language or the culture. "
The stay-at-home father described his current situation as "emotional." He told The Huffington Post, "It's the worrying. It's been that way for more than a year."
If he is sent back to South Korea after nearly four decades here, Crapser said, "All they would be doing is repeating my history and making me abandon my children."
Prior to the Child Citizenship Act of 2000, foreign-born children adopted by U.S. citizens entered the country as permanent residents, according to attorney Dan Berger, a member of the American Immigration Lawyers Association. After the typically lengthy and expensive process of adopting children from overseas, Berger said, many parents would "take a breath" and not apply for citizenship for their child.
"They weren't always realizing it was a separate application that had to be filed, with a fee," Berger said of obtaining U.S. citizenship. "The really good international adoption agencies would keep on top of this. Parents would be nagged until they did the citizenship process."
Foreign-born adoptees who have green cards can work, are eligible for a driver's license and even qualify for Social Security benefits and student loans. Unlike citizens, they can be deported, even for nonviolent misdeeds.
Time will eventually solve this problem. The 2000 bipartisan law granted automatic citizenship to an estimated 75,000 adopted children then under age 18. The law applied to future adoptees as well.
But it was not retroactive. Those like Crapser who were already over 18 as of Feb. 27, 2001, were left off the welcome wagon.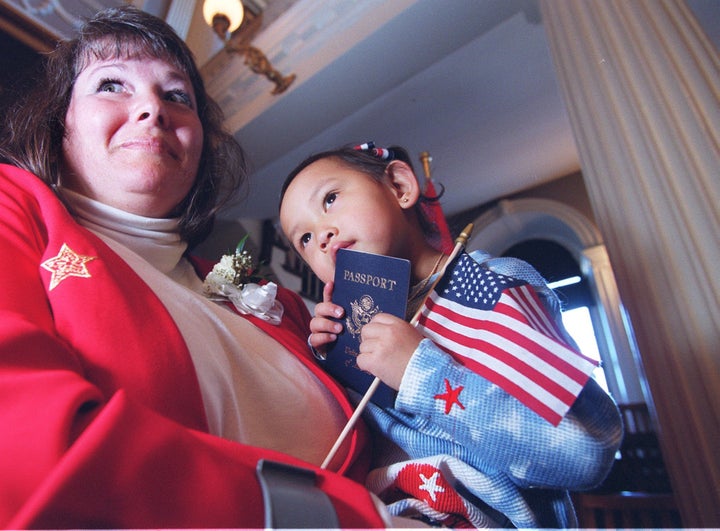 Crapser, in his 20s when the law was passed, had already tried for several years to regain legal resident status. For a long time, he was thwarted by his adoptive parents, who refused to give him his adoption paperwork.
"That's the toughest part -- I tried to get this rectified on my own, but in reality, the adoptive parents hold a lot of power in the situation with the adoptee," Crapser said. "And if you have a tumultuous relationship with your adoptive parents ..."
"Tumultuous" would be a generous way to describe Crapser's relationship with the adoptive parents he called "sociopathic."
Crapser was originally adopted, along with his sister, by a Michigan couple, who relinquished the siblings after six years. The two children were split up, and Adam bounced around foster homes until he was almost 11, when he was adopted by Thomas and Dolly Crapser of Oregon.
The Crapsers had multiple adopted and foster children, though Adam Crapser said he was the only foreign-born adoptee. He said the couple regularly abused and humiliated the children. He recalls being beaten, burned and having his head slammed into door frames.
He compared his adoptive mother, a devout Jehovah's Witness, to Cruella de Vil, the "101 Dalmatians" villain obsessed with having a variety of animal furs. "It was like 'one of each' for her: They had a Latino boy, a Filipino boy, Caucasian siblings, a black girl, me," Crapser said. "We were shown off at Jehovah's Witness gatherings to make it look like she was doing Jehovah's work."
In 1991, the couple was arrested and charged with 34 counts of rape, sexual abuse and criminal mistreatment of their children. They were convicted a year later on several counts of criminal mistreatment and assault. Thomas Crapser was also convicted on one count of sexual abuse, although he served just 90 days in prison.
The Crapsers were not immediately available for comment.
Before the 2000 law, foreign-born children who had been adopted and lived nearly their whole lives in America often didn't realize that their legal status was dicey, Berger said. He noted that it was not uncommon for those who had low-income jobs or didn't travel outside the U.S. to not really grasp that they were not citizens.
"What was happening to some people is they would be on a college campus at a voter registration drive and they'd attempt to sign up and vote, not even realizing they weren't U.S. citizens," Berger said. "A lot of people don't think about immigration status, especially for people who don't travel or hold a passport."
Berger said that most foreign-born adoptees who lack citizenship only get flagged by ICE when they're in trouble, but even something as benign as trying to register to vote can be a deportable offense.
"It's making a false claim to U.S. citizenship," Berger explained.
He also noted that deportation efforts have been noticeably aggressive in recent years. President Barack Obama's administration has overseen more deportations than any preceding president, Reuters wrote earlier this year.
Sen. Amy Klobuchar (D-Minn.) is trying to help people like Crapser stay in the country. In November, she introduced an amendment to make the 2000 law retroactive.
"All I wanted was to get a chance to be the best American I can be -- get a leg up, go to college," Crapser said. "I feel like an American, but I don't feel like I have the rights of an American. I feel like a second-class citizen."
Also on HuffPost: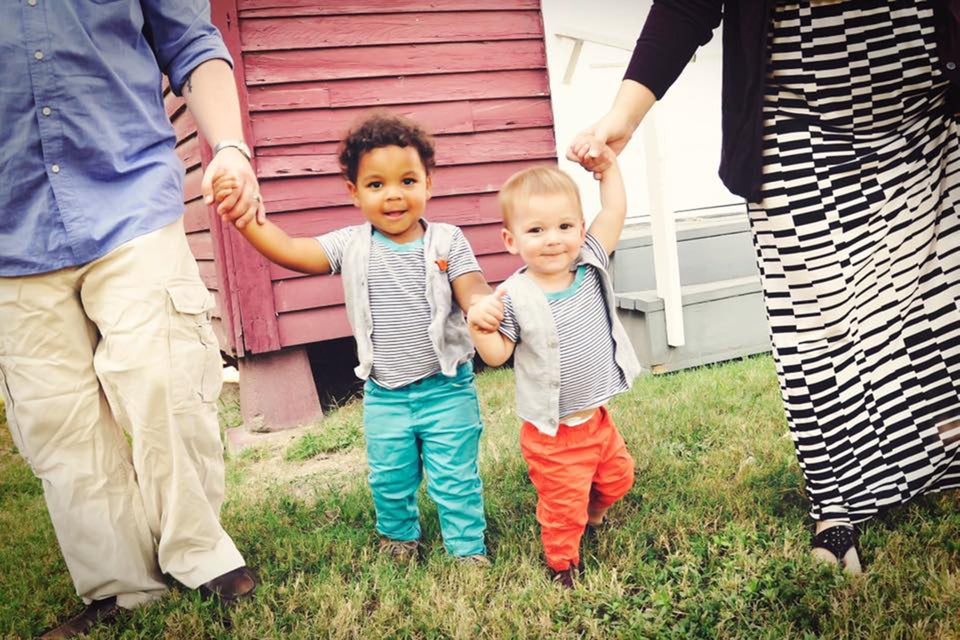 Photos That Show Adopted Siblings Are 'Real' Siblings Too
Popular in the Community