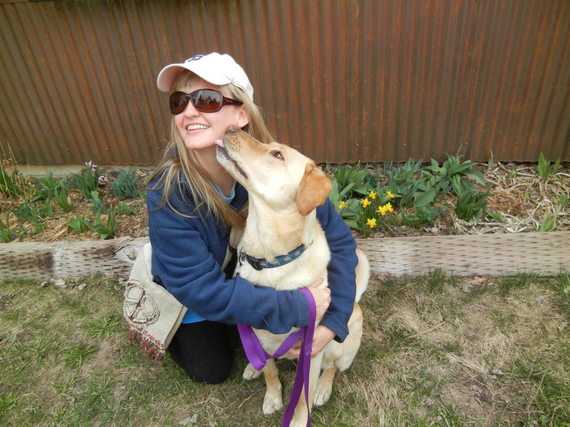 Five years ago when I was staring down 40, my life radically changed when my husband and I adopted our first dog from a shelter in New Mexico. Rio was a curious, affectionate little Labrador retriever mix who has grown into a goofy lover of life. Meanwhile, I've grown into the type of person who asks if it's OK to bring my dog to parties, drinks tea out of a "Dog Mom" mug, and thinks dog hair is a fashion accessory.
But the thing is: I'm not alone. Dog moms are a tribe. Sure, there are various levels of "crazy dog lady" -- I still don't clean Rio's butt with a hygienic wipe after he poops, though never say never, I suppose -- but loving dogs is a cool bond to share with another woman. I'll even go so far as to say adopting a dog can be a feminist act, because it opens the door to interactions with such a broad spectrum of women.
Dogs are awesome ice breakers -- they force us to go outside, where it's the easiest thing in the world to start chatting about our pets. I loved meeting the seemingly prim-and-proper senior woman with a standard poodle named Stella who revealed a wilder side when she grinned and said, "All my dogs are named after beer." I bought a drink for the woman sitting next to me on an airplane who was terrified to fly, mainly out of fear for the Chihuahua sleeping in a crate under the seat. And at rest areas and dog parks around the country, I've chatted with women ranging from housewives and corporate executives to a memorable toothless woman at a Las Vegas dog park who offered me a drag from her joint.
I've felt like an American ambassador to foreigners who make a beeline for Rio, like the German tourist who spoke no English but showed photos of her yellow Lab and repeatedly said, "Guten" as she stroked Rio's ears. I do the same when I'm abroad; one of my favorite memories of London was stumbling across a pug meetup in a park near Buckingham Palace and bragging to a bemused woman that my dog is married to a pug (my nieces threw an elaborate wedding for them, and the groom ate the bride's bouquet).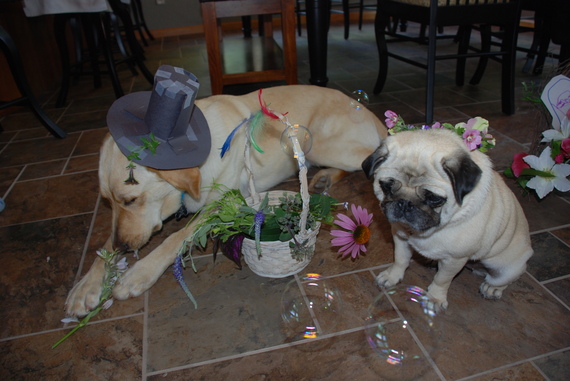 A study earlier this year by researchers at Harvard University and other prestigious institutions found dogs work as a catalyst for "friendship formation" and building social support networks. I've certainly found that to be true. I met my good friend Marija at the local dog park when Rio was flirting with her black Lab, Zoe. Marija is smart, funny and has stories about running a café for bikers in San Francisco, getting a PhD in biology and her concern that people hiking without dogs must be sociopaths.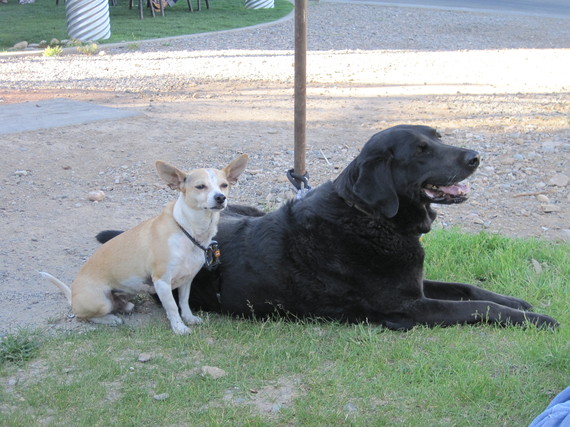 Having a dog has also brought me closer with women I knew before Rio changed everything. Unlike "sociopaths," we hike with our dogs, have doggy playdates that involve wine, cheese and pig ears, and go to special events at bars with "yappy hours" for dogs. Nobody blinked an eye when I admitted to keeping treats in my bra while I was training Rio; instead, my friend Faith cheered, "Bra-hides!"
A few years ago I was nervous about my first face-to-face meeting with a work colleague. We both telecommute, so I'd known her only through phone calls and emails before she showed up at my house with her dogs. But I shouldn't have worried. While the dogs played in the backyard, she told me about the affinity her blue heeler mix has for eating her dirty laundry. "Once he ate a florescent green G-string -- then pooped it out when my new boyfriend was dog sitting. He told me, 'I was hoping the first time I saw your underwear wouldn't be like that!'" she said while waving off their subsequent break up. That day, we graduated from "work colleagues" to "friends."
Adopting Rio also introduced me to my new heroes: rescue advocates. Women who work in rescue are some of the fiercest people I know. (Shout out to the guys too, of course!) They drive through the night to transport sick dogs to shelters, wash abandoned pups and then foster them in their homes, spend their weekends volunteering at spay/neuter clinics. Their passion is so inspiring.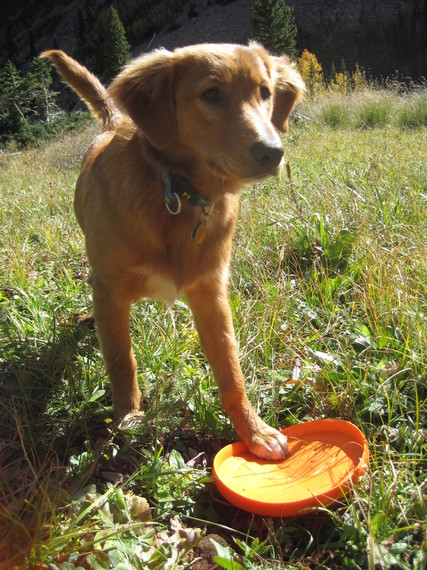 Which brings me to an important point: October is Adopt-A-Dog Month, so if you're thinking about adopting a dog and entering the world's greatest sorority - dog moms - there's no time like the present. Wags, women and bra-hides await!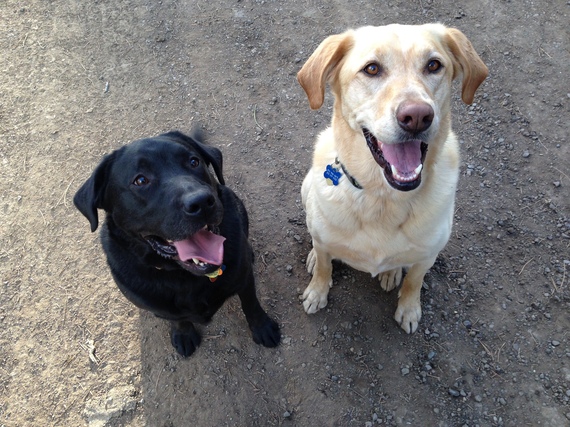 To browse a searchable database of adoptable dogs in the United States, Canada and Mexico, visit: www.petfinder.com.
Calling all HuffPost superfans!
Sign up for membership to become a founding member and help shape HuffPost's next chapter