This little teddy bear of a dog had a loving home for the first 9 years of his life, but Chewy's situation changed and his family could no longer keep him.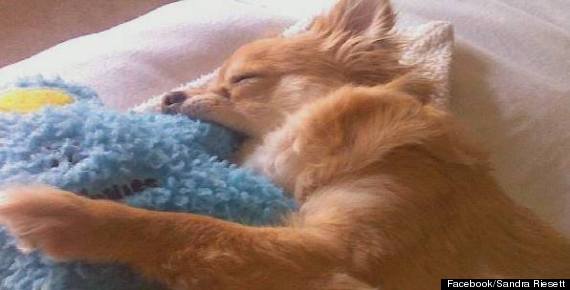 Greta Engle saw the plea and offered to foster Chewy in her home outside Baltimore, where she lives with two sons, two cats and a little Frenchie pup. So just around the holidays, Chewy was dropped off by his bereft former owner, along with "two beds, a bag of toys, a case of clothes and lots of goodbye kisses," says Engle. "However things came to a head, we were just really glad to help because it's sad for everyone."
Chewy has fit right in, snuggling and napping with his human brothers and begging for morsels of food in charming ways that make it hard to keep him at a healthy weight.
"We love him so much already," says Engle, but she can't keep Chewy forever. Her home is very full, and this situation was temporary from the start.
"I wish more people would treat pets like members of their family, and committed to that furry buddy for their lifetime. Boy that would be a wonderful miracle," says Engle. "Fortunately there are a lot of great people who really care."
We'd take them all these critters ourselves, it goes without saying. But we don't want to deny you the pleasure of bringing home Wilbur the friendly bunny, or tiny Chewy himself. There's also sweet Margo the cat and Natalie the pig, who will grow very big -- and, well, take a look for yourself at these 50 wonderful pets of all shapes and sizes who'd love nothing more than to help warm up your winter:
PHOTO GALLERY
These Pets Are Looking For Homes!
The pets in this slideshow come from shelters and rescue groups across the country -- which provided the information and photos in the adoption listings -- including: Best Friends Animal Society, Animal Allies, Barkie's Legacy, the Washington Animal Rescue League, the Animal Welfare League of Arlington, the Humane Society of Calvert County, PAWS Chicago, Animal Care & Control of NYC, the Humane Society of Utah, the Washington Humane Society, the Kauai Humane Society, the Humane Society Silicon Valley, the Austin Animal Center, the Kansas City Pet Project, SPCA of Southwest Michigan, All Species Kinship, the Providence Animal Rescue League and P.A.W.S. of Dearborn County Humane Center.
Know a rescue doing great work? Have another animal story to share? Get in touch at arin.greenwood@huffingtonpost.com!
Calling all HuffPost superfans!
Sign up for membership to become a founding member and help shape HuffPost's next chapter