If you're considering the addition of a furry, four-legged animal of the feline variety to your family, then congratulations! I hope you're adopting a cat so that all shelter pets can find a forever home.
Before you bring your new cat or kitten into your home, here are nine important things about cat parenthood I wish someone had told me before I adopted my first cat.
1. You'll Have An 'Aha' Moment When You Realize Your 'Cat Owner' Status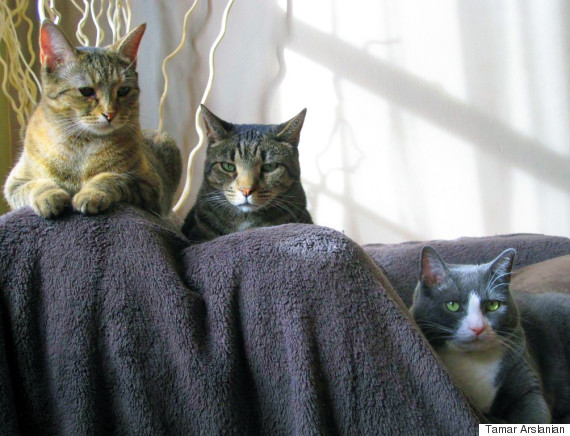 There will be a moment when the responsibility of bringing a living, breathing, sentient creature into your home will hit you. For me it was the day the vet handed me a prescription written out to "Petie Arslanian" -- my cat officially had my last name. Seeing it in writing made it incredibly real. I panicked. When did this happen?! Had I missed the court hearing?
Don't panic. You can do this! Soon, I was filling Petie's prescriptions without batting an eye.
2. Fostering Is A Great Way To 'Test Drive' A Cat
A cat's first impression of you should not come while he or she is inside a cage at a shelter, given that cats are often scared and masking their true personality when cooped up. After our first meeting, I thought my first cat, Kip, was a docile lap cat. Turns out, he was just depressed from being inside a cage on adoption day. The moment I got him home, he leapt out of the carrier and proved his true, energetic stripes. (Thankfully, he's mellowed out since.)
Fostering allows you to get to know a cat and what he or she is really like. Even if you decide the cat is not for you permanently, a foster home provides cats with cage-free time and socialization! Win-win!
3. If You Have More Than 1 Cat, Don't Feel Bad If You Have A Favorite
Playing favorites with cats is normal. I love all three of my cats, but the one I miss the most when I'm away is Kip, and not because he's my "first born" (er, first adopted). Kip is what's often referred to as a "heart" cat. He's the most in-tune with my emotions. Whenever I'm sick or sad, he's right by my side. (I suspect parents feel the same about their two-legged children, though they'd likely never admit it!)
4. It Is Possible To Lose Kittens (Even In A 1-Bedroom Apartment)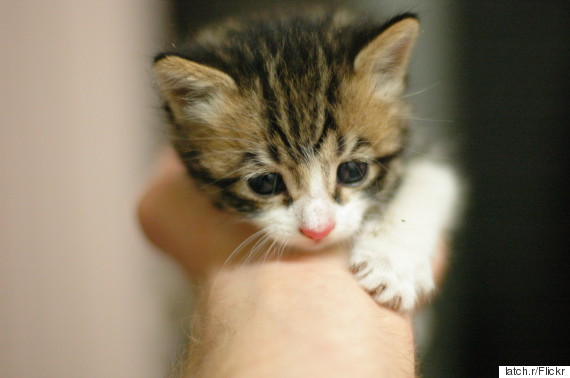 Take a deep breath. Kittens have magical abilities that allow them to squeeze into spaces you never knew existed! I once lost three foster kittens for 24 hours. I turned every piece of furniture upside down -- still no kittens. I worried myself to sleep that night. The next morning, as I was dialing the rescue agency to confess my ineptitude as a foster parent, three little heads popped out from under the same sofa I'd turned on its end the night before. "Um," I stuttered when the phone was answered, "wrong number."
Now, I highly recommend keeping kittens in cages with narrow bars at all times unless you are supervising or can keep them confined to one room.
5. The Term 'Foster Failure' Was Coined For A Reason
If you decide to go the foster route, let this be a warning that you may end up with a "foster failure" -- or in my case, a cat squatter. As a single woman, I never intended to have three cats. Yet when I fostered my third cat, Haddie, she avoided adoption day at all costs (hiding, or simply playing hard-to-get until I gave up). While adopting her permanently was unplanned, I love her dearly.
6. At Some Point, Your Cat Will Puke On Your Carpet (Or Some Other Fabric In Your Home)
Puking is usually a side effect of a lodged fur ball, and the sight of it may be shocking or even repulsive at first. Long-haired cats and cats that groom often are usually the biggest culprits of these spit-ups. Brushing your cat regularly with a high-quality comb -- I swear by the FURminator -- can reduce the hacking up of fur balls.
7. Consider Adopting An Adult Cat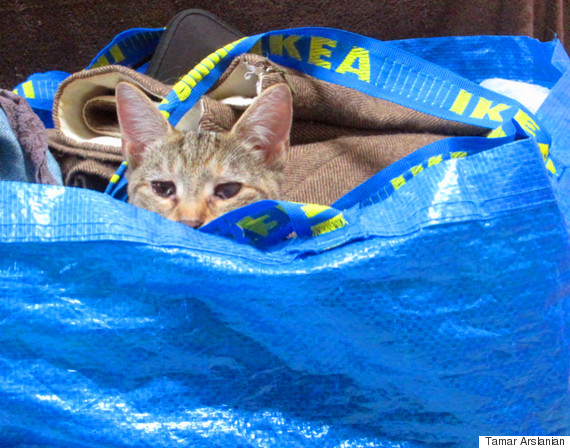 Kittens are adorable, but they don't stay tiny for long … and boy, can they wreak havoc on your home! By adopting a more mature cat, you take the guesswork out of adoption. You'll know exactly what you're getting in terms of personality and temperament -- like if he or she will be a lap cat, a curious cat, a busy body or will play well with others.
8. If Your Furniture Is Very Important To You, Adopt A Cat That's Already Been Declawed
First off, not all cats scratch. So fostering-to-adopt (FTA) is another way to find out if your kitty has the scratching tendency. Whatever you do, avoid declawing, as the practice has been found to be painful and can lead to other behavioral issues like biting. The procedure entails amputation up to the first joint -- not just removal of the claw, as many falsely assume.
There are many "surrendered" cats that have already been declawed and are looking for forever homes. They may be the perfect match for you!
9. Last But Not Least: Invest In A Lint Roller Immediately
I literally have a lint roller in every room of my home and every purse I carry. If you don't like the idea of the waste produced by all those sticky sheets, then a damp rag, sponge or even a rubber dishwashing glove does the trick just as well.
Adopting a cat will surely prove to be a life-enhancing and entertaining experience. My cats have brought me much joy and comfort, and I wish the same for you.
Purina Cat Chow, through its "Building Better Lives" program, has donated nearly $600,000 to more than 100 cat-focused shelters nationwide and helped improve the lives of more than 86,000 cats during the past three years. You can help by adopting a rescue cat, donating much-needed supplies or volunteering at a pet shelter near you.