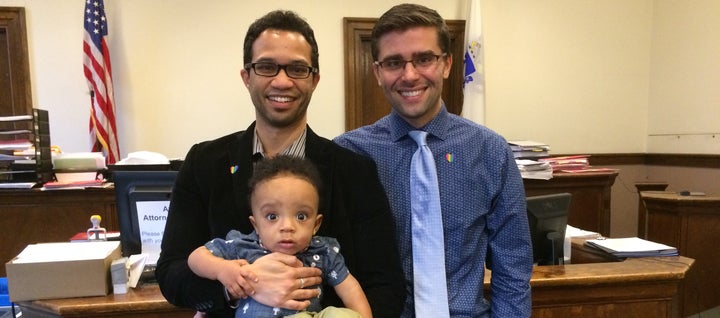 Anyone seeking to adopt knows that it can be expensive. One nonprofit organization, however, offers an "equality-based adoption grant program" and is actively seeking LGBTQ prospective parents, among others.
Helpusadopt.org was founded in 2007 by spouses Becky and Kipp Fawcett, after their own infertility struggle and adoption process. They depleted most of their savings doing so, and decided they wanted to help other adoptive families who might be facing even greater financial obstacles.
Becky told me in a phone interview that she initially wanted to find an adoption-grant organization and offer her services as a publicist pro bono. She discovered, however, that none of the ones she found welcomed same-sex or single parents—and that wasn't the kind of organization she wanted to support. She and Kipp therefore decided to start their own.
Private adoptions may range from $20,000 to $45,000, according to the Child Welfare Information Gateway. International ones average between $20,000 and $50,000. Helpusadopt.org can help defray some of those costs with grants of $500 to $15,000, aimed at prospective adoptive parents who have already completed a home study. Their grants, they say, "are intended to help the grant recipient complete their adoption so that they can bring their child/children home."
Now they have a staff of five and a board of 18. To date, they have awarded 208 grants totaling more than $1.8 million dollars. Grantees have included same-sex and single parents as well as different-sex parents, and Becky noted that transgender parents have been among them, too. "We take our diversity very seriously here," she affirmed.
A total of 16 percent of their grant money has gone to LGBTQ parents, she said, and she'd like to increase that number. Grants may be used for foster-to-adopt, international, and domestic adoptions. They may also be used for second-parent adoptions in cases where one parent is adopting to begin with (say, if adopting from a country that does not allow same-sex parents to adopt jointly), but the application must be made before the first adoption is final. Prospective applicants who have questions about whether their adoption would qualify should contact them at info@helpusadopt.org.
They award grants three times a year—their spring application deadline is April 15. There is no application fee--another point that differentiates them from many other adoption-grant organizations.
For more details and requirements, and to find out how you can help support them, please visit their website.