"We realized it was released when we were on our way to our rehearsal," Scherrer told The Huffington Post. "When we got to the dinner, we told a few of our friends who knew about it that it released and they all admitted that they had seen it. By then the local news had even picked it up. At the wedding everyone had seen it but us. We really wanted to watch it together and there was no time the day of the wedding."
"Like [Kristie] said in the film, we couldn't be more sure of the person that we're with," a misty-eyed Doucette says after viewing the finished product.
Although you don't get to see or hear much from the couple's family in the reaction video, Scherrer told HuffPost that their entire family was "deeply moved" by it.
"We don't live anywhere close to our family and never have as a couple, so I think it showed them a more intimate side of our relationship than they are used to seeing when we visit," she said. "They laughed and cried and were really proud of us."
The adorable couple first met at a cafe on their second day of school at Wagner College back in 2006. They were introduced by a mutual friend and stayed close friends until their senior year, when their friendship blossomed into something more serious.

Courtesy of the couple

Courtesy of the couple
The couple moved from New York City to Los Angeles last year. Scherrer is an account executive at a marketing firm and Doucette is an actor.
"Which means I am a very experienced bar tender," he joked.
Doucette and Scherrer said that neither of them anticipated the massive and overwhelmingly positive reception to the original video, but feel honored to have been part of the experience.
"Tavis asked if I cared if he submitted us for it and I said sure," she said. "We went to the audition during my lunch hour and I really didn't think anything of it. Then we got cast and started to learn more about the project and who was behind it. The director told us we could 'expect some people to see it.' But this kind of reaction, the responses and messages we have received, it's been incredible."
Watch their reaction video above. To see more photos from the couple's wedding and from throughout their relationship, check out the slideshow below.
Before You Go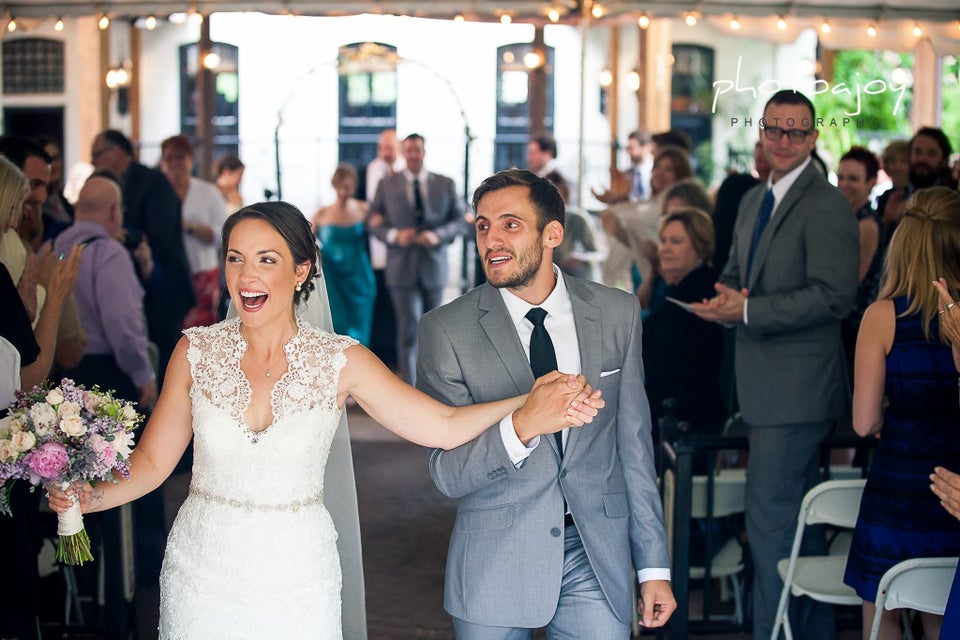 Kristie & Tavis