This adorable classroom proposal deserves an A+ in our book.
On Jan. 29, Samuel Nalbandian proposed to his teacher girlfriend Jennifer Lai at Global Education Academy 2 in Los Angeles surrounded by her first grade students.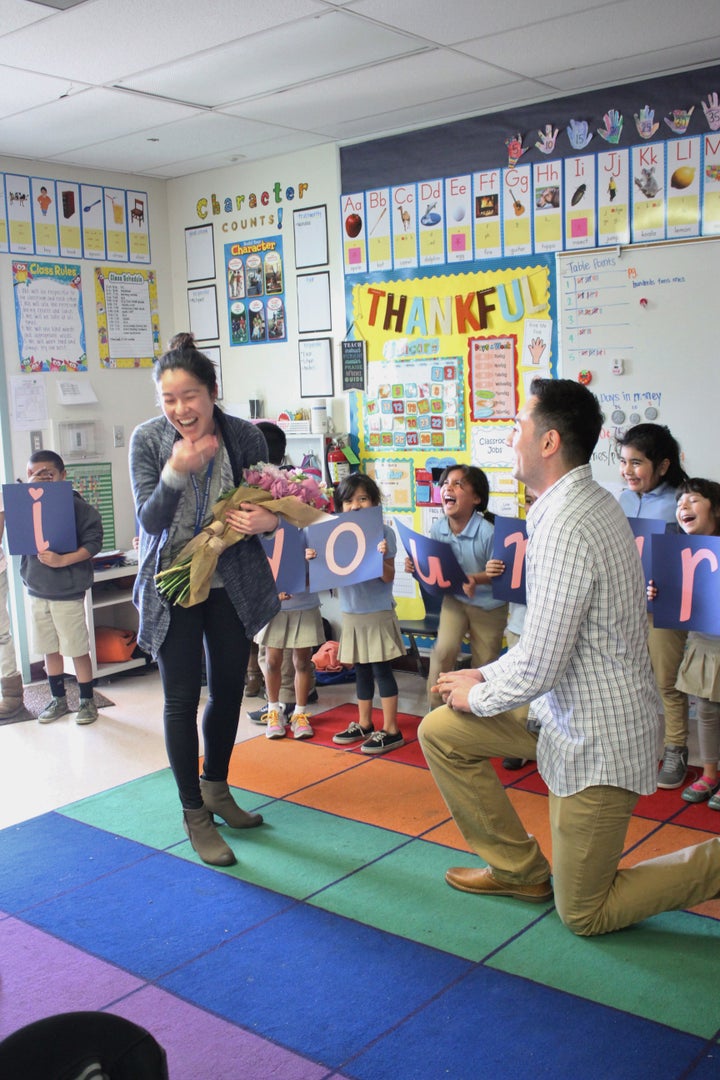 "I am not an easy person to surprise," Jennifer told The Huffington Post. "I catch on to things pretty quickly and my intuitive nature tends to make sirens go off in my head before anything has even happened."
That makes it all the more impressive that Sam was able to pull off the surprise without a hitch. It wouldn't have been possible without the help of Jennifer's sister, her friend Dianne and the principal David Warken. On the day of the proposal, they prepared the students for the surprise while Jennifer was in another classroom with some of her colleagues.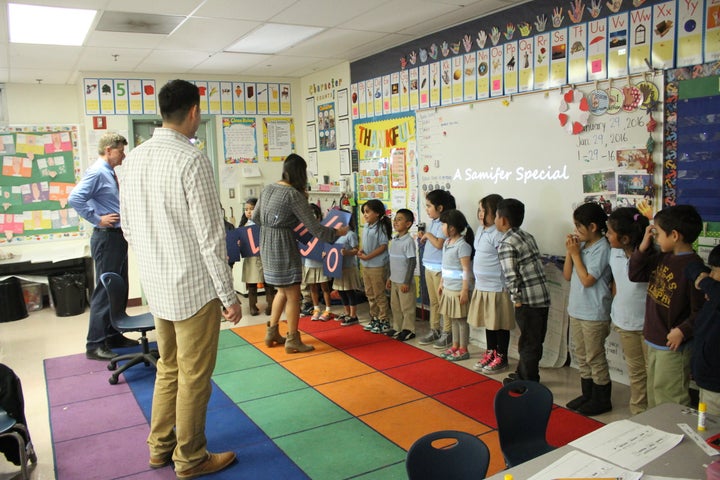 When she got back, Jennifer noticed that the kids were being unusually quiet. But before she could give it much thought, she was asked to sit down and watch a video.
"As soon as the movie title 'A Samifer Special' came onto the screen, I started freaking out!" she said. "I covered my mouth and repeated 'Oh my gosh, oh my gosh!' about a million times."
Jennifer's family had put together a video reenacting her first few dates with Sam. It was accurate down to every last detail -- the clothes, the food, the conversation.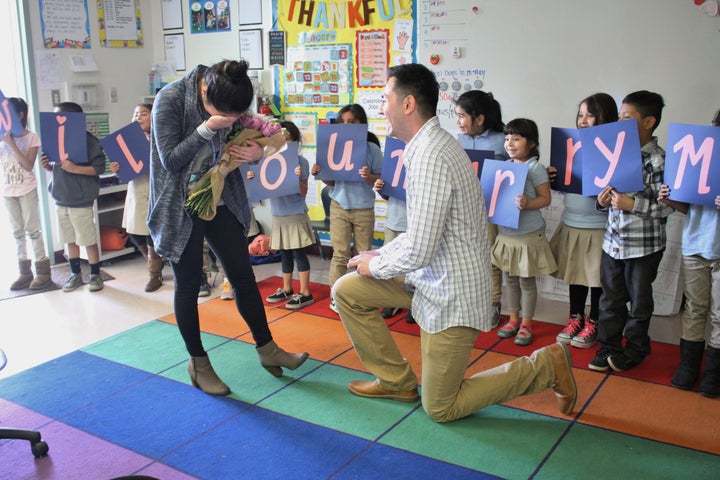 Afterwards, all the kids stood up, each holding a letter to spell out the words "Will you marry me?" That's when Sam entered with bouquet and got down on one knee.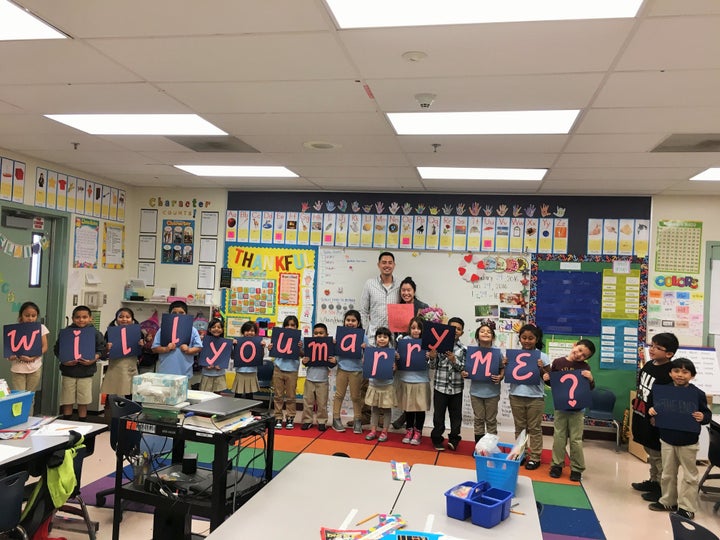 "I really didn't want to kiss in front of my students, but of course a colleague egged us on, so one peck sealed the deal!"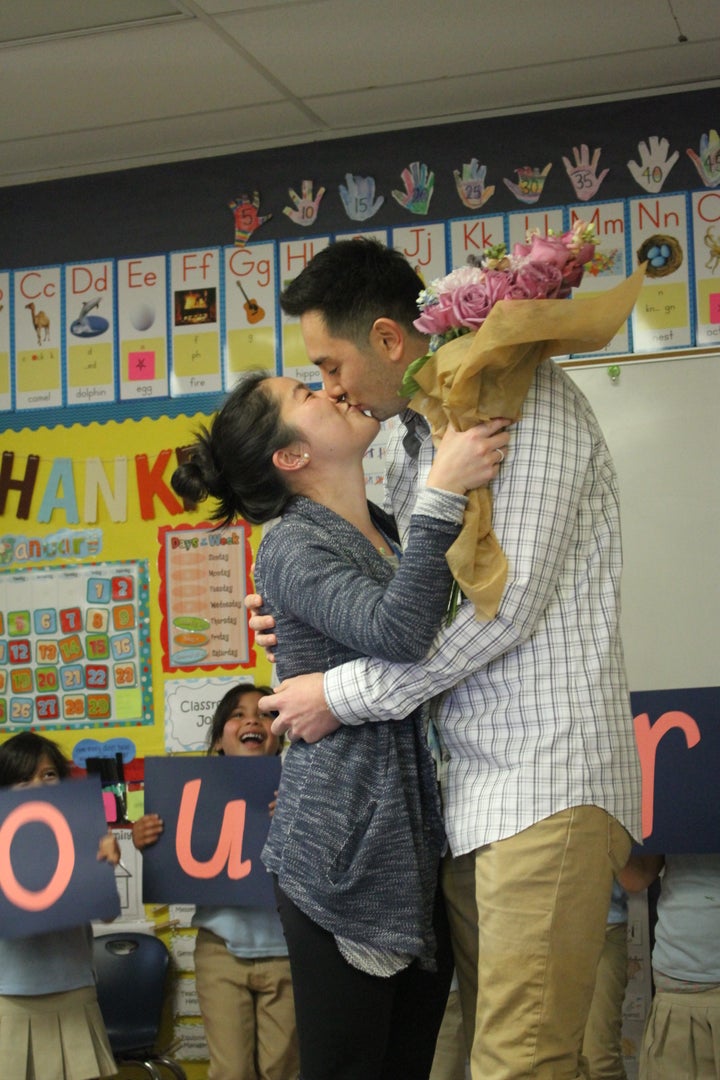 The best part of the proposal? The students' excitement about getting to be a part of it all.
"They went wild," Jennifer told HuffPost. "They were extremely giddy and squealing with excitement, and of course some of them covered their eyes when we kissed."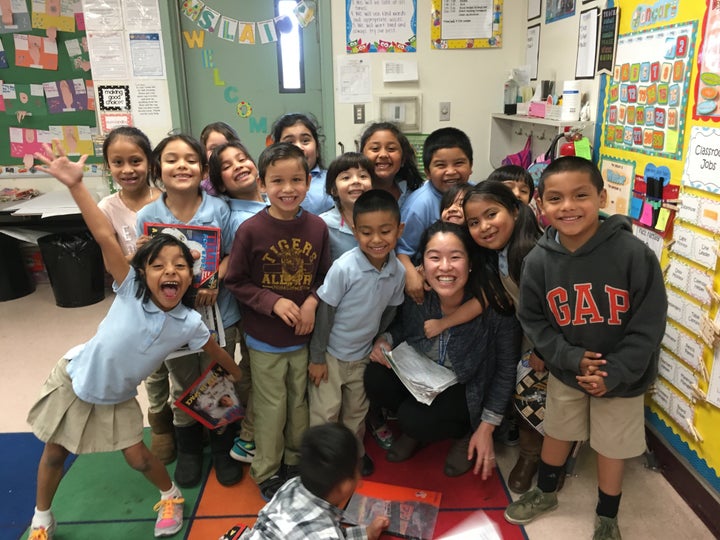 "After taking some pictures, the students started jumping and swarming me and the following week I received some adorable notes and gifts," she added.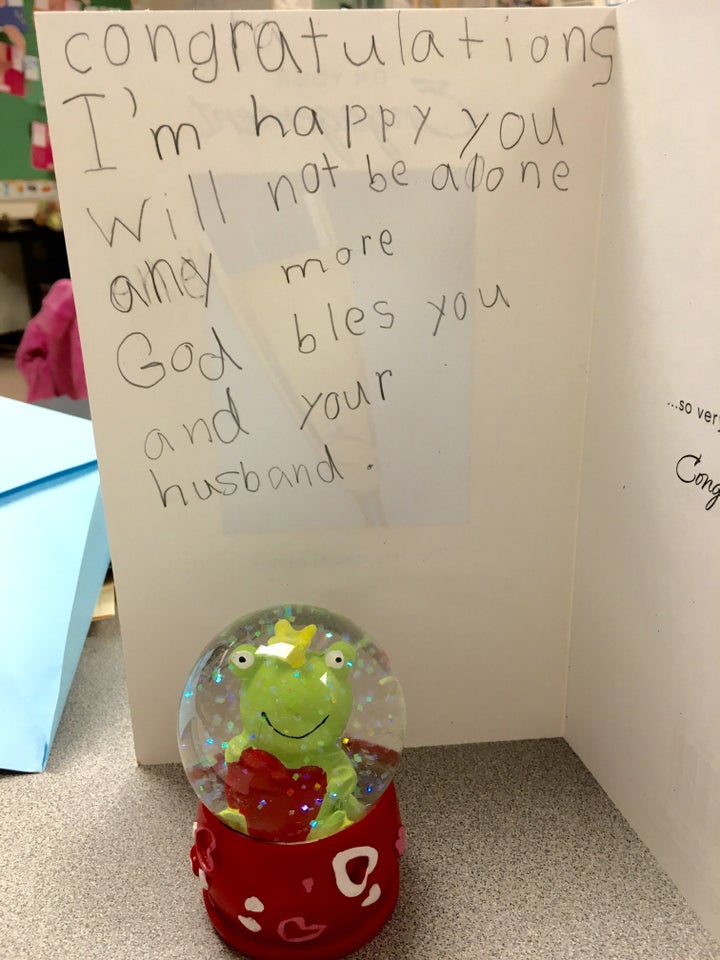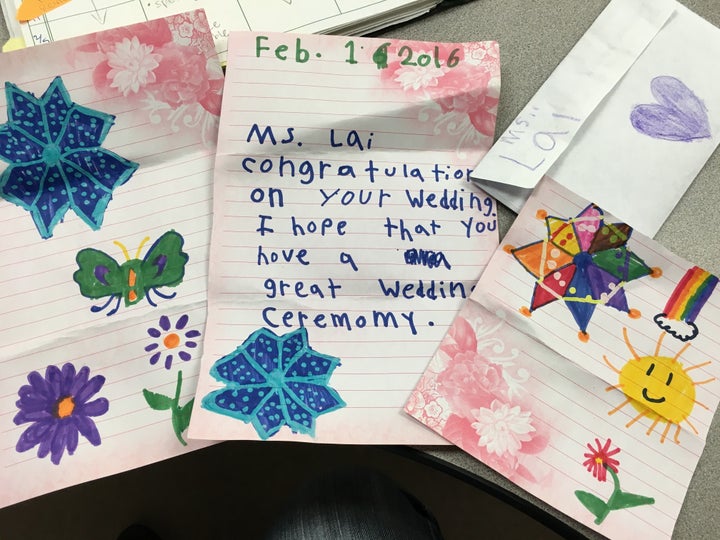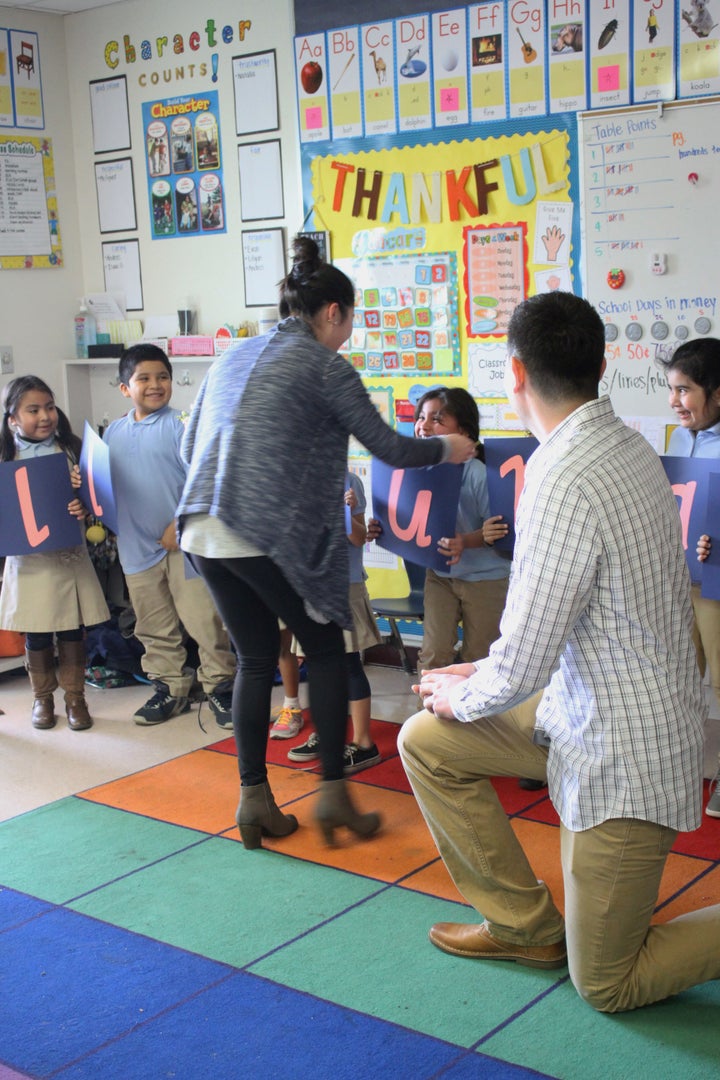 That night, Jennifer and Sam continued the celebration with friends and family at a surprise engagement party.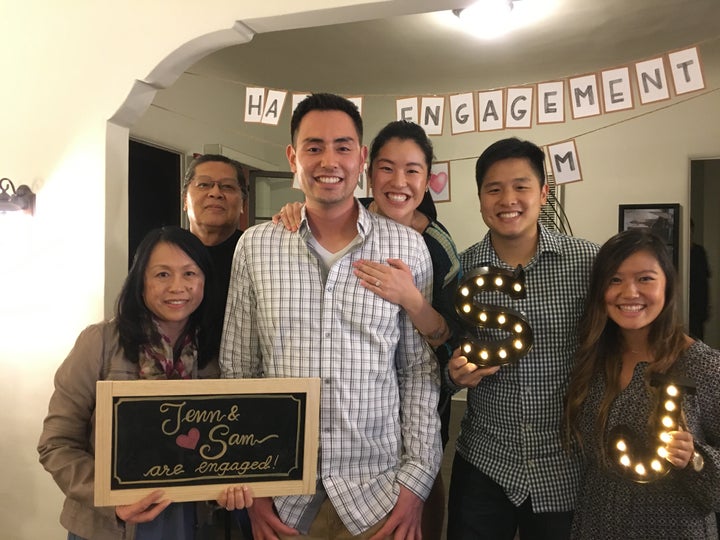 "For someone who isn't easily surprised, I was thoroughly surprised all day!"Jennifer said. "It's an engagement I'll never forget. And neither will my students, I'm sure!"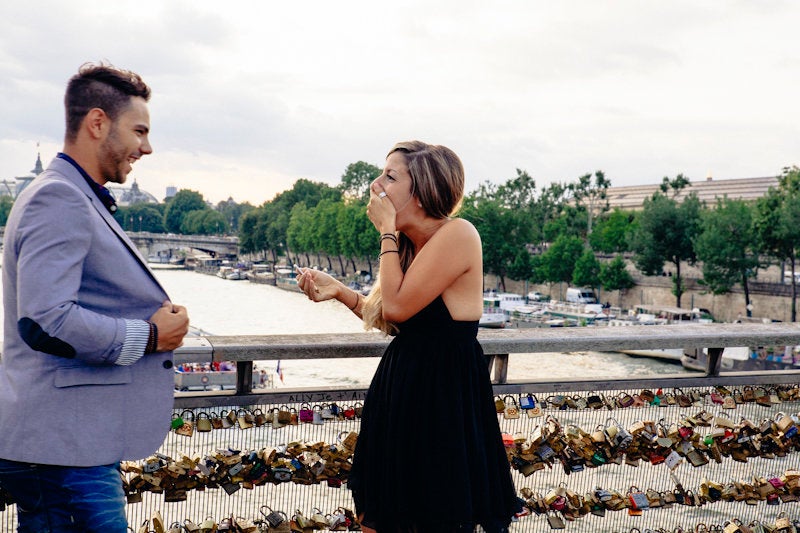 Surprised Proposal Reactions
Popular in the Community