In the top of the ninth inning of Game 1 of the 2011 World Series, Cardinals manager Tony La Russa sent right-handed reliever Jason Motte out to the hill to protect a 3-2 lead. He retired the first Rangers' batter that he faced with hardly any help at all: Motte induced a comebacker from Michael Young, snagged the ball and fired a strike to first. One away.
With the second out, though, the Redbirds' bearded reliever may have gotten a little extra help.. from the home plate umpire.
The right-hander fired a 96-mph two-seamer to Rangers third baseman Adrian Beltre, who tried to turn on it. Beltre swung, hitting the ball straight down, hard. He reflexively pulled his left foot off the ground as if he'd been struck and then hopped out of the batter's box. As Beltre gingerly got his balance back, FOX play-by-play announcer matter-of-factly said, "That's a foul ball."
But a strange thing happened as Beltre hobbled around near home plate, Cardinals third baseman Daniel Descalso fielded the bouncing ball in fair territory and threw across the diamond to first base. Apparently, no umpire had ever signalled foul ball. The Cardinals played on, initially to the surprise of Buck up in the booth, and recorded the out. Two away.
WATCH VIDEO ABOVE

Texas manager Ron Washington immediately popped out of the dugout to question home plate umpire Jerry Layne. A flustered Beltre vainly pleaded his case, pointing at his shoes. Two out.
"The ball hit the front of my foot," said Beltre after the game, who stumbled on the play and never attempted to run to first. "But when it kicked down to third base, the umpire said he didn't see it. I told him to check my shoe and the ball, but he couldn't tell. He found nothing, so he wouldn't change the call. There was nothing I could do."
Although it seemed a gimmick only slightly more useful than the Cleatus the robot who has been featured during FOX football broadcasts, the infrared camera, called "Hotspot," that FOX used during the game actually came in handy on this play. The heat-seeking replay seemed to indicate that the ball did in fact strike the tip of Beltre's foot. Nevertheless, the umps non-call on the potential foul ball stood, and the Rangers were down to their last out. Motte retired Nelson Cruz to earn his first World Series save.
If MLB Commissioner Bud Selig is hesitant to adopt video replay for all calls then odds are that infrared replay is still a few years away...
Scroll through these photos to attempt to decipher if the ball was fair or foul:
Related
Before You Go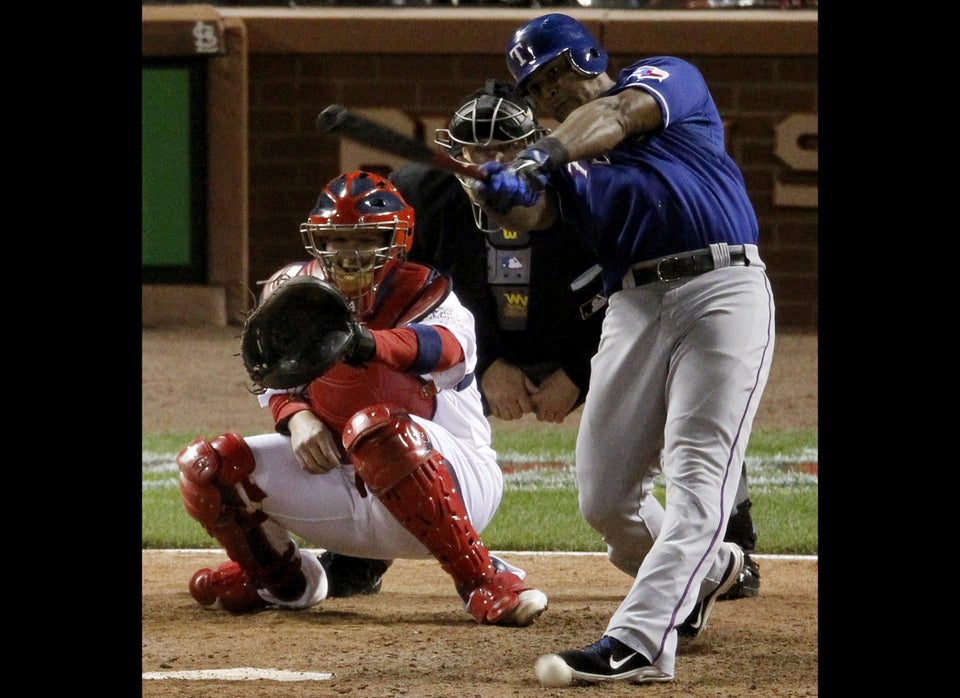 Foul Or Fair?
Popular in the Community