On the airwaves of a major league broadcast, the judgment of longtime Dodgers announcer Vin Scully is considered as close to irrefutable as possible in the oft-argumentative sports world. A given fly ball will lead the 87-year-old to recall a pop out from four decades ago. A strikeout incites a memory of a Koufax pitch from the Cold War era.
So when Scully publicly censures a play on the field, you know it's a no-no. Especially when the target of the reproach is wearing a T-shirt, not a jersey, and a watch, not a baseball glove.
In the fifth inning of Monday's Dodgers-Rockies matchup, a pop-up from Colorado's Tom Murphy drifted foul, slating toward the first row of the grandstand. While Dodgers All-Star Adrian Gonzalez stuck out his glove to make the catch, a fan donning a brewery insignia on his shirt and a Red Sox logo on his cap leaned in toward the ball as well, attempting to wrestle it away from the first baseman.
They both clung to the ball for one, two, three seconds, before Gonzalez seized control, nabbed the out and walked away from the Boston fan, giving him a Michael Jordan stare-down on his way back to the infield.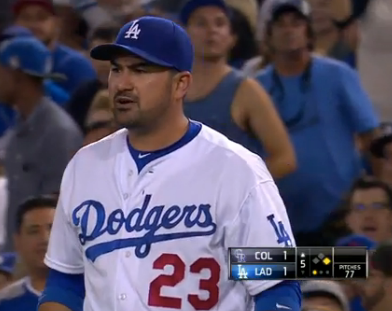 "[Y]ou know, they play for a lot of money, there's a lot of pressure, and this fan probably figures, 'Well, it's coming to my neighborhood, so I'm entitled to it,'" Scully commented after the play, "Really, I couldn't argue with him, but at the same time, considering everything that's at stake -- I mean, he was fighting Gonzalez all the way."
In the midst of both a tied game with the Rockies and a tight division race with the Giants, the last thing the Dodgers needed was to be competing with the Red Sox (and their fans) as well. Gonzalez seems to have gotten the last laugh, however, as his ball club took down the Rockies, 4-1.
Across the country, the fan's beloved Red Sox fell to an underwhelming Orioles team to boot.
PHOTO GALLERY
PHOTOS: Wild MLB Celebrations
Calling all HuffPost superfans!
Sign up for membership to become a founding member and help shape HuffPost's next chapter