 FORT MEADE, Md. -- He said he was a journalist, or a minister. He said their chat logs were an interview or a confession, never to be published.
And then Adrian Lamo turned Bradley Manning in.
For 33 minutes on Tuesday, Lamo, a 32-year-old previously best known for hacking the website of The New York Times, sat in the witness stand testifying about why he was chosen as confessor for the WikiLeaks source. Speaking in a affectless monotone, Lamo glanced once or twice to his right at the man he could put in prison for life.
It was Lamo, prosecutor Captain Joe Morrow said during the trial's opening statements on Monday, who brought Manning to law enforcement's attention. Less than a week after their online chats began and within hours of their final conversation, Manning was apprehended.
The top of his shirt unbuttoned, wearing jewelry around his neck, Lamo sounded every bit the kind of man who a friend has said lives his life like he's writing a novel. He boasted that no one else would have been "technically capable" of manipulating the Manning chat logs because of "various physical and technological access countermeasures" on his computers.
But Lamo also admitted that he is a felon, convicted for his hacking, and that he made "redactions" of the copies of the chat logs he handed over to reporters. And when defense attorney David Coombs began his cross-examination, the exchange was intense.
Relying on logs of chats Lamo and Manning had between May 20 and 26, 2010, Coombs established why the Army soldier stationed so far away in Iraq came to trust a man he had never met -- and why the betrayal that followed was so great.
Lamo's chat logs reveal that when Manning said he had gender identity issues, Lamo responded that he was bisexual. When Manning asked if he was putting himself in danger, Lamo responded that he had never flipped for the FBI. Then Manning revealed seemingly everything about his background and the reasons for his massive disclosure of files to WikiLeaks.
Did Lamo know, Coombs asked, that Manning was young, well-intentioned, and idealistic? "That's correct ... from his point of view ... yes I did," Lamo responded in turn.
"You saw a young 22-year-old with good intentions," the same age as Lamo was when he committed his crimes? "That was not lost on me," Lamo responded.
He said to you that he thought he would reach out to somebody who would understand him? He told you about his life and his upbringing? He told you that he was being kicked out of the military due to a gender identity issue? That he had been questioning his gender for years? That he believed he had made a huge mess? He confessed he was emotionally fractured? Trying not to end up killing himself? He said he was feeling desperate and isolated? He described himself as a broken soul? He said he was honestly scared? He told you that he had nobody he could trust?
Question after question, Lamo said it was all true.
Had Manning "tried to investigate to find out the truth?" Yes, Lamo answered. That was "something that I could appreciate."
But apparently not enough. Feeling that Manning had accessed too much sensitive information, and fearing that he might kill himself without help, Lamo went to a friend who once served in Army counterintelligence. Then he went to the FBI.
That began a chain of events that lead to the trial that entered its second day on Tuesday. Before Lamo spoke, Mark Johnson, a civilian who worked for the Army's Computer Crimes Investigative Unit, took the stand. Johnson testified that he had found a text file containing contact information for Julian Assange on an external hard drive.
Assange is suing the military to gain greater access to court records in the case. He told The Huffington Post that the Manning proceedings are a "show trial."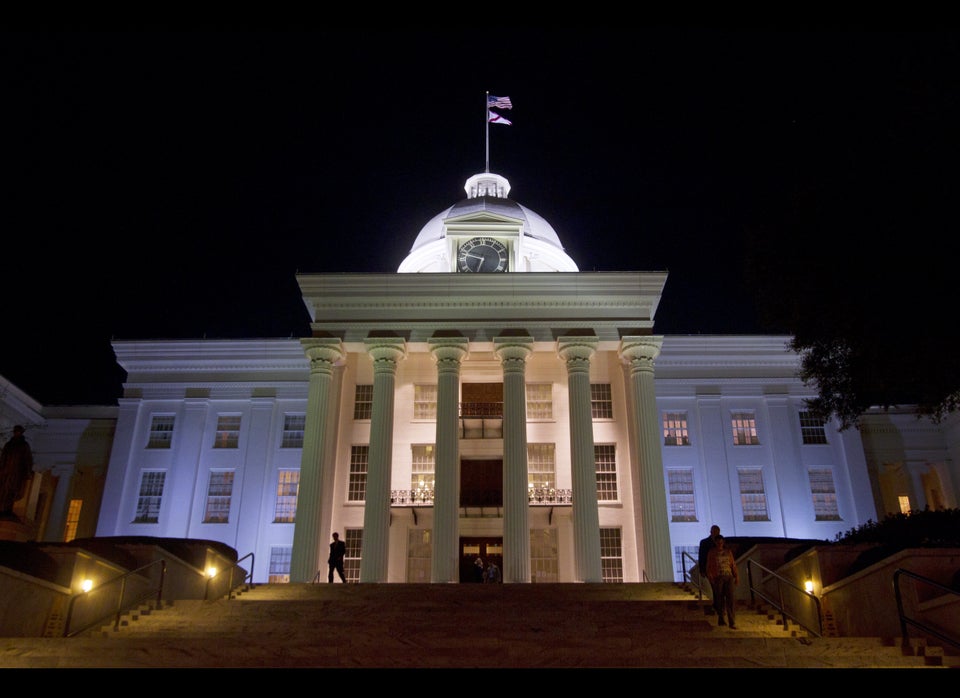 U.S. State Capitol Buildings
Popular in the Community