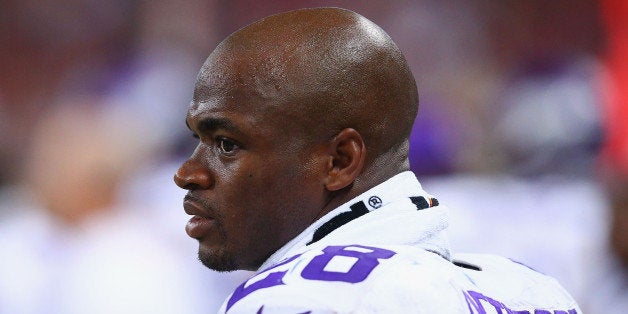 It is never acceptable to beat a little kid bloody with a weapon, because that is always child abuse.
I can't believe it's 2014 and I have to spell that out for people. Yet in the wake of star running back Adrian Peterson's grand jury indictment for reckless and negligent injury to a child, it's clear there are grown men and women out there who still think it's OK to strip leaves off a tree branch and whip a 4-year-old until he bleeds. To stuff leaves in his mouth. To cut him on the legs, thighs, buttocks, and scrotum. To whip him between 10-15 times, leaving defensive wounds on the poor kid's hands that were still readily apparent even a week later when photographs were taken.
What Adrian Peterson did was wrong. That's fact, not opinion. And yet, for so many, they don't accept that. Why?
I've been told it's a southern thing. A cultural thing. A black thing. A religious thing. I've been told it's the only way to make sure children are raised to be respectful. I've been told if more kids were disciplined like this, there would be fewer school shootings and spoiled children. But mostly, I've been told this kind of corporal punishment is acceptable because the parents who do it were raised this way themselves. And after all, they were whipped and they turned out just fine.
Want to know how I know they're wrong? Because they still think it's OK to take up weapons against children and beat them bloody.
If this is part of your southern culture, then your southern culture condones child abuse and needs to change. If this is because you're African-American, then the black community needs some serious internal reflection and a change of heart, because this is wrong. And if this is how you were raised, well... I'm sorry for that. But just because your parents made a terrible mistake out of ignorance, doesn't mean you have to continue the violent cycle.
Because that's the thing -- your parents weren't perfect. They made mistakes, probably because they didn't know any better. Some of our parents smoked while pregnant because the dangers of smoking weren't well established yet, or didn't use car seats because the safety standards weren't in place. Our parents didn't have the wealth of information available to us today, so why repeat mistakes made out of ignorance when we know better now?
NFL analyst Cris Carter -- a black NFL Hall of Famer no less -- said he was whipped as a child when disciplined. However, he chose to parent a different way. Watch this.
Cris Carter learned from his mom's mistakes. But the saddest part of this whole fiasco is that Adrian Peterson believes he didn't do a damn thing wrong. Asked about the behavior, he said: "To be honest with you, I feel very confident with my actions because I know my intent."
If Adrian Peterson thinks he turned out so wonderful because he was whipped with various objects as a child, just imagine what he could've accomplished if he hadn't been physically abused. And I'm sorry, but when it comes to putting our kids in danger with physical violence, ignorance is no excuse.
Also, please don't let Peterson's defenders turn this into a public debate on spanking and government intrusion in our lives.
This isn't about spanking, because Adrian Peterson didn't spank his son. I can count on one hand the times I've given my oldest a swat on the butt, mainly because he was attempting to run toward the road or trying to tear off the electrical outlet cover after putting his hand in the dog's water bowl. And even then, it wasn't the force that made him cry -- it was the stern "NO!" that accompanies the light spank.
That's in stark contrast to Peterson, who reportedly took the time to fashion himself a switch and proceeded to beat his small child bloody with it by hitting him more than a dozen times. A grown man who smashes into offensive linemen and linebackers for a living, whipping a small boy he's supposed to love and care for. How anyone can defend that is beyond me.
Allow me to bottom line this for you. If you think hitting your kid with a stick until he bleeds is an acceptable form of punishment, you're a bad parent. And, more than likely, you're engaging in a criminal act. Your culture, race, ethnicity, and upbringing don't matter in this instance. I don't care where you're from or what color you are, because when you decide to whip your 4-year-old with the branch of a tree, you are committing a crime. And I hope you face the same charges Peterson is facing.
But mostly, I hope it doesn't get to that point. I'm hoping this will be a wake-up call to the parents who still condone this kind of nonsense. I'm hoping people realize you can raise respectful kids without beating them with tree branches and household objects.
Times have changed, and they've changed for the better. So stop abusing your kids.
Like Us On Facebook |

Follow Us On Twitter |

Contact HuffPost Parents
Related