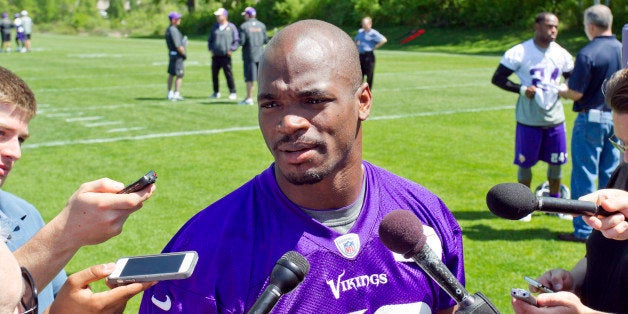 With support from the NFLPA, Peterson appealed that suspension, which indicated he could not be considered for reinstatement until April 2015. After the denial of his appeal by NFL-appointed arbiter Harold Henderson on Friday, Peterson told ESPN that he had considered real estate and a bid for the 2016 Olympics in the 200-meter and 400-meter events as fallback options.
"I've considered retiring from the NFL," Peterson told ESPN. "I still made $8 million dollars this year. I've thought about getting back into the real estate [business in Texas] I'm already in. That's something I've been interested in, something I'm involved in. I've thought about getting back into that. I've thought about going after the Olympics -- you only live once. It might be time for me to pursue that, as well. I love playing football, don't get me wrong, but this situation is deeper than that. For me, it's like, 'Why should I continue to be a part of an organization or a business that handles players the way they do? Making money off the field anyway, why not continue to pursue that (Olympic) dream and pursue other dreams and hang up the cleats?'"
Peterson has been an elite NFL player since being drafted out of Oklahoma in 2007, but lining up alongside world-class sprinters would be a very different challenge for the 29-year-old.
"Peterson is delusional if he thinks he has any chance of being a track and field Olympian," wrote Michael David Smith of ProFootballTalk on Saturday. "Yes, Peterson is very fast by the standards of a normal human being, and even by the standards of an NFL player. No, Peterson is nowhere near as fast as an Olympic sprinter. If Peterson is serious about trying to qualify for the Olympics, he'd have a better chance at a more specialized sport like the bobsled."
The NFLPA expected this outcome, given the hearing officer's relationship and financial ties to the NFL. The decision itself ignores the facts, the evidence and the collective bargaining agreement. This decision also represents the NFL's repeated failure to adhere to due process and confirms its inconsistent treatment of players. Our union is considering immediate legal remedies.
Related
Popular in the Community