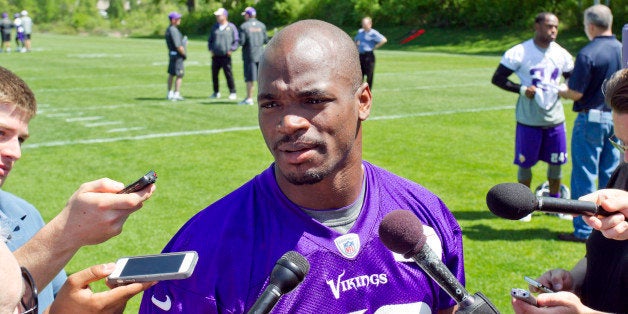 Minnesota Vikings running back Adrian Peterson has issued a statement on his indictment in a child injury case. The 2012 NFL MVP apologized for "the hurt I have brought to my child" but insisted that he is "not a child abuser" in the statement released on Monday. The alleged abuse occurred when Peterson disciplined a 4-year-old son with a tree branch at his home in Texas during the summer. The 29-year-old has maintained that he was employing the same disciplinary methods he experienced as a child.
Peterson posted full text of the statement on Twitter.
Peterson was indicted on child abuse charges on Friday and subsequently deactivated by the Vikings for the team's game on Sunday. He was reinstated by the team on Monday and is expected to be available for upcoming games as his legal case plays out in Texas. After being indicted on Friday, Peterson turned himself in to authorities in Texas on Saturday. He was booked and released from a jail in Montgomery County, Texas after posting $15,000 bond.
Peterson's insistence that he was using corporal punishment methods that he experienced as a boy led to public conversations about acceptable discipline practices during NFL broadcasts on Sunday. Pro Football Hall of Famer Cris Carter took a strong stance against child abuse during an emotional segment on ESPN's "NFL Sunday Countdown" while Basketball Hall of Famer Charles Barkley expressed a more permissive view of Peterson's account of what took place with his son during an appearance on CBS' "The NFL Today."
"This is a very important issue. I want to take time to emphasize that the issue of child welfare is extremely serious and should be taken serious not only by us but by everybody," Spielman told reporters. "We are trying to do the right thing. This is a difficult path to navigate, regarding the judgment of how a parent disciplines his child. Based on the extensive information that we have right now and what we know about Adrian, not only as a person but what he has also done for this community, we believe he deserves to play while the legal process plays out. At the same time, we must defer to the legal system to determine whether he went too far. But we cannot make that judgment. Adrian will be active for this weekend's game but we will continue to monitor the situation and make the decision that we feel is best for this organization and all parties going forward."
Calling all HuffPost superfans!
Sign up for membership to become a founding member and help shape HuffPost's next chapter