Be who you are.

If you read that statement quickly without much thought, it comes across as a transparent request. You can easily shrug your shoulders, agree and say "Sure, that's what I've been doing my entire life." But that task, be who you are, often comes heavy with apprehension, disapproval and ultimately, a challenge. In this modern age, when generating a facade can literally ensue from pressing a few buttons, and staying true to oneself is weighed down by infinite attached strings, there are always those who live as the exception.

Adrian Wilson is a prime example. The Italian/Puerto Rican pop singer from the Bronx discovered his fervor for music and performance during his 6th birthday, after an innocent party game lead him to perform a song and dance, accompanied by his mother's household broom. What Wilson calls "the broom incident" became the launching pad for his successful musical career. From that point on, Wilson's mind was set. He joined the glee club, sang in church choir, at age 8 became the production assistant at a theatre equity company and by 16, was working off-Broadway as an actor and performer. In the year 2000, Adrian Wilson released a demo titled "Living Without Love," which played frequently in clubs and eventually reached the top 40. Record labels eagerly invited Wilson into their studios and when he finally decided to sign with a major label, their proposed approach was a deal breaker for Adrian.

I met with the label a few times. We reviewed my music, how I was going to be launched as an artist, all that goes into producing a record. But there was one catch. They wanted me to be straight. I remember them saying 'We think you're too gay.' It seems laughable now, but at the time major labels were afraid they wouldn't sell records. My music is about honesty, it's about living your true self. I knew I couldn't come out as an artist and live a lie.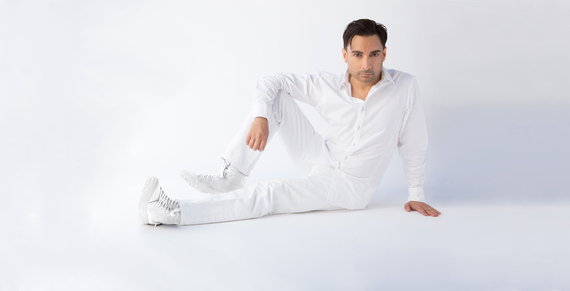 With his dignity of stone intact, Adrian Wilson recreated his spot in the music biz. His single "All Consuming Fire," released this year, is an uplifting and encouraging tune that truly promotes Wilson's belief in an honest and noble self. What he describes as "Progressive Pop," Wilson's album melds a range of genres that encompass both his belief in musical harmony and the harmony of mankind. Along with being a source of inspiration, "All Consuming Fire" is also turning its listeners into viewers as Wilson prepares for his upcoming premiere which will debut the single's 4k Ultra High Def music video in mid-November.

In addition to his musical premiere, Wilson is launching his first campaign, "Be Who You Are." It will focus on just that- being true to yourself, no matter the circumstance. Starting out with a social media platform, Wilson's goal is to end discrimination and promote self comfort, clarity and acceptance. With the launch of his campaign, the It Gets Better Project by Compassionate California and the Charter for Compassion International will both receive the Compassion Action Award in recognition for their major impact around the world.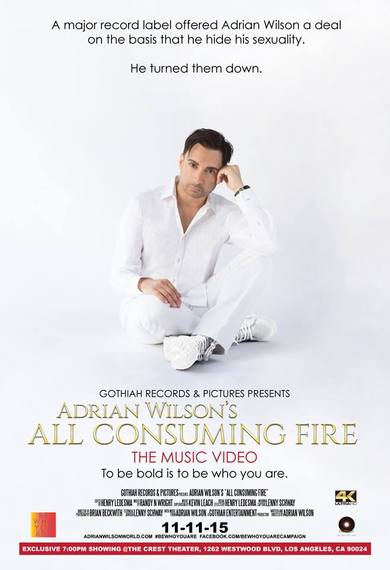 You can attend Adrian Wilson's premiere November 11th, 2015 at the Crest Theatre in Los Angeles
Tickets: tickets@adrianwilsonworld.com
Keep up with Adrian Wilson: http://adrianwilsononline.com/us/

To get involved with the "Be Who You Are" Campaign, just enter #BeWhoYouAre on social media and support the change.
REAL LIFE. REAL NEWS. REAL VOICES.
Help us tell more of the stories that matter from voices that too often remain unheard.