Adriana Lima hit the Victoria's Secret runway on Wednesday for the lingerie brand's annual fashion show. Eyes weren't on her skimpy ensemble, but rather on Lima herself, as the new mom had given birth just two months prior.
"Adriana's goal is the same as every healthy woman's, return to pre-baby shape. She sets the bar high," Lima's trainer, Michael Olajide Jr., told Celebuzz back in October. Olajide worked with the Brazilian beauty for two to three hours, twice a day, seven days a week. To get ready for the Victoria's Secret show, Lima did boxing and jump rope with specialized sculpting maneuvers.
Olajide says Lima worked hard during those eight short weeks. "Adriana goes above and beyond," he told Celebuzz. "As a trainer you can only go as far as the individual you're training allows you to go. Adriana has a unique mind, an extremely high level of tolerance when it comes to physical discomfort. Some people are afraid to sweat and feel like their heart is going to jump out of their chest but Adriana's able to function in that atmosphere and that's why she's always at the top of her game. She's 100% professional."
Surprisingly, neither Lima, Ambrosio nor Aldridge holds the record for swiftest Victoria's Secret comeback. That title belongs to VS alum Heidi Klum, who walked the 2009 show in a purple corset just five weeks after giving birth to her fourth child.
"I think I'm partially lucky," Klum, who was 36-years-old at the time, told the Daily News. "I eat very healthy, I do watch what I eat a lot. People always think 'oh, she probably doesn't eat anything.' I do eat a lot, but I do watch what I eat. I try to stay away from the carbs."
PHOTO: Adriana Lima walks in the Victoria's Secret Fashion Show in New York City on Wednesday.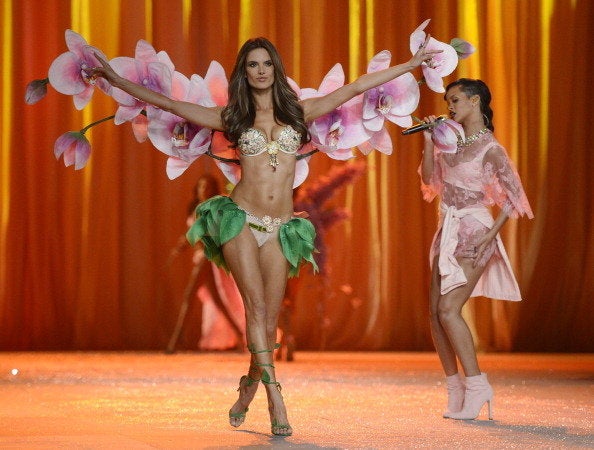 Victorias Secret Fashion Show 2012