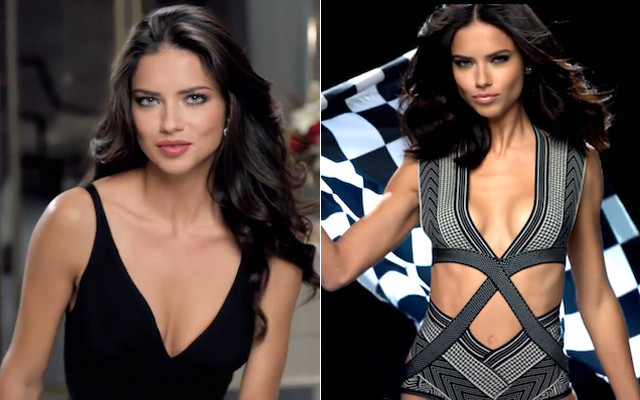 Teleflora commercial via YouTube, Kia commercial via YouTube

The Super Bowl was as epic as it gets, but so were the expensive, over-the-top and hilarious commercials starring David Beckham, shuffling M&Ms, and more. We were particularly on the lookout for Victoria's Secret hottie, Adriana Lima, and were rewarded with not one, but two major commercials for Teleflora, an online florist, and Kia, a South Korean car manufacturer.
For Teleflora, Lima put on pantyhose, zipped her dress and applied lipstick in dramatic fashion before telling guys that they'd get a reward if they get their women flowers for Valentine's Day. We thought the Brazilian bombshell was an odd choice, but considering that Super Bowl commercials are incredibly popular and Valentine's Day is coming up, it actually made sense for the florist e-tailor to choose a recognizable, gorgeous and sexy woman for an ad geared toward men. We bet their sales soared after the commercial aired.
In her second appearance of the night, Lima took the overtly racy route (pun intended) and donned a bandage monokini and waved a black and white checkered flag on a raceway in a man's dream of driving a Kia. Her timeslot in this commercial was a fraction of her Teleflora ad, but it's hard to get that taut bod out of our minds. Especially, as we were snacking on wings and chips.
While we're on the fence about which commercial we liked better, we want to hear your thoughts. Watch both commercials and then tell us which ad you preferred in the poll below -– a sultry Lima telling guys to get their girls flowers or a barely-clad Lima in a sexy dream? In case you missed any of the commercials during the Super Bowl, watch them all here.
Related