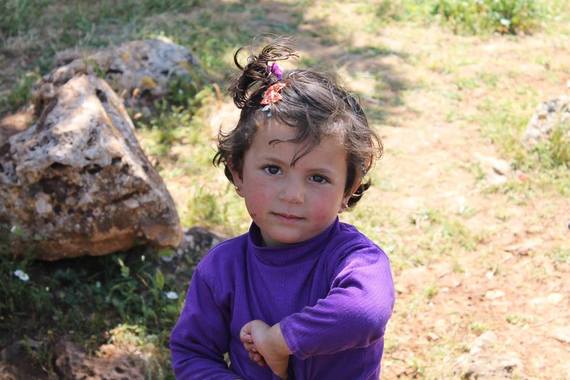 Young Syrian refugee in Atmeh "Olive Tree" Refugee Camp, Syria (All photos featured here were taken by Adriana Reyes and are being used here with her permission.)
How did this work begin to interest you?
For much of my time at the University of Bridgeport (at the College of Public & International Affairs) I naturally felt drawn to Middle Eastern Studies. In the summer of 2012, I embarked on my first trip to Jordan as part of a culture immersion program. That trip in particular gave me a wider insight into this part of the world, and I saw it through my own eyes: in other words, I saw it under a different light.
In my home state of Connecticut I worked for refugee resettlement agencies, which included the International Institute of Connecticut (IICONN) as well as Integrated Refugee Immigration Services (IRIS) in which I was a Case Manager. The time I spent working with those team members and refugee families made me realize how eager I was to continue being part of humanitarian relief work, be it through documenting or doing fieldwork.
How did your current Syrian refugee documentary project take root?
The basis of the Syrian Refugee Indie-GoGo Project began upon my return to the USA. When I received an email from my professor, Dr. Robert Riggs, that the humanitarian mission managed by Rita Zawaideh (of the Salaam Cultural Museum), Dr. Humam Akbik (of the Syrian American Medical Society and the National Arab American Medical Association), and Dr. Mahrous Alsoud (a cardiologist from the U.K.), was in search of a photographer to cover the Syrian refugee crisis and highlight the catastrophe surrounding the war, I seized that once-in-a-lifetime opportunity. The objective of the mission was to create a culture of doctors, nurses, and volunteers in the region dedicated to helping the most critical and vulnerable refugees. I documented the mission inside Jordan's Zaatari Camp, one of the largest refugee camps in the world, and in nearby villages, clinics and hospitals. It was an honor to be amongst many who continue to take such risky time away from their careers and families. I took photos with them in Jordan, Lebanon, Turkey and Syria.
Thereafter, photography became my precious, vivid tool with which I could show the world's beauty and sad reality simultaneously. When I returned from Syria in the spring of 2013, I felt an overwhelming need to do everything I could to help the Syrian refugees and spread awareness of the crisis.
Tell me a little more about the project.
It's called "Journey For Truth - The Images of the Conflict in Syria." The 5-minute fundraising video provides a sense of the human conflict, combat and suffering due to war, which was far greater than I could ever have imagined. The images framed in the video are reflections of their lives and stories as they escaped persecution, as the wounded sought treatment, as so many trekked thousands of miles to reach the borders in search of safety and shelter. The project aims to raise awareness about the Syrian refugee crisis in collaboration on the ground with the NGOs Every Syrian and Maram Foundation, which provide humanitarian and medical relief within Syria.
The montage of my photographs covers a span of a year and a half of work in the field. Watching the crisis unfold before my eyes has been heartbreaking. At the end of the day this will never be about me as a person, but about the countless stories, many of them untold. Sometimes, feeding people the truth can be daunting. The situation in Syria is current and relevant to our generation. In fact, Syrians have become the largest group of displaced people in the world. If the international community and world leaders do not act, a generation will be forever lost, which will in turn prove to have severe repercussions in the region.
Do you have any other personal insights about your work you'd like to share?
I am forever shaped by everyone who supported me throughout this journey and most importantly, by the countless people who shared their pain, struggles, hopes and dreams. A dream that is shared amongst everyone I encountered is the dream of returning back to his or her homeland. At this point, I would to encourage people to get involved in any way they can, and if not for the people of Syria, then maybe in their own communities. If I could get one person to think outside of their realm, and educate them about what's occurring on the ground through my work, then the video itself would be a great success.
It is also important for people to know that my work does not reflect a political stance as much as it focuses on the cause at hand: humanity. Humanity, including not only the crisis in Syria but for all. Throughout my time in college I've had several professors that have made a tremendous impact on my life, and Dr. Dave Benjamin gave our class the last piece of advice during our human rights class; he said, "You have to be the instrument of change." That's my personal mission, at home in my community or abroad.
Calling all HuffPost superfans!
Sign up for membership to become a founding member and help shape HuffPost's next chapter