Brazilian artist Adriana Varejao paints tiled spaces and she also paints poetry. At first her rooms look like dreamy feats of impossible architecture, modern tessellations. They are restrained and peaceful; light shines through them.
And yet there is a looming sense of unease, anxiety dwells between the cracks of the tiled spaces. Behind the porcelain perfection their lurks intense human pain, though it has been meticulously covered up.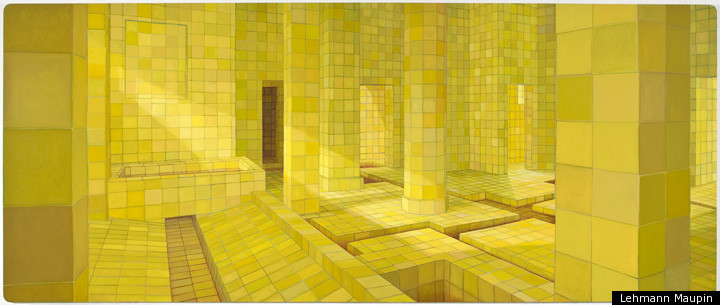 O Iluminado (The Shining), 2009

The tiles are reminiscent of Azulejos tiles that Portugese colonialists brought to Brazil, and the silent suffering of the country in the colonial era remains a theme throughout Varejao's work. She depicts luxury saunas, butcher shops and torture chambers with the same eerie distance. The perfect spaces hide gory stories but Varejao never shows them, only alludes to them. They are there in the cracks between tiles, cracks which look like gashes.
Her works are mythologies of Brazilian history, colonialism, fantasy and guts. They contain all the elements of a sexy, violent epic novel within the confines of a perfectly constructed room, each pristine tile laid after the next. Through these mixed emotions, Varejao's works seem to scream through their silence.
PHOTO GALLERY
Adriana Varejao