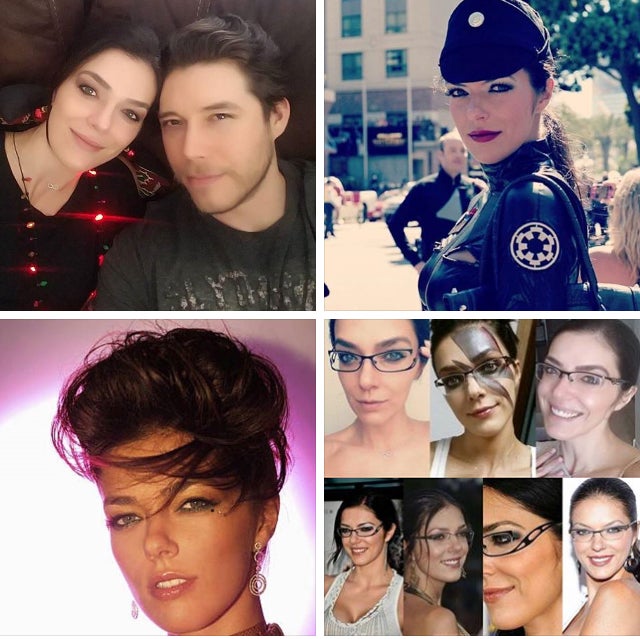 She was once awarded the coveted title "America's Next Top Model." It was the finale of the eponymous reality show's first season, and as she shrieked in disbelief and began to sob uncontrollably, she thought this was the beginning of an end to her troubles. It seemed she was finally entering an elusive enchanted world of glitz, glamour and most importantly, financial salvation. She was about to embrace an existence only dreams offer a glimpse of. The self-professed "geeky" girl from Joliet, IL – a stoner to boot! – was somehow being announced as the winner of this enthralling competition. It had essentially involved blood, sweat and tears (and boy, was she starving because it hadn't involved much food). Yet by some miracle, and despite early skepticism from supermodel host Tyra Banks, it had all paid off…
What Adrianne Curry never foresaw back in 2003 were all the caveats, broken promises, and pitfalls of reality TV notoriety. The night of her epic victory, she never could have predicted what lay ahead. That would include a turbulent marriage to a former child star almost twice her age…which would end in divorce. She certainly never imagined she'd someday want to ditch Hollywood, fame and recognition altogether, opting for a much quieter and simpler life in Arizona.
After hearing an interview with Adrianne on the Reality Life with Kate Casey podcast https://art19.com/shows/reality-life-with-kate-casey/episodes/fe003f4c-2a64-4fec-aa4d-37cee79cb170, I decided to get in touch with the former ANTM winner who went on to other reality TV endeavors. Those projects included The Surreal Life (where she famously met her ex-husband, former Brady Bunch kid Christopher Knight) and My Fair Brady. Today, Adrianne lives with her "age-appropriate man" in a province unperturbed by paparazzi. The couple is content curling up with their fur babies and working from home. He was quite active in the gaming world when they first met and currently does a ton of voice-over work. She is kicking ass selling Avon cosmetics and skincare…Oh yes, it's true. As she told Casey, not long ago she was around number 28 among Avon sellers nationwide. Following is the casual conversation that Adrianne and I had for Huffington Post:
Your season of America's Next Top Model was the one and only season I remained riveted to. Maybe it's because I'm 'older,' a Gen Xer, but I lost interest after that initial season. I DO know that I was glued to the screen during Season One when you were on.
I think it's because there was that element then of no one knowing what the fuck it was. It wasn't as if the contestants went on saying to themselves 'I'm going to be the sassy one,' 'I'll be the sexy one.' Everyone went in being themselves and being afraid (laughs). Nobody knew what the hell they were doing and it ended up as great TV!
Initially, I wanted to write about people who used to be in the spotlight and now are not. I really wanted to hear others' stories, but it seemed that people didn't want to come forward and discuss personal experiences.
Dude! People don't like talking about not being in the spotlight anymore. I know that from being married to a former child star.
That's why I decided to just focus on YOU. I remember watching ANTM and then The Surreal Life and My Fair Brady. I greatly appreciated your rawness and candor on those shows. I remember when my sister and I discussed the fun friendship between you and Elyse on ANTM. You guys seemed like relatable pals rather than unrelatable aspiring models!
Unfortunately, Elyse and I had an immediate falling out. Oddly enough, I've been chatting all the time with Shannon! She was the runner-up who was…Miss Jesus! Now we're like BFFs.
I'm shocked by that! You and Elyse were hilarious to watch and seemed to have a bond that would last past the season. Have you at least kept up on what she's doing these days?
Last I heard she was arrested for domestic violence, I'm not even kidding. I know she went to the Hong Kong market and was modeling there and I mean, good for her for taking over a shitty market somewhere! That falling out was my first lesson in the backstabbing and treachery of the industry. It was a major blow to find out that someone can't be your friend because you can't trust them.
I had told her a whole bunch of my business in confidence. She broke that confidence, ratting me out word for word…So I had to say 'fuck you' and move on from that friendship.
After ANTM, you discovered disappointments related to reality TV. You've said that the things you were promised at the end of the show didn't come to fruition. You weren't getting all the modeling opportunities you had expected. When you were asked to take part in the reality show The Surreal Life after ANTM, you received word that Tyra Banks didn't want you to do it. So as you told Kate Casey, that was all you needed to accept the opportunity. The Surreal Life was the crazy experience through which you met your ex-husband Christopher Knight (Peter Brady, The Brady Bunch).
Want to hear something funny and fucked up? So I'm with my guy now and as we're planning our wedding, we found out that my ex-husband proposed to the broad he's marrying around the same (anniversary) date my guy proposed to me. I mean, I wish that dude well - It's his fourth wife. Good luck to her and everything, but you know…There's a long line there of not being a good husband…which doesn't mean he's not a good human being, just a really shitty husband. I think that my ex and I finding people our own age was exactly what we needed. He just found his the second we decided to split…and mine took 4 years to come...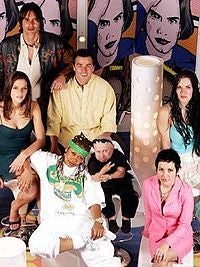 Viewers knew there was a huge age difference and obstacles for the two of you, nevertheless adored how you two got together on The Surreal Life. After that, we tuned in to see you two on My Fair Brady.
I was madly madly in love for what I was capable of loving then - with all my heart. I think he wasn't completely in it the way I was. People wrongly assumed that it didn't work out because I was younger and less mature –SO opposite of the truth. I'm glad we were together though because I learned a lot about what I deserve. I need to be with someone who likes me for me and doesn't want to change everything about me to be compatible. I was able to at least walk away and say he was a good businessman and I respect all that he can do. But…I don't know...I am a really loyal person who is not looking at other people during relationships. Once that kind of thing starts happening, I'm like 'NO!'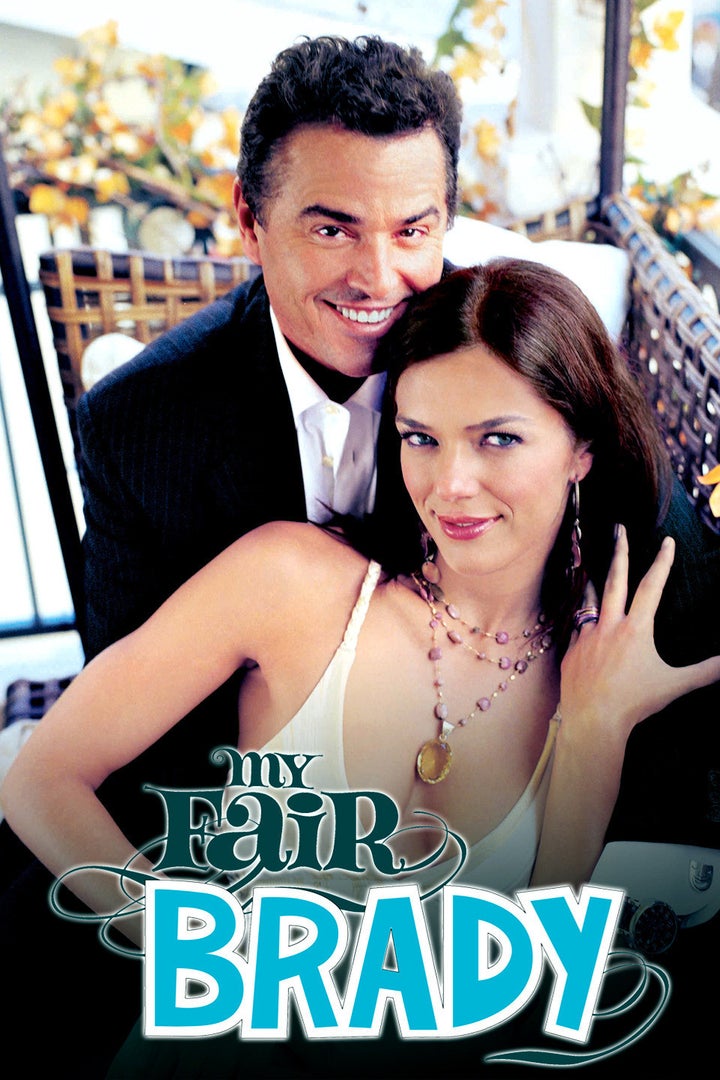 You lived with Chris in the LA/Hollywood area. When did you move from California?
We were together 7 years. I believe he still lives in our old house with his 4th wife. I left him and moved out in August, 2011. I moved out of LA in January of 2017
Looking back, what was the initial adjustment like for the (self-professed) 'geek' from Joliet when it first clicked you were 'famous'?
Man, it was an uncomfortable feeling for sure! It's not like I cured cancer or did something really awesome. I didn't feel worthy of the way people were perceiving me. I remember people coming over to me and crying…and all sorts of things. I was thinking: Why me? I'm NOT Angelina Jolie.
I think that's precisely what people admired about you, especially during ANTM. There's a certain allure to the 'humble reality star' who doesn't put on airs and is unpretentious.
Not anymore! The 'Real Housewives' are like 'I'm so rich and I need fame, so can you get me on a reality show also?' Everyone's so fame obsessed. I once looked at my grandma who raised me and said that if I could sell fame to make us money, I would kiss it goodbye in two seconds. If it was sellable, I would have sold that fame a long time ago. It's worth nothing to me.
Did the television and TV-related opportunities you had help your family financially?
I had to work really hard to do things for my family, but I was able to buy things like furniture, clothes… build a deck… I'm so grateful for it, but there were things that held me back from being able to help more. My ex-husband felt that you can't just throw money at people because they're poor, but that's the whole reason I started doing any of this!
He came from a family that made him work as a kid while his mom was a stage mom and his daddy lived off his dime. They took his money and spent it all on themselves. So when I'm going to make money and give to my family, I can't blame him for his feelings of distrust. You'd also be surprised how many people pop out of the woodwork when you're in the public eye. My close friends would stick up for me when they thought people were taking advantage and they'd get pissed. I mean, I would take everyone out to pizza and then be stuck with a huge bill because everyone left and my really close friends were livid about it. They would say: 'You're too nice. Tell them to fuck off.'
In an industry where others get burned out and distrustful, you stayed so…nice.
I've had a lot of people stand by me and help with my perception of myself and how I'm behaving. I think once – ONLY once - when I was 23 or 24, I was standing in line for something and I said the ugliest thing that had ever come out of my mouth! I sat there tapping my foot and said to my friend 'I get fucking paid to come to places like this, why am I waiting in line?' I stopped, looked at her and said 'Did I just pull a 'do you know who I am?' I'm a freaking reality person!'
It was a pretty shitty moment and it was gross. The first thing I thought was that my grandma would be sickened with me. She would be like 'what is your problem?' There's lots for my family to not be happy with – like, I posed for Playboy! – but acting like an asshole would probably top the list.
What did you learn from other celebrities/reality stars about dealing with the spotlight?
The number one thing I learned was about the fear of irrelevance. People are willing to sacrifice the birth of their child…It's all about 'please don't forget me!' It's a deep fear. I remember during The Surreal Life, I was watching Jane Wiedlin of the Go-Go's crumble when (rapper) Da Brat questioned her. She was saying 'maybe I am a nobody' instead of reflecting and feeling confident in what she did that was bad ass. I mean seriously, the Go-Go's!
It's so bad that people lose sight of what they accomplished. Everyone says they don't care about fame and they're all lying. They want people to love them and think they're important. I realized that it's a bottomless pit that never gets filled. It's a void.
That's when I started going on my own journey with all this counseling. I don't want to be 50 years old and desperate to be on the Real Housewives for one more minute of fame! I think a lot of people are hurting and there's something missing. I can understand it because no one knew I was good-looking until ANTM. I wore baggy Nine Inch Nails shirts and no makeup. After seeing ANTM, the guy friends who I knew for years were like 'holy shit! You have a body?!'
While you were going through ANTM, Did you ever imagine you would get as far as you did?
Hell, no way! I stood up there and thought 'I don't even know how I got to this point, but they're not letting a stoner who quotes Jay and Silent Bob win a fucking model show. It was me and Shannon the goody two-shoes. When they revealed it was my picture in the final episode, it was also the day my parents' divorce was going through. It was all really affecting me. My family never got my prize money from ANTM, but that's a whole other story. I'm still owed 15k. Still to this day, it's a great amount of money and it would have been ideal to have gotten it and helped my family. Luckily though, my family came together and were able to do it.
My ability to be successful as a human being and not be a fuck up and have had the success that I had? THAT'S my vengeance. I know they wanted me to just disappear but that didn't happen. I mean, I was an asshole when I was pretty pissed about the 15k for a while, but I'm over it. I'm grateful that someone owes me that amount of money because I think others may have gone crazy - especially coming from where I came from, not a place of wealth at all. I look at all these people still in the industry who are thinking 'If I do that or do this, I'll get attention' and I'm so thankful that's not my life anymore.
I'm looking at property in Montana currently and thinking 'ok, if I can get farther and farther away' (from Hollywood). As a gamer who does voiceover work, my fiancé can do what he does from anywhere and we both do NOT want to be in Hollywood.
Was there a moment in time when you realized you weren't getting as much attention - once the cameras stopped rolling?
Only recently because I was a fixture in the nerd world for quite a while. I was hosting gamer shows more recently and that's how I met my fiancé. He was making some decent money streaming videos on Twitch.com and playing video games for a living. Now he's focusing a lot on his voiceover work. I love the privacy I have now. We moved to a retirement town where people are not as privy when it comes to TV and all that stuff.
People still recognize me, but not as much and my perspective has changed. On social media, I'm not going to peddle a picture of myself looking sexy every day when I have a guy who treats me well. It's not good for a healthy and happy relationship. I mean, it has lost me over 100,000 people on my Twitter, but I don't want to be in my 40s posting sexy pics. I appreciate this life now and NOT having paparazzi at my door claiming they have some photo of me that they don't actually have. It's definitely a change of pace being in Arizona. Back in the Hollywood days, I had stalkers, restraining orders...There was one woman who would drive two hours to and from my home to sit outside waiting for me to come out. I had to chase her out of my garage with a shovel. I always say, it's best to ignore them completely till they're outside.
I'm going to presume your courtship with your current fiancé was less turbulent than what you experienced with Christopher Knight.
Yes! We met while I was streaming Hearthstone, a videogame, on twitch.com. He played video games for a living and we had a lot in common. We went on 7 dates before we even kissed! I had been burned so much, I didn't trust anyone. He didn't even realize we were dating at first because I was so closed off.
On Kate's podcast, you discussed that you're an 'Avon Lady' now (pardon the old fashioned term! However, I know it ties in to your personal Avon story). How did that come about?
We came out here for about 8 months and I had a tumor on my uterus. It ended up being benign, but I had major surgery and watched Edward Scissorhands while I was high as a kite on Percocet. There was an Avon lady in the movie. While I was totally loopy and out of it watching, I apparently went online and signed up for an Avon kit. I was in the habit of posting funny videos online where I reviewed stuff and thought I'd do the same and post some crazy review of the Avon products…But I ended up actually really liking the products! So, I started selling Avon. I'm really honest about the products too and I'll flat out tell someone which 3 to skip and which other ones I like and that they should also purchase.
Now I get to work from home and I want to have elves and moose in my yard….a far cry from when I had paparazzi outside.
What advice would you give to anyone who is thinking of going on reality television? And to those who are currently on (or have just started) reality TV, like new Real Housewives?
I would advise anyone trying to get on a show to REALLY think about the consequences. Ask yourself how much of your soul you're willing to give up for fame. Ask yourself if you're prepared for people to write you online and tell you horrific things about yourself...down to insulting your family and dead relatives. That isn't even counting the press. Realize that half - if not more of the people you meet after gaining TV fame - are coattail riders and opportunists.
For those already doing a show like Real Housewives, you're already rich (unless you're all smoke and mirrors making believing you are)! Fame isn't as great as everyone makes it out to be. Anything you do or say will be thrown in your face in 15 years…in your children's faces...your family's. What you're fine with doing now, you may not be OK with your kids (nieces, nephews, etc.) seeing later. If fame means more to you than these things, do it up!
It's quite common for hosts, reality stars, actors, athletes to care more about adoration and momentary fan validation than the repercussions of garnering it. If you are living in a 'Kardashian' reality, then the more famous men or women you sleep with, the more babies you pump out from men or women with names or money, the more outrageous and absurd you act....the more screen-time and ability to 'level up' on the endless fame ladder you'll have. Good luck!
You can find out more about what Adrianne Curry is up to today by visiting her website AdrianneCurry.com.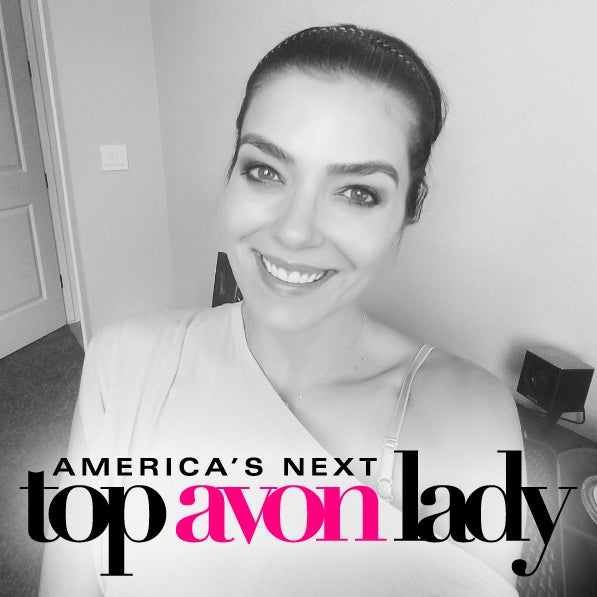 Support HuffPost
The Stakes Have Never Been Higher
Related
Popular in the Community