The ground began to shake. People began to run. And a smothering, thick smoke poured over Boylston Street.
Thirty-two-year-old professional ballroom dancer Adrianne Haslet-Davis quickly covered her eyes and turned away from the blast. Then, a second explosion knocked her to the ground.
She landed in a fetal position, her eyes still open. When the smoke finally began to thin, she realized that she was bleeding heavily. And that much of her left ankle and foot was missing.
Haslet-Davis was one of the many bystanders at the Boston Marathon bombings — the April 15, 2013, terrorist attack that killed three people and wounded at least 264 more. And while the precise timing of the events is hazy, she says she can still recall nearly every detail of the immediate aftermath.
"I remember thinking, 'terrorist attack,' right away — I knew just by the sheer force of the ground shaking," she recently told The Huffington Post. "I sort of dragged my body with my forearms — I couldn't get on my knees — but I dragged my body and was clawing at the ground to get over to the door of [a nearby building]. And someone opened the door and grabbed me by my shoulders and dragged me in."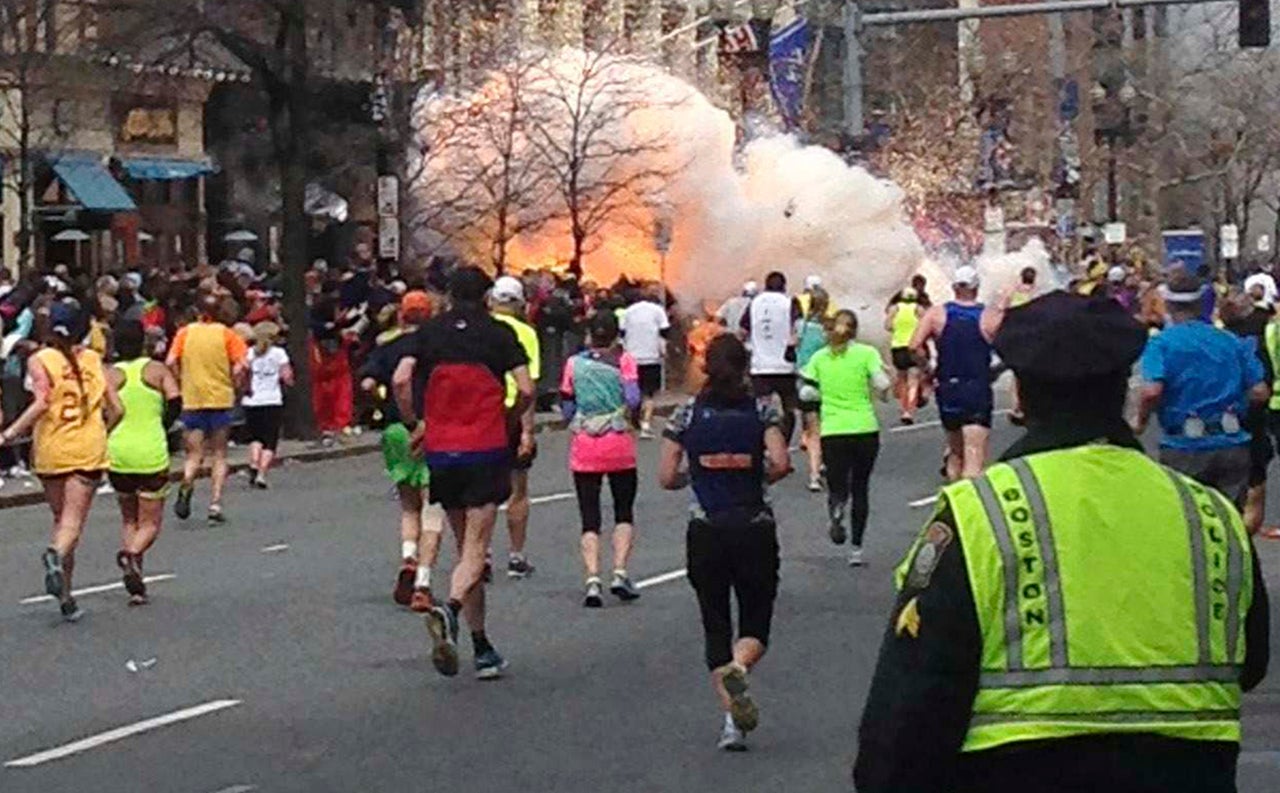 Taken to the nearby Boston Medical Center, the dancer had to have her left leg amputated below the knee.
Immediately, she knew she was facing a long road ahead. Not only would she suffer from post-traumatic stress, but she would quite literally have to re-learn to walk, this time with the aid of a prosthetic lower leg. But just a week after she came out of surgery, when one could've hardly expected a positive thought from her recovery room, she made a promise to herself: that, no matter what, she would dance again.
Now, 36 months later, not only has Haslet-Davis foxtrotted once more, but this Monday she will be returning to Boylston Street -- this time as a runner in the 2016 Boston Marathon.
She pledged to participate in October 2015, just six months ago. And while training for Marathon Monday would surely be her most taxing physical challenge to date, it also, more significantly, marked the biggest mental hurdle Haslet-Davis had attempted to jump since tragedy struck, as she prepared herself to face the fears that were born at Mile 26 on that spring day in 2013.
Haslet-Davis spent the spell following the bombing at Boston's Spaulding Rehabilitation Hospital. It took exactly 78 days for her to take her first "unassisted" step following the amputation -- bearing her own weight, wearing a prosthetic, "without holding someone's hand or a walker or holding onto a crutch."
During her hospitalization, she met MIT Media Lab director Hugh Herr, a double amputee himself who specializes in bionics. After speaking with Haslet-Davis, Herr promised to build her her own bionic limb, developing it specifically to mesh with the "fundamentals" of, flexibility needed for and movements inherent to dance.
Just 200 days later, Haslet-Davis, donning a white dress, white shoes, an updo and a prosthetic left lower leg, stepped onto a stage and began to dance the rumba.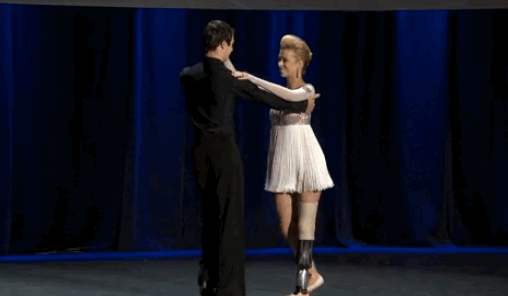 It was the tearful, triumphant climax to Herr's March 2014 TED talk, in which he laid out his goal of "eliminating human disability through technology." It combined scientific advancement with raw human emotion, as Haslet-Davis couldn't hold back the tears before, throughout and after her first on-stage performance since the attack.
"Oh, my gosh, [I was feeling] every emotion possible," Haslet-Davis recalled.
The training to get to that point was immeasurably draining. Mentally more so than physically, Haslet-Davis emphasized -- "because I knew that once I started I would feel my limitations and that could be debilitating."
"Trying to walk on and land on something that you can't feel is on the floor is terrifying," she continued. "[Trying to calculate] where your weight should be in order for it to be directly underneath you is very, very difficult."
After the success of simply dancing again on the TED stage, Haslet-Davis entered her first post-bombing dance competition. She showed up for the simple thrill of performing the craft she loved -- with "no intention of winning."
She was handed the competition's blue ribbon hours later.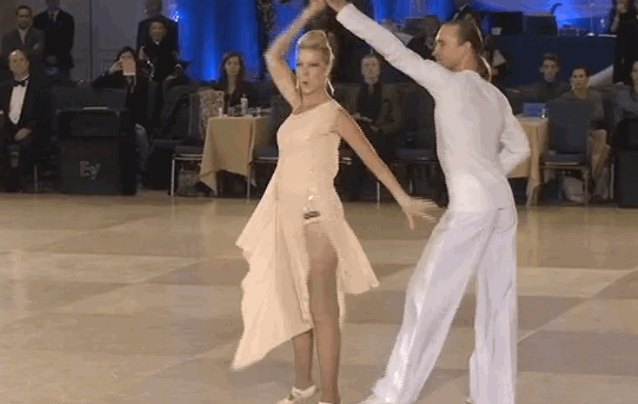 She attributes the win to a "100 percent" change in her perspective on dance and how she approached the sport.
"I'm what I like to call a recovering perfectionist," she said. "When I was dancing before, I would be so concentrated on what I needed to do differently and how I could be better, and now I'm just happy to be there. And I feel like -- I know -- I'm dancing better as a result."
"I think that's why I won," Haslet-Davis continued. "[Because] when you find pure joy in something, it resonates and shows itself in so many different ways. I enjoy it so much more now and I didn't even think that was possible."
Now, it's spring in Boston once more. The snow has melted from the city's famed cobblestone streets, the banks of the Charles River are green and blossoming, and the annual banners counting down the days until the marathon have been hung proudly for all to see.
On Monday, Haslet-Davis will be one of roughly 25,000 runners to line up at Mile Zero on Main Street to twist and turn through a series of quintessential New England towns before, eventually, rounding the corner onto Boylston Street around Mile 26.
For Haslet-Davis, the decision to run is not only a symbol of recovery, not only a symbol of redemption, but also one of resolution. Of higher and higher goals set, of pushing herself to do more, conquer more, take advantage of every day more.
She gave herself six months to train for the 120th Boston Marathon. That limited time frame in itself would be an unthinkable, insurmountable hurdle for most anyone.
"[When I first started] learning how to use the blade, I made a pact with myself that I would at least try to run," Haslet-Davis said. "I [thought], 'Gosh, this blade is so difficult to use,' so I decided to make it a challenge that I would overcome."
And soon enough, simply giving running a go turned into training for the 26-mile safari through Eastern Massachusetts -- despite the fact that she had never really run prior to the attacks.
"[I said to myself], 'I think this is the year that I'm going to do this.'"
So she began the early morning workouts and the regimented schedule, and through the grit, grind and miles tallied, she's discovered a string of connections between long-distance running and ballroom dancing that she had never before imagined.
More important, Haslet-Davis also discovered how she can use the mental strength she acquired throughout her recovery process to inspire herself to keep training. And how, in turn, she can use her marathon training to help her through the trials of her post-traumatic stress.
"There are days when you just think, 'I can't get up at this hour for this run' … [and] you have to be able to pull on that mental strength in order to keep going," she said. "[Otherwise], you just can't go on."
"[My post-traumatic stress] can be debilitating at times, but it's about understanding that and letting yourself rest and letting yourself have time, and being able to say, 'I can't do it all,' then moving on and showing up and pushing through," she added.
She's running on behalf of the nonprofit Limbs for Life, raising money -- over $10,000 so far -- to provide prosthetic limbs for those that need but can't afford them.
"It's a gift that is immeasurable. It's a gift that allows people to walk their child upright to school. It's a gift that allows them to walk down the stairs. It allows them to return to the workforce," she said. "It allows them to get a lot of life back and allows them to dream big and dance or run or do whatever they'd like to do."
Looking ahead to Marathon Monday, Haslet-Davis is proud to say that while she does have some nerves heading into the race, they're almost all "running-related" -- fears any participant would have, not just one who experienced the horrors of 2013 firsthand.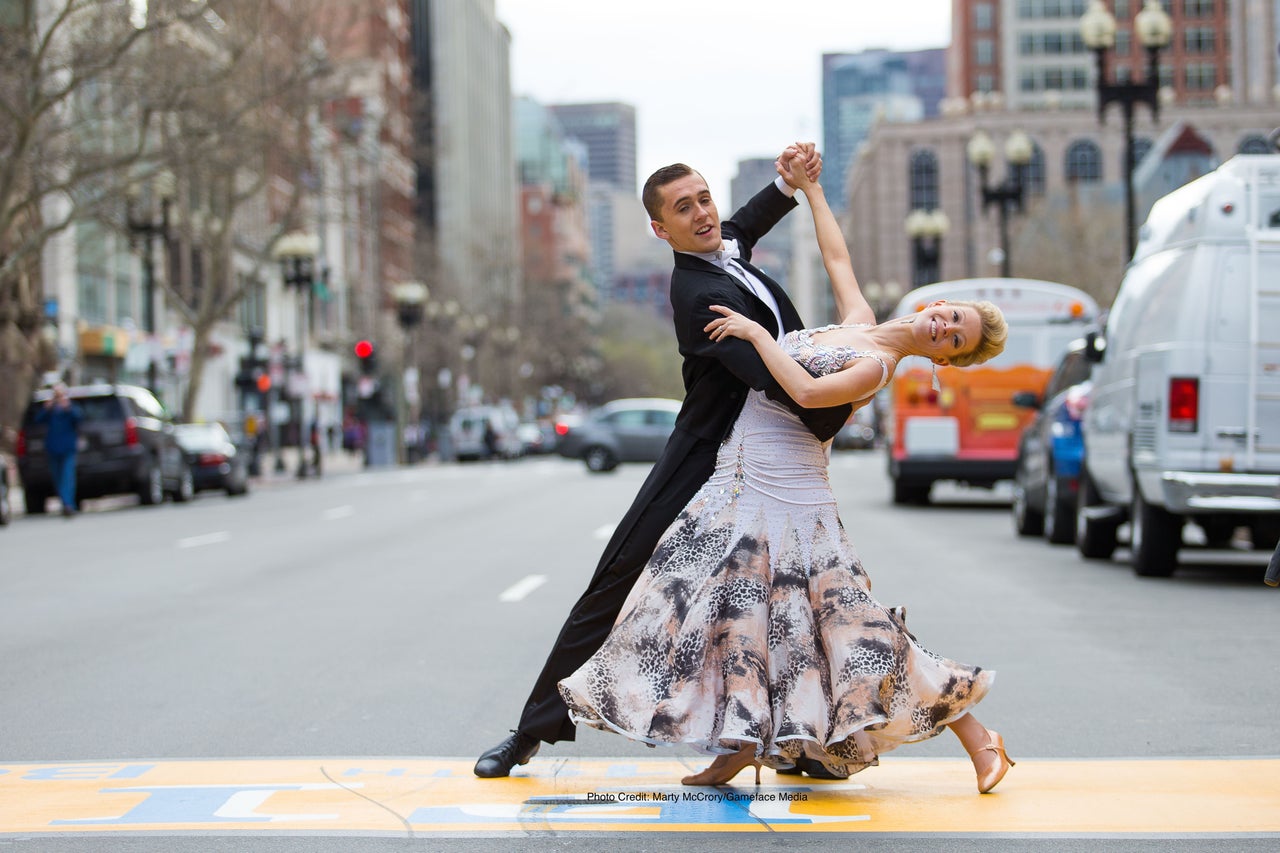 We talk for a moment more about feeling fear in the wake of terror, about how, last month, just hours after the explosions in Brussels, President Obama attended a baseball game, explaining his decision by declaring that we can't let terrorists "disrupt our daily lives."
Haslet-Davis pauses for a moment here, reflecting on Obama's remark. She agrees that we shouldn't allow anyone to scare us into submission. But based on the lessons she's learned in the past 36 months, the trials she's gone through, the hurdles she's crossed, she adds one caveat to the president's words.
"We certainly don't want that to be our life, but it's OK to have those days where we are scared," she said slowly. "I'm not ashamed to say I'm scared. I feel like it's important to let people know that it's OK to be scared. It is scary."
However, Haslet-Davis is doing anything but cowering in the face of that fear. She is careful to delineate the difference between being a victim and being a survivor. And she firmly considers herself the latter.
"I believe a victim is defined by what happened in their life, [while] a survivor is defined by how they live their life," she explained. "And I'd like to be defined by how I live my life."
"That's not to say that I don't recognize what happened -- it will forever change me, 100 percent," she continued. "However, I also know that I can and have and will continue to live a long life and my life is what I make of it. I plan on making the most of it not only for myself, but for other amputees as well."
As for what she expects to feel when she crosses the finish line on Boylston Street on Monday?
"I think I'll be a mushy mess of emotions," she says. "Unapologetically so."
Related
Before You Go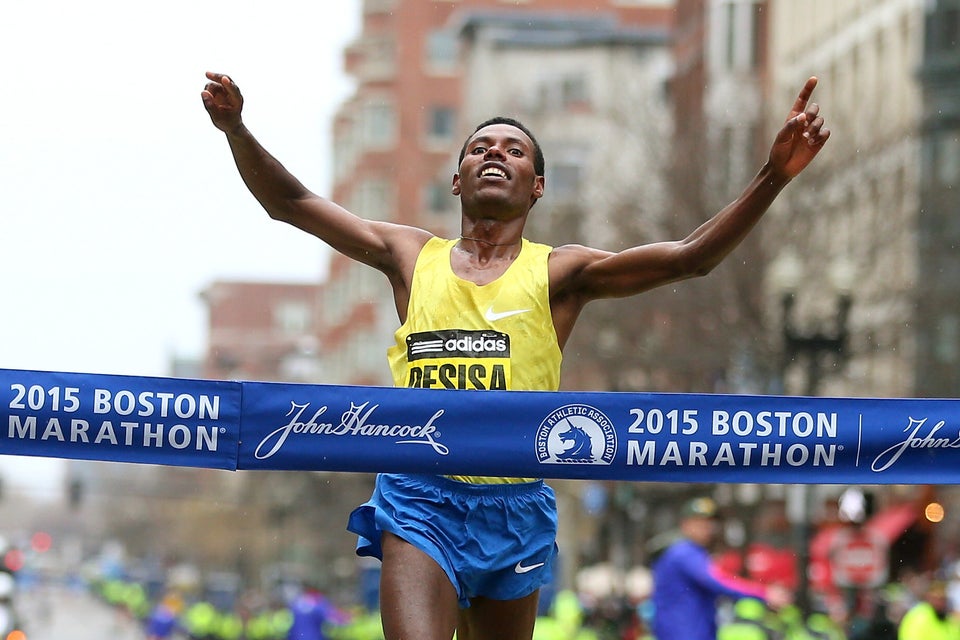 Photos From The 2015 Boston Marathon