Nearly 3.5 million people live along the iridescent shores of the Adriatic Sea, with tourist-flocked Split, Croatia and Venice among its best known cities. Yet Trieste, Italy and Piran, Slovenia are two impressive coastal gems that are often overlooked.
Trieste: Where East Meets West in Italy
Walking through a labyrinth of hilly streets overlooking the azure Adriatic, I could not initially tell that Trieste used to be the fourth largest city in the Austro-Hungarian empire. It didn't help that some of the Italians in Berlin I told of my trip asked, "Trieste? Where's that?"
Despite visiting on the finale of the 2014 World Cup, I sensed a sleepy summertime vibe. Neatly dressed sun worshippers dipped into decadent chocolate lavender gelato or imbibed Trieste´s sweet alcoholic specialty, Aperol Spritz, on sprawling cafe patios.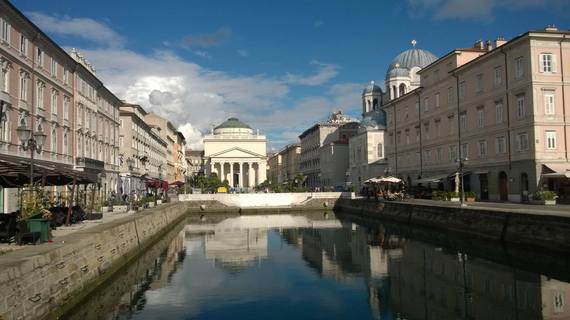 But a closer look at Trieste, situated only 70 kilometers north of Venice and tucked into the Slovenian coast, revealed a multifaceted history of the unassuming city. Occupied by Romans, Habsburgs, Mussolini's regime, Germans and Allied Forces, it was finally returned to Italy in 1954.
Trieste's mixed identity can largely be seen in its architecture: flowery neo-classical facades, such as one with a serpent-fighting lion, sit next to nondescript high-rises from the Fascist era. Its winding stone pathways are dotted with Serbian Orthodox churches, Helvetic Evangelist churches and one of the largest remaining synagogues in Europe. Roman ruins, such as a forum and basilica, are strewn amid a 15th century Castillo, a former residence of the Habsburgs.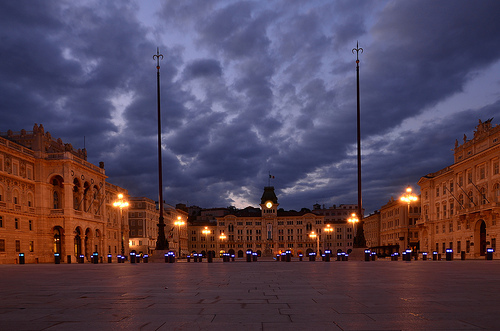 Modern-day Trieste remains a cultural melting pot. Like its surrounding region of Friuli Venezia Giulia, Trieste is officially quadrilingual, a mixture of Italian, Slovene, German and Friulian, a Romance language that counts 300,000 speakers today. The city's ethnic Slavic minority comprise about 30 percent of the population, and Slovene speaking villages surround it.
Trieste's glamorous Piazza dell'Unità d'Italia, the largest courtyard in Europe facing the Adriatic, was the main shipping port of the Austro-Hungarian empire. Slovenians still refer to it as Veliki trg (Great Square), its name before 1919. The Slovenian influence remains strong, especially considering Slovenia is less than 20 kilometers away.
The Other Side of the Sea

An idyllic inlet filled with medieval houses jutting out into the Adriatic Sea: every view of Piran I saw seemed to belong on a postcard.
Until the mid-20th century when Piran officially became part of Yugoslavia, Italian was the main language. But the gorgeous ornate architecture, relaxed attitudes of its inhabitants and creamy pasta topped with regionally picked truffle mushrooms still give the impression of being in Italy, at half the price and without the hordes of tourists.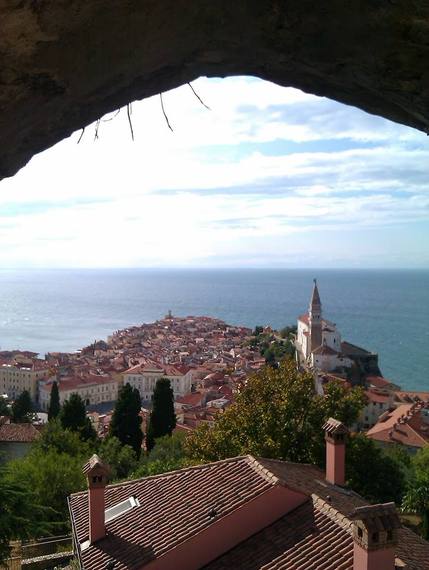 Piran belonged to the Venetian empire from the late thirteenth century to the end of the eighteenth century, and then was part of Italy from 1918 until 1947. The walls wrapping around the city were built to protect it from Ottoman excursions. Piran's centerpiece is Tartinijev trg, a beautiful oval-shaped main square boasting a statue of the famous violinist Giuseppe Tartini.
Today Piran's biggest claim to fame may be that it's the first city in former Yugoslavia to have a black mayor, Ghana-born Peter Bossman, who's often been dubbed the "Obama of Piran." The wildly popular politician was elected for his second term in October. Still, the tiny town only has a population of just over 4,000 (the municipality has a whopping 18,000 residents), and immigration is more common from ex-Yugoslavian countries such as Bosnia and Herzegovina and Serbia.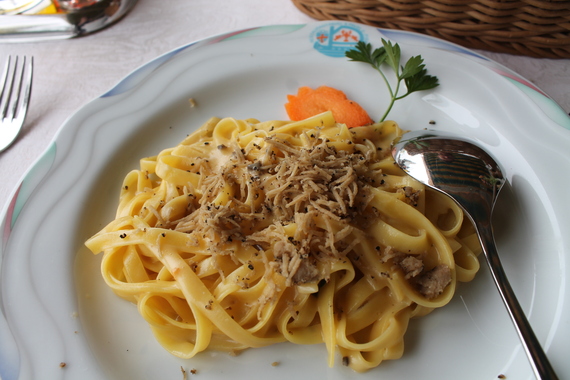 Piran is perfect for sauntering around winding streets which have the same maze-like feel as Trieste until you reach the sea. Many of the local shops sell salt produced in nearby salt pans such as Sečovlje. I also biked through here and was so impressed by the sprawling marshlands and bird reserves, home to over 250 species, that the drab weather and slight drizzle didn't faze me.
My last memory of Piran is standing in the sand, with regional salty chocolate in my hand, wishing that this holiday could last a little longer.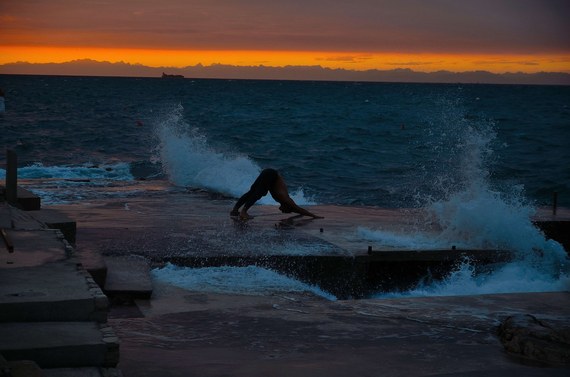 Getting There:
The Friuli Venezia Guilia Airport in Trieste welcomes flights from all over Europe. Ryanair flies there from a few cities including London-Stansted, and Lufthansa flies in from Munich. There are also many bus connections between Trieste, Piran and Ljubljana, Slovenia's capital which sits about 100 kilometers away from Piran.
The two sister hostels Piran and Pirano are both near the old town, and offer beds for around 15 euros a night. Not surprisingly, prices will go up a little once you cross Italian border. There are still some centrally located, comfortable and cost-reasonable places to stay in Trieste. Located in a tranquil 1920s villa, Tergesta Hostel is within walking distance to the Miramar Castle. For those who want a bit of an upgrade, the Savoia Excelsior Palace also offers sweeping seaside views.

Photo credits: Trieste Canal and Piran mushroom pasta by Rachel Stern; Piazza dell'Unità d'Italia from Creative Commons by miroslav0108; View of Piran by Nejc Trušnovec, and view from Crveni Vrh, near Piran, overlooking the Slovenian and Italian Alps, by Claudio Contartese.