The cartoonist, who shares her work online under the name Hedger Humor, was born on Dec. 24, and her youngest daughter was born on Jan. 4.
"What's tricky about that," she said, "is the planning and the invites all have to go out at the exact same time that everyone is completely focused on the holidays."
In 2015, Hedger created a cartoon inspired by a conversation with her daughter that summed up exactly how she felt about planning a birthday party for a bunch of kids at the height of holiday mania.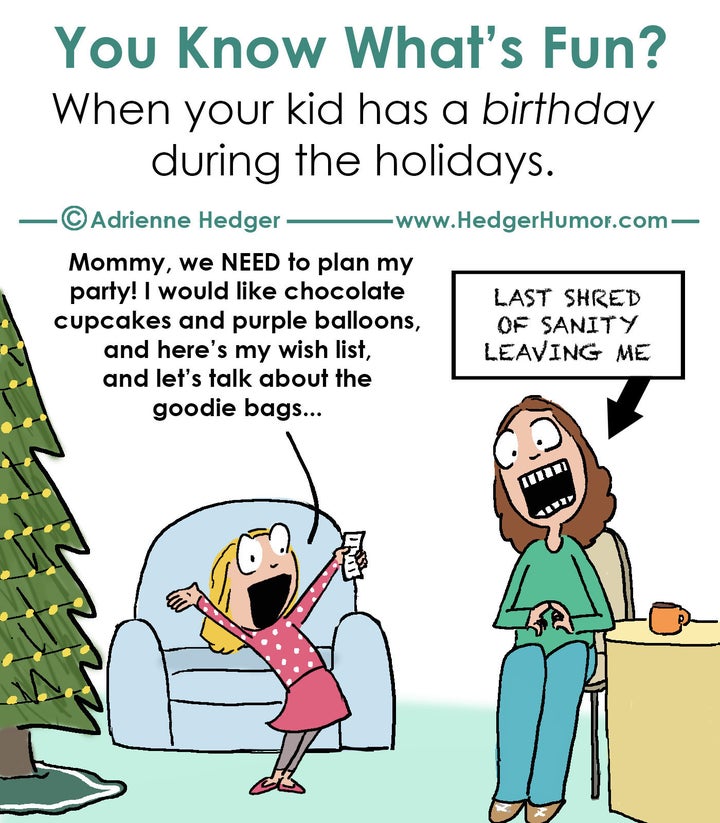 "I was crazy deep into Christmas and already freaking out," Hedger joked after noting that the crazed look on the mom's face in her cartoon was a "very, very accurate" portrayal of herself.
Hedger usually reposts the cartoon on her social media pages during the holidays. She has received thousands of likes and shares, along with hundreds of comments from people chiming in that they, too, understood the special experience of having a birthday (or planning a birthday celebration) during the holidays.
Hedger shared some of her favorite insights from those comments while chatting with HuffPost, and told us a few tips about celebrating people born during this festive season.
Think carefully about the gifts ― and the wrapping paper.
Several people who follow Hedger's art pages said their families make it very clear that there are no "birthmas" presents ― combined birthday and Christmas presents. A possible exception is if the birthday person has an expensive item on their wish list.
It's also nice to wrap birthday gifts in birthday wrapping paper and stick to holiday wrapping for the other gifts ― an act of kindness Hedger captured in another funny comic.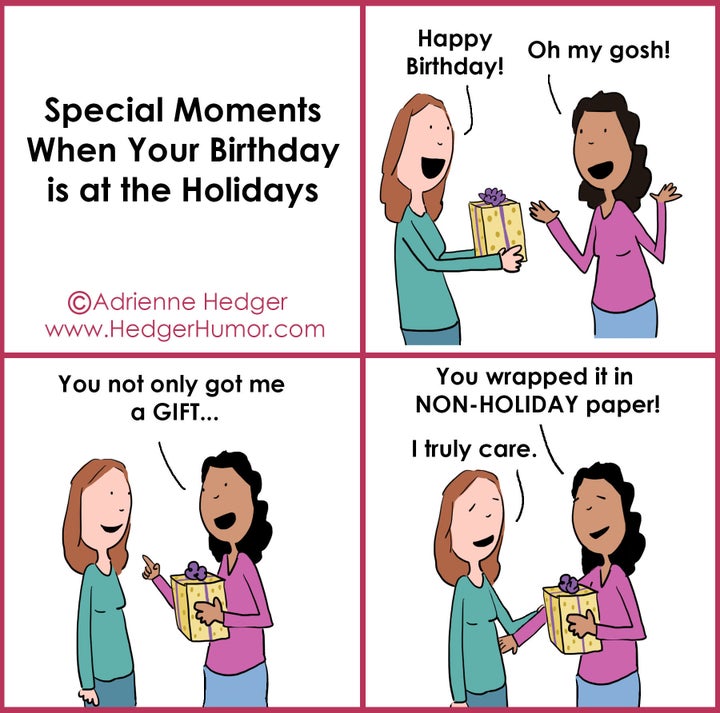 "I don't really care if people combine gifts or if people wrap my gifts in holiday paper, but I do know that I appreciate when friends go out of their way to use birthday paper," she said.
Get creative with the celebration.
Some have commented on Hedger's cartoon to say they celebrate half birthdays, or birthdays six months before or after their actual birthday, to avoid trying to get people together during the holidays. Hedger said she tried that idea as a teen, but felt much more connected to her actual birthday.
"I was not feeling it," she said. "It was June, and it felt totally weird. I don't know, I identify with my birthday now too much. I couldn't get into it."
She also noted that some people who celebrate their big day during the holidays prefer to have birthday decorations instead of a holiday party theme. For Hedger, they're one and the same.
"I don't want the Christmas stuff down," she said. "I love the ornaments and the hot cocoa. I love all of it. Christmas becomes the specialness and fun of the birthday."
Whatever you do, don't pity people who have birthdays during the holidays.
What not to say: "That must suck!" or "I'm so sorry!"
"People think, 'That must mean you get forgotten and get swept up in it all,'" Hedger said. "What they don't understand ... is that people actually go out of their way for you, and it really becomes this really magical thing."
Hedger said she tries to keep her daughter's birthday separate from the holidays, so she has her chance to be celebrated. But for her own big day, she's pretty relaxed about how it comes together, especially because the holidays make it extra special already.
"Now I love my birthday because everyone is home," she said. "My husband doesn't work. Everyone is around. Everything is done at that point. It's a really nice day that is guaranteed to have my family around me."
Before You Go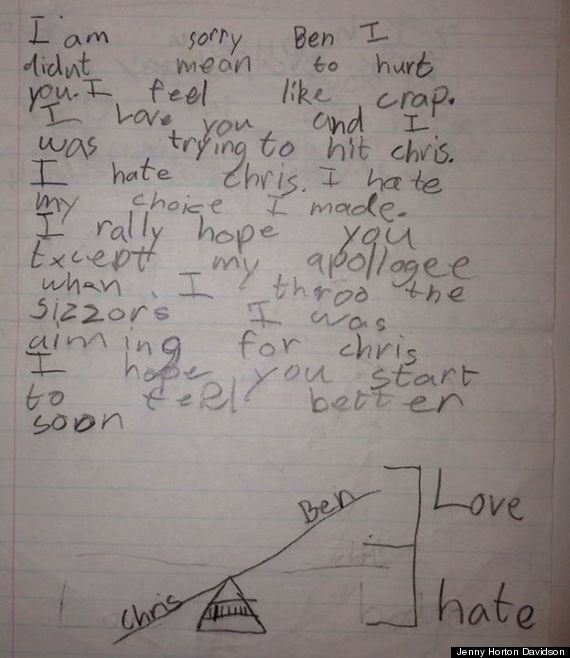 Cute Kid Notes