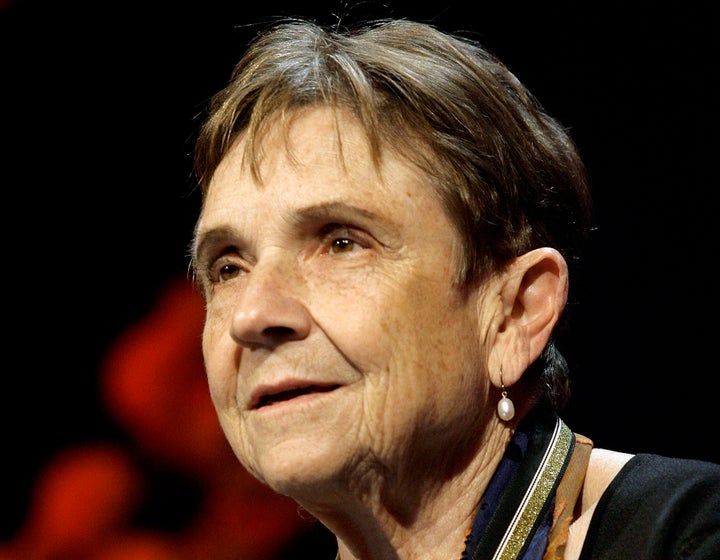 She wrote angry poems, love poems, poems of hope and despair, poems of terror and courage. Her own and others'. Yes, she wrote feminist poetry and lesbian poetry, and was adored and attacked for it. Yes, she wrote of "the suffering hidden in plain sight" in America and in the world, and her work was the work of tikkun olam, a Hebrew phrase that means "mending the world."
She inspired two generations of American poets. Inspired their writing. Changed their lives. Our lives. Her first book, which won the Yale Younger Poets Award in 1951, when she was an undergraduate at Harvard, was called A Change of World. In 1971 she published a book called The Will to Change, which announced, "What does not change / is the will to change." To the end of her life she was a philosophical poet who seriously probed the meaning of life, of consciousness, of living in a body, of pain, of justice, and of the will to change. "Poetry never stood a chance / of standing outside history," she wrote. "Poetry is not a healing lotion, an emotional massage, a kind of linguistic aromatherapy," she said in an acceptance speech to the National Book Foundation in 2006, on receiving its medal for distinguished contribution to American letters. "Neither is it a blueprint, nor an instruction manual, nor a billboard."
Look anywhere in any of her books and prepare to have your breath taken away. Many of her early poems from Snapshots of a Daughter-in-Law (1963), Diving into the Wreck (1973), and The Dream of a Common Language (1978), where she came out as gay in "Twenty-One Love Poems," are famous. Many phrases from these early poems have become unforgettable: "This is the oppressor's language / but I need it to talk to you"; "Your nerves the nerves of a midwife / learning her trade"; "Each of us must help the other die"; "The book of myths." But I just opened a book of her poems called Telephone Ringing in the Wilderness, published in 2007. In a poem referring to prostheses and phantom limbs as "devices / replacing touch," she imagines "a poem with calipers to hold a heart / so it will want to go on beating." That is the kind of poetry she herself wrote. I turn a page and find a poem suitable for Occupy Wall Street, delineating class privilege with a wicked precision:
Propped on elbow in stony light

Green lawns of entitlement

out the window you can neither

open nor close
Reading this poem, I cannot untangle the threads of anger, contempt, and pity. It is the poet's way to perceive the complexity of reality, and to make imagery and music bear that perception. She does not preach, rant, glamorize, or sentimentalize. At the other end of the ladder of class:
This is the room

where truth scrubs around the pedestal of the toilet

flings her rag into the bucket

straightens up

spits at the mirror
If you are trying, like me, to understand what it means to be an American, loving your country, here are lines that appeared in An Atlas of the Difficult World, published in 1991, the time of the first Gulf War and the deployment of the Patriot Missile:
A patriot is not a weapon. A patriot is one who wrestles for the soul of her country

as she wrestles for her own being, for the soul of his country

gazing through the great circle at Window rock into the sheen of the Vietnam Wall

as he wrestles for his own being.
It is the end of an era, and nobody will be able to replace Adrienne in the ongoing tasks of struggling for justice and love in the world, but she is alive because her inimitable words are, and because many of us trudge on in her wake. As the rabbis say in Talmud, "It is not incumbent on you to finish the task. Neither are you free to give it up."
Calling all HuffPost superfans!
Sign up for membership to become a founding member and help shape HuffPost's next chapter