The most fascinating model casting at last week's New York Fashion Week was the Adrienne Vittadini presentation. To showcase its fall collection, the iconic brand brought together some of the most recognizable faces in modeling. Unlike in Hollywood, there do appear to be roles for older women in fashion, if recent advertising campaigns, magazine editorials and runway shows are any indication. But how many other shows could claim to have both the white-haired beauty Carmen Dell'Orefice, who's 79, and the sylph-like Niki Taylor, who's 35, on their runway? Also appearing were Carol Alt, Roshumba, Irina Pantaeva, Frederique van der Wal and Pat Cleveland -- who shimmied down the catwalk as if she was dancing at Studio 54. It was an intimate but vibrant affair, with the ladies beaming as they took their exits. The clothes were wearable, the women looked beautiful, and the enthusiasm in the room was palpable.
Since Hourglass was the makeup sponsor, I had an insider view of the proceedings. Dell'Orefice turned up to the backstage looking flawless and with her makeup already done, which I totally understood. She was 15 when she landed on the cover of Vogue in 1947, so there's not much she doesn't know about her face. Her cheekbones are still sharp enough to slice fabric and she has a mesmerizing Mona Lisa smile. A few feet away was Roshumba. Poured into a clingy Herve Leger dress that outlined her lithe frame, Roshumba still turns heads. And her skin had an otherworldly glow. What's her secret? Olive oil. "I use it as a moisturizer on my entire body," said the model who moonlights as a judge on TV Land's She's Got the Look. "Extra virgin or organic is best. Try it! Feel it!," she said, proffering a silky arm. In another unconventional tip, Roshumba said she likes to exfoliate with a kitchen scrubbing pad. Truly.
Niki Taylor was having her hair primped when we asked her how she keeps so winsome. "Running is my thing. But drink more water and get more than six hours of sleep. You need to recharge." Good advice that will likely help her when she appears on the latest outing of Celebrity Apprentice next month. As for Carol Alt, a raw food exponent who recently launched her Raw Essentials skincare line at Duane Reade, it's about being "clear of gunk." When I launched my brand, Hourglass Cosmetics, seven years ago, I added clinical levels of rejuvenating ingredients and eliminated hazardous chemicals like parabens, phthalates, sulfates and synthetic dyes. "When I heard that I sat up in my chair," said Alt. "I've seen the devastating impact of chemicals on my skin. Typically I wash my face after a show or shoot."
We wanted the women to look luminous and not heavily made up, which also summarizes my approach to beauty. Over the years my look has remained pretty natural. I just want to look like me -- only better. "You want a translucent base as you get older," affirmed the Dutch treat Frederique van der Wal. Asked for her advice on looking good, Pat Cleveland announced, "Beauty is eternal!" Pressed for details on her regime, she added: "Eat well, sleep well, make love and care about the people around you because that makes you beautiful." She paused to swipe a chocolate brownie from a nearby tray. "Would you like one?" she asked. With such a dream focus group, it was impossible not to road-test a few of our new products. The celebrated beauties liked our natural cheek stain and our latest anti-aging foundation, but a new top coat for lashes left at least one with a quizzical look. "What was that funny stuff?" asked Frederique.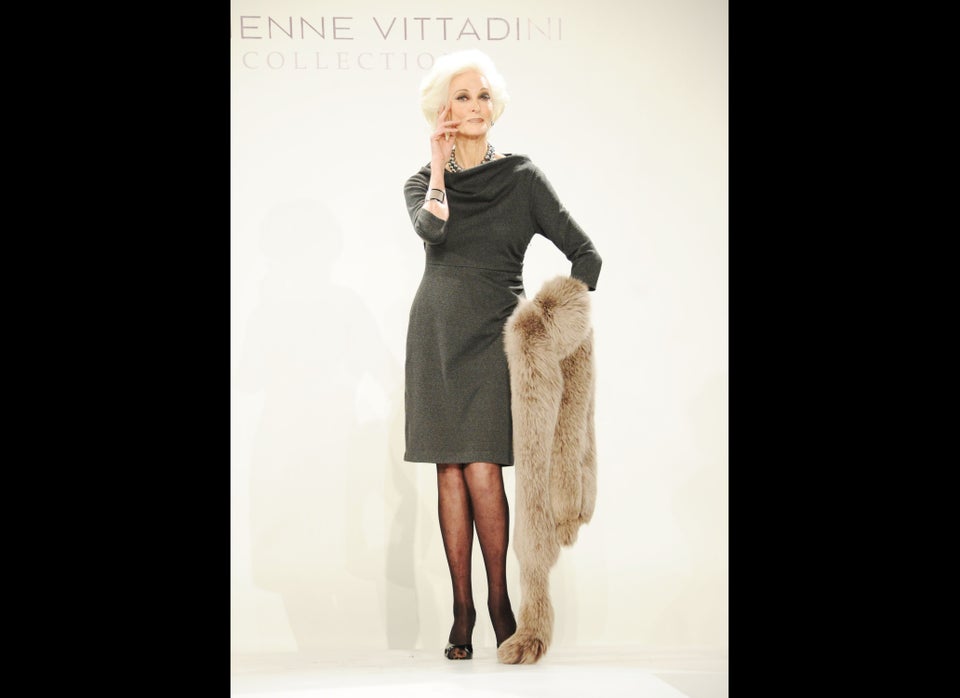 Related