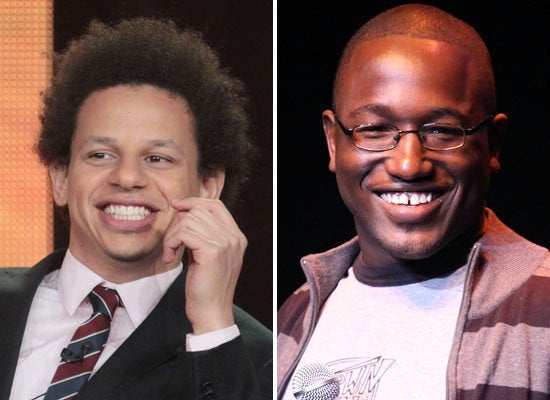 Move over, Space Ghost: Adult Swim has announced production of "The Eric Andre Show," a late night talk show that will play with the conventions of a normal talk show, showcasing the talents of stand-up comedian Eric Andre. Fellow comic Hannibal Buress will be Andre's "apathetic co-host." The show will premiere June 24, 2012.
According to a press release from Cartoon Network, whose programming bloc Adult Swim has made hits of the unlikeliest of programs, the talk show will take place "on a dingy public-access TV channel within an alternate reality, The Eric Andre Show creates its own distorted pop culture universe by conducting interviews with an unpredictable mix of actual celebrities, 'fake' celebrities and extreme real-life weirdos."
The show will be produced by Abso Lutely Productions, known for making Adult Swim's "Tim & Eric Awesome Show, Great Job!" Indeed, the description of "The Eric Andre Show" sounds quite a bit like a sketch from "Tim & Eric."
Andre may not be a household name, but he is slated to co-star on the sitcom "Don't Trust The B---- in Apartment 23" on ABC in April. He's also a popular presence in the world of stand-up, and has several TV appearances under his belt. Co-host Buress has written for "Saturday Night Live" and "30 Rock, and recently taped an hour special for Comedy Central. Additionally, Deadline reported in October that Buress is also working on a Fox sitcom with Jonah Hill.
CORRECTION: A previous version of this article said that Adult Swim had not announced a premiere date.