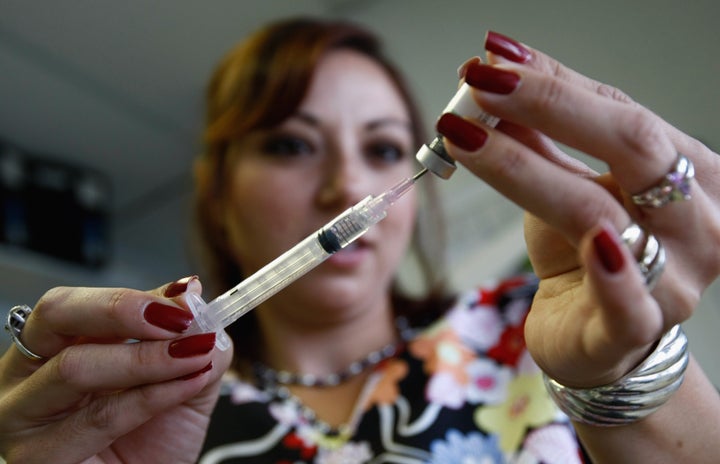 We may have taught our children well but we need to follow our own advice.
Adults will often take their children to get immunized, knowing that vaccines can protect them from debilitating and potentially deadly diseases, but many of those same adults fail to get vaccinated and properly protect themselves.
Vaccine-preventable diseases kill more than 50,000 U.S. adults annually. That's more than the number of adults who die each year from either breast cancer, HIV/AIDS, or motor vehicle traffic accidents. Just two vaccine-preventable diseases, influenza and pneumococcal disease, cost society tens of billions of dollars every year in direct and indirect costs -- human suffering and financial burdens that could be significantly reduced through vaccination.
Recognizing the need for a national campaign developed specifically to address adult vaccination issues, the National Foundation for Infectious Diseases (NFID), in partnership with leading medical experts and national health organizations, recently launched the Campaign for Adult Immunization at the inaugural National Adult Immunization Summit held in Atlanta, GA.
With the pending Supreme Court decision on the Affordable Care Act and political debates over the best ways to curb national spending while improving the nation's health, now is the ideal time to focus on policy and education programs dedicated to life-saving, cost-effective immunizations for adults.
As a multi-disciplinary national effort bringing together stakeholder groups interested in adult immunization under one advocacy umbrella to support adult immunization issues on and off Capitol Hill, the Campaign aims to reduce the tens of thousands of vaccine-preventable deaths by increasing awareness of, and access to, recommended adult vaccines. By coordinating the efforts of interested stakeholders, we will leverage the resources and expertise of our partners to increase our ability to successfully advocate for innovative solutions to adult vaccine issues.
An advisory board of leading experts has been established to actively provide guidance on the most effective policies and initiatives that will address immunization barriers. In addition to my own role as Chair, other members on our advisory board include:
Paul Offit, MD, chief of the Division of Infectious Diseases, director of the Vaccine Education Center at the Children's Hospital of Philadelphia;
Gregory Poland, MD, Mary Lowell Leary Professor of Medicine, Mayo Clinic, and director of the Mayo Vaccine Research Group;
Litjen (L.J.) Tan, PhD, director of Infectious Disease, Immunology and Molecular Medicine, American Medical Association; and
Deborah Wexler, MD, executive director and founder, Immunization Action Coalition.
Now is the time for adults to recognize the importance of protecting their own health as well as their children's. You can learn more about the Campaign for Adult Immunization at www.adultimmunization.org. I urge you to join us in this important initiative.