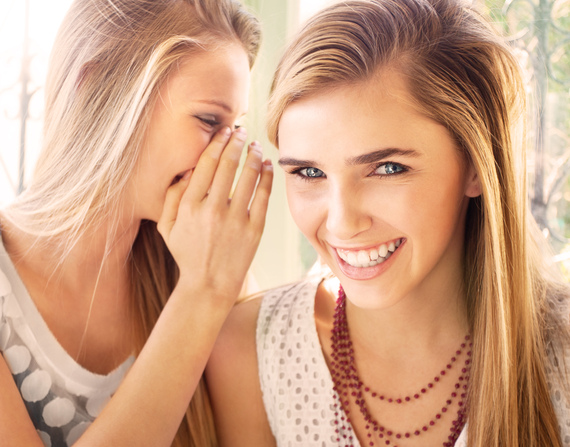 At the age of five, friendship was as easy as letting the other girls in your class borrow your milky pens and occasionally play Baby Spice in your Spice Girls tribute band. My chubby cheeks smiled with glee every time I made a new friend to invite to my next slumber party. I was working the system. In '94 there weren't quite as many ludicrously popular boundaries like #NoNewFriends and "you can't sit with us." It's 2016 and the ink in our milky pens has run dry, Posh rules the world, and the Tamagotchi has been replaced with an Apple watch.
From doing taxes to painfully shielding your eyes when you realize how much of your paycheck goes to brunch, being an adult is kind of a twisted yet satisfying experience. If there is one thing that triumphs over paying bills or sitting in a desk chair all day in the hierarchy of adulthood quandaries, it's making friends.
Sitting on my coffee table is my boyfriend's copy of How to Win Friends and Influence People. Okay, Dale Carnegie... let's pretend it's easy to win friends in an age where bribing girls with Lisa Frank coloring books is no longer socially acceptable. This issue plagued me when I decided to move from Miami to Houston, a new city unpopulated by my past. No one here knew who I was...that uncertainty became a paradox that was both beautiful and terrifying in its own right. Who would I be in Houston?
It's been seven months and I'm proud to say that despite the lack of milky pens in my possession, I've not only survived but thrived. Here's what I've learned on the mission to find my tribe:
Get Friend Zoned

After countless meetings with potential friend suitors, it was hard to feel like I wasn't back in the dating world. I'd get this rush of nervousness before meeting up with a girl I met on Instagram, attend the "friend date" and then quickly report back to my boyfriend to let him know I sealed the deal. Pathetic? No -- absolutely normal. Humans need humanity to function, so don't feel lame for feeling being by the new people in your life. That's what they're there for.
Get Up and Go

You can't be the Gatsby of the party by watching Leonardo DiCaprio on Netflix. Whether it's leaving the office on time to make a Pilates class or going to a work networker, the only way to build relationships is by seeking them. (Once you get past the stage of making friends, you can of course invite them over for a Leo marathon in sweatpants. Baby steps.)
Do Your Research

Skilled at digging for case studies at work? Proficient in cyberstalking an ex? Whatever your online talent is, put your research savvy self to use. Dig deep to find the organizations, meet-ups and people who fit you best.
I've been able to kick-off incredible friendships by Googling organizations, utilizing my blog, tapping into social media, and even attending "blind" encounters set up by mutual friends.
Remember that Your Vibe Attracts Your Tribe
The most important thing to remember is who you are before staring the leap into friending. Contriving your character will not only be readable and ultimately uninteresting to whomever you meet, it will be miserable for you to maintain in the long run. Let your inherent attributes run through your veins and when someone asks about you, you won't be hesitant to answer. Remember that uncomfortable idea that no one knows who you are here? Before they can know you, you need to know you. Find yourself, mark it on the map and your tribe will soon meet you there.
This post originally ran on CupOfCharisma.com, Jillian's blog focused on style, social good and the twenty-something's guide to life.
Calling all HuffPost superfans!
Sign up for membership to become a founding member and help shape HuffPost's next chapter