"I can't stand for something that's racist. Advance Australia Fair, when it's really Advance Australia White." Said Anthony Mundine, ahead of his fight against arch-enemy Danny Green. Mundine is Aboriginal Green is White Australian.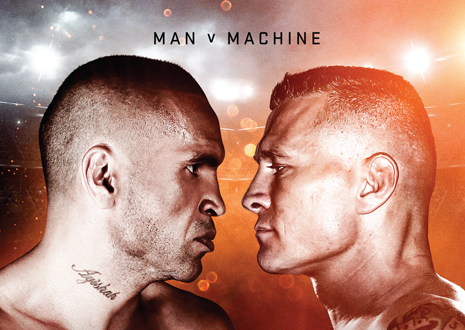 The fight is billed as "The Man vs The Machine."
There couldn't be a better title to depict Australia. Mundine, the Aboriginal from Sydney is the man, Green the white man from Perth is the machine. Mundine and Green, come from two different worlds inside the same country, a country divided by skin colour and race. A country where apartheid is well alive, you just have to walk down Newtown's King St to experience it. While black fellas are busking and begging, white fellas own the businesses, eat in the restaurants and drink in the pubs. On any given Friday night, there are loads of drunken white people behaving badly, yet the police typically focus on arresting the lonely drunk black fella.
The latest aboriginal man killed in custody was 29 year old Wayne Morrison, a father and an artist who'd never been in trouble with police, "My brother was brutalized by prison officers in custody and didn't receive health care from the beginning of his 6 days in remand despite requesting it, he was assaulted by white people before he was arrested!" said Latoya Rule, Morrison's sister. No worries mate, this is the Australian way, the authorities will hold another coronial inquiry. Despite the many government inquiries, no policeman has ever gone to prison for a single aboriginal death in custody. An aboriginal man is 13 times more likely to be arrested than his white Australian counterpart, if this is not apartheid mate, please tell me what it is.
I know many white Australians including my husband, who grew up without having any contact with aboriginal people, except the odd aboriginal kid at school who was 'adopted' by white parents. "The majority of Aboriginals live in the outback" is their answer, however the fact is that 66% of Aboriginal people live in NSW, Queensland and Victoria.
There are 400% more Aboriginal children taken from their families today than during the so-called Stolen Generation (the term used in Australia to describe how Aboriginal children were kidnapped by the state). "The police just came and stole them." Said a Kukulangi grandmother who is currently fighting a legal battle to recover her grandchildren. In NSW alone, 1 in 10 aboriginal children are placed in 'Out Of Home Care Adoptions', mostly with non-aboriginal families. In 2015, more than 150 aboriginal people died by suicide. Young Aboriginal Australians have one of the highest suicide rates in the world.
The constitution of Australia is a document based on white supremacy and racial superiority; article 25 of part III discriminates on the basis of race against Aboriginal people. Racial discrimination remains legally possible under the Australian Constitution.
Estimates calculate that before the white man invaded Australia in 1788, there were 750,000 aboriginal people living here and more than 700 languages were spoken. Australia has been inhabited by the different Aboriginal nations for almost 80,000 years and sovereignty was never ceded to the white Australians. Hundreds of thousands of Aboriginal Australians were killed defending their land and for years fought against the invaders. Aboriginal people still own 30% of Western Australia.
So, I ask you, how can someone in their right mind question Anthony Mundine's decision to not stand for a national anthem that embodies hatred, exclusion and racism? An anthem that erases the genocide endured by the oldest living culture in the world, the Aboriginal people, an anthem that misleadingly calls Australia a young, free and fair nation.
While white Australians, from the Prime Minister down, criticized and bullied Mundine's decision, trying to silence his democratic right to stand up for his beliefs, or in this case to simply not stand up, is more proof of the apartheid Aboriginal people live in today.
Let me ask you a question. Would you expect a Jewish person to stand during the German national anthem after the Second World War?
It is a matter of dignity for Mundine not to stand for the Australian national anthem.
Related
Popular in the Community