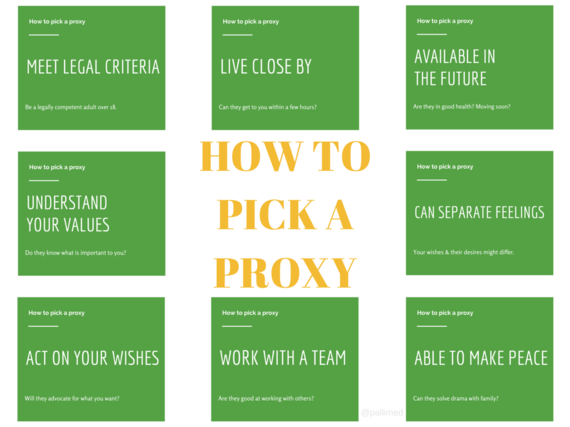 There's been a big push in recent years to educate the public about Advance Healthcare Planning (AHP). The focus has been primarily on the forms you need to fill out and why they are so important. But, there is so much more to it than filling out forms that is far more important and will be discussed in Part 2 of this article. For now, let's focus on what Advance Healthcare Planning is and who needs it.
Advance Healthcare Planning is about providing clear and convincing evidence of your wishes in the event of a life or death health crisis when you are unable to speak on your own behalf. Here's how AHP works. The legal requirements, forms, and recommendations for expressing your wishes are regulated by each state and vary from state to state. There are lots of great websites that will let you know what is required in your state. One of my favorites is http://www.caringinfo.org. It provides extremely clear information about AHP, what you need to know, and provides downloadable forms for each state. If you are someone who spends a significant amount of time in a second or third state, such as many "snowbirds" do," be sure to fill out forms for both states and carry them with you when you travel. This is important because not all states have reciprocity with one another.
Generally speaking, there are two documents involved. The first is a Healthcare Proxy, which is a legal document in which you empower someone else to speak on your behalf regarding end-of-life health care. The second is a Living Will, which is not a legal instrument, but is intended for the purpose of giving specific information about what kinds of life sustaining treatments you do and do not want. Unfortunately, most of us have been presented with these documents as part of a package of forms that we are filling out with our attorney as part of our estate planning or we are asked to fill them out when being admitted to the hospital. As a result, we rarely understand their full implications and intricacies and fill them out in a rush.
Now, let's look at who needs a health care proxy and a living will. The answer is simple -- every adult who is mentally competent. I know, most people think you don't need to worry about this stuff until you are old, but the reality is you don't have to be old to die. Death and health tragedies happen every single day to healthy young people texting in cars, drinking and driving, on the football field, in domestic disputes, and innumerable other ways. For example, we have a new baby in our family who was just named after his mother's brother who died at the age of 17 in a bizarre car accident.
Dealing with these realities is hard in a society that perpetuates a death taboo that makes us not want to think about, talk about, or deal with the realities of aging, dying, and death. However, educating ourselves about these normal parts of life and taking responsibility for ourselves by living with our affairs in order is a matter of personal responsibility. Plain and simple, there are two great reasons for tending to your advance health care planning. First, it is the only way to make sure that your voice is heard if and when a health crisis arises and you are unable to speak for yourself. Second, it avoids family trauma and squabbling over what should or shouldn't be done for you in time of crisis. So, if you don't yet have your advance health care plans in order, what possible good reason do you have? Please, please, please make this an urgent priority. And, please read Part 2 of this article, which will provide lots of the ins and outs and intricacies of how to really make sure your advance health care plans work for you.
If you would like to know more about me, please visit my website.
If you would like to suggest a topic for a future blog or ask me to address a particular situation or issue, please email me here.
Related