Women leaders have taken corporations and other organizations to new heights, yet women represent too small a percentage of leaders overall. This implored us to ask: what challenges do ambitious women in the workplace often face and how do we move more women forward into leadership roles?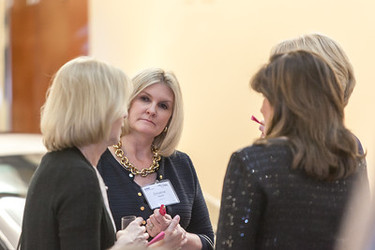 A survey of 3,000 professional working and college-aged women released by KPMG found the number one barrier to women's success is confidence.
The majority of women (67%) in our survey reported that they need more support around building confidence to feel like they can be leaders. These feelings however, were not reflective of a desire to lead as six in 10 professional working women we surveyed aspire to be a senior leader of a company or organization, and more than half aspire to serve on a board.
To move the needle, women themselves and top organizational leaders should continue to proactively take ownership and action in order to close this confidence gap.
Companies can help by identifying and actively engaging potential leaders. By investing in high-performing women with the capacity and inclination to lead, companies can give them the confidence to do so. Companies can also treat leadership as a tangible skill. Clarifying the most valued and respected attributes of leaders in the organization -- strategic thinking, for example -- and providing training opportunities and confidence-building for women who wish to hone their skills, will help.
Establishing networks within an organization focused on the advancement of women can also increase networking opportunities and access to potential mentors and sponsors. Similarly, enhancing the visibility of role models and highlighting female senior leaders in the organization can help women envision their own future career path. Since the creation of KPMG's Women's Advisory Board (WAB) in 2003, we have seen nearly a 50 percent increase in the number of female partners at KPMG, demonstrating that such networks produce real results.
As the former co-chair of the WAB, I have seen incredible changes in both our organization and in our female employees themselves as a result of the training, guidance, and networking opportunities we provide. In fact, nearly 900 senior women leaders, 125 of which are from KPMG, have benefited from KPMG's year-long Executive Leadership Institute for Women program, focused on developing executive leadership skills for women. I have personally benefited from this program, learning the importance of identifying key stakeholders, navigating internal politics and developing a strong network. The Executive Leadership Institute for Women gave me a map to navigate my leadership journey and helped me secure the role I am in today.
For those women with the desire to lead, I would challenge them to consistently evaluate their progression within their respective organizations and their professional growth and development. With so many companies focused on increasing the number women in leadership positions, there is a real opportunity for women to move forward. It behooves young women to join networks, foster relationships with peers and senior leadership, and to ask for challenging projects and growth opportunities the minute they step in the door.
The continued success and rise of women to the highest levels of leadership is dependent on both individuals and organizations working together to change the status quo. We know women have the skills and desire to lead, so let's continue to help position them for leadership roles.
Calling all HuffPost superfans!
Sign up for membership to become a founding member and help shape HuffPost's next chapter