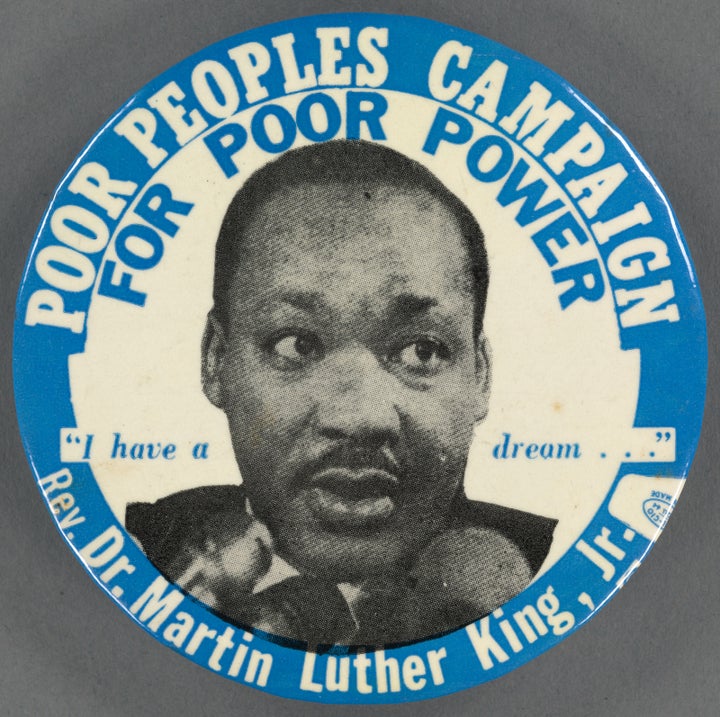 By JoAnn Kamuf Ward & Barbara Arnwine
JoAnn Kamuf Ward (@JoAnnKWard) is Director of the Human Rights in the US Project at the Columbia Law School Human Rights Institute. Barbara Arnwine (@Barbs73) is President and Founder of the Transformative Justice Coalition.
In the current moment, it is imperative to embrace a global human rights vision and to vociferously reject xenophobic and racist attitudes. National leaders, including the President, should take actions that promote – rather than undermine – equality, dignity, and justice. U.S. laws and policies should welcome all peoples, from all nations, including those seeking Temporary Protected Status. To do otherwise is an affront to the principles for which Martin Luther King Jr.'s stood, and died.
As Coretta Scott King has noted, MLK Jr. day
"celebrates Dr. King's global vision of the world house, a world whose people and nations had triumphed over poverty, racism, war and violence … [and] … his insistence that all faiths had something meaningful to contribute to building the beloved community."
The Day of Racial Healing, too, reflects core human rights principles. The day is part of a broader national Truth, Racial Healing & Transformation enterprise (TRHT) led by the Kellogg Foundation. Adapted from internationally recognized Truth and Reconciliation processes, TRHT embraces an approach that recognizes our common humanity and is explicit about how the past has shaped the current realities of persistent racism. It also offers a path to address historic and contemporary impacts of racism and discrimination. There is a central focus on "uprooting and eliminating the false ideology of a hierarchy of human value" that perpetuates an idea of white superiority through wide-ranging efforts that include narrative change, economic change, relationship building, and legal reform. Notably, the recommendations from the TRHT team include explicit recognition that our compliance with human rights norms and our quest for racial justice domestically are interdependent.
How can we change that? The economic and social bill of rights that King developed outlines essential baseline rights: a minimum guaranteed income, a living wage, full political participation in decision-making, housing in neighborhood of your choice, education, and adequate healthcare. The Poor People's Campaign and the TRHT underscore that false narratives have had a lasting corrosive effect on all of our communities, as well as our system of laws and institutions that shape and are shaped by them.
TRHT offers a pathway forward. The emphasis on racial healing requires that Americans from all walks of life come together to jettison the false narrative of a hierarchy of human value. TRHT emphasizes that the work must emanate from within communities, and have a local orientation, while also engaging individuals nationally across sectors to proactively examine current structures and values, and collaboratively develop strategies for change. Institutions of higher education are playing a key role. The Association of American Colleges and Universities is working with ten universities to create "transformative action plans to advance racial healing … and develop evidence-based strategies that support the vision of the TRHT" in the longer term. Fourteen communities across the U.S. have launched TRHT collaborations as well. For example, in Buffalo, New York, a cross-section of community leaders are documenting and reporting on disparities, and developing policies to enhance racial equity, with a focus on workforce development, education, and citizen re-entry. This work is spearheaded by the Greater Buffalo Racial Equity Roundtable.
If put into practice, human rights protections could transform governance – both how institutions operate and the principles that guide decision-making. Indeed, human rights laws, including the CERD, emphasize the importance of taking action to change attitudes, policies, laws and structures that reflect and perpetuate bias and discrimination.
Human rights laws provide a framework that can advance core principles of equality, justice, and human dignity locally, and on a more global scale. Human rights also offer a platform for accountability.
Just last year, in the wake of Charlottesville, the body of independent experts that oversees compliance with the CERD sent a communication to the United States, calling on the government to realize its human rights obligations and "actively contribute to the promotion of understanding, tolerance, and diversity between ethnic groups, and acknowledge their contribution to the history and diversity of the United States." The experts also called on the U.S. to "address the root causes of the proliferation of such racist manifestations, and thoroughly investigate the phenomenon of racial discrimination." Despite lack of a formal response by the federal government, the communication garnered attention in the press.
An additional opportunity for accountability awaits. Signatories to human rights treaties are required to report on their compliance and undergo periodic reviews of their human rights record. Individuals and organizations can contribute their own views and suggest questions and recommendations to inform the review by UN independent experts.
The American populous should urge the US to submit its report, and engage in ongoing efforts to hold the United States accountable to its human rights commitments. Shining an international light on our current laws and policies can offer new opportunities to mobilize communities across the U.S., and catalyze efforts to shape laws and institutions aimed at true equality and justice, grounded in our common humanity. It can also raise the visibility of movements for change, including the TRHT, the Poor People's Campaign, and the just launched National Commission for Voter Justice.
Human rights and civil rights lawyers are particularly well-placed to engage in these participatory and inclusive efforts to raise public consciousness, and literally re-imagine justice. We can challenge laws that propagate false narratives, perpetuate structural racism, or otherwise impede equality. We can fashion alternatives. We can play a role in identifying and dismantling the structures, institutions, and policies that have created housing segregation, concentrated poverty, and that entrench racial subordination. We can help to envision and build an infrastructure that supports inclusive, powerful, multicultural communities.
"Human progress is neither automatic nor inevitable... Every step toward the goal of justice requires sacrifice, suffering, and struggle; the tireless exertions and passionate concern of dedicated individuals." - Martin Luther King, Jr.