In the spring of 2012, I challenged the Rochester Institute of Technology campus to a drag race using only electric vehicles in our annual festival celebrating innovation and creativity. One goal I had for the race was to dispel the myth that electric vehicles are glorified golf carts and cannot perform at the level of gas-powered cars.
We crowned a champion that day: the all-female Women in Engineering@RIT "Hot Wheelz" team that went 100 meters in just under six seconds, reaching a top speed of 58 mph. The team built the non-traditional vehicle using a lightweight go-cart chassis with a 72-volt, 10-horsepower motor.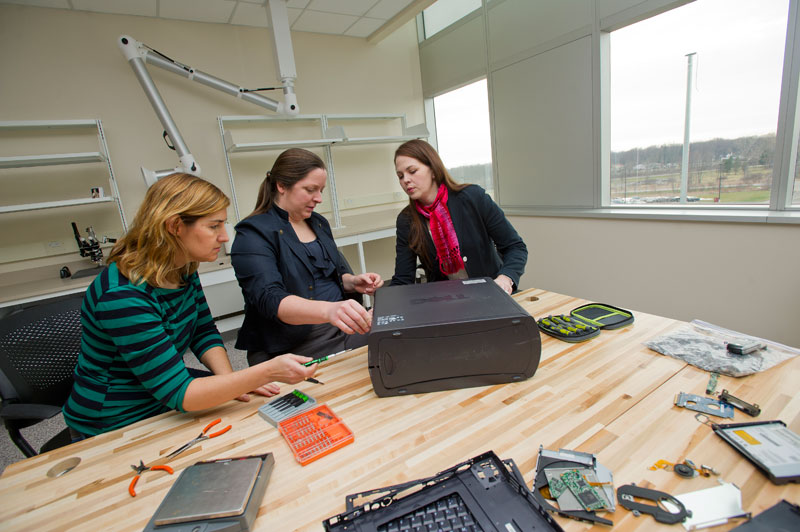 We also dispelled another myth that day: You don't have to be a male to be a gear head. The victory by the all-female team illustrates that diversity enhances innovation. The development of new ideas requires people with a wide range of experiences, perspectives, and backgrounds.

Shortly after the female students won the race, a group of RIT researchers were awarded $3.2 million from the National Science Foundation for the project titled "CONNECT: Increasing the Representation and Advancement of Women Faculty at RIT." RIT's project is part of the NSF's ADVANCE Institutional Transformation initiatives intended to increase representation and advancement of women in academic science, technology, engineering and mathematics (STEM) careers, thereby contributing to the development of a more diverse science and engineering workforce.
Since 2001, the National Science Foundation has invested more than $130 million to support ADVANCE projects at nearly 100 institutions of higher education and STEM-related, not-for-profit organizations across the U.S. CONNECT@RIT (Creating Opportunity Networks for Engagement and Collective Transformation) focuses on improving conditions for female STEM faculty, with a unique emphasis on women of color and women who are deaf and hard-of-hearing at the university. RIT will address issues of recruitment, retention and advancement of female faculty through reassessment of some of its academic and human resource policies, expanding a newly established faculty mentoring program and increasing professional development and leadership opportunities.

This project is important to the student race team as they look for more female role models in the faculty ranks. Furthermore, many of the student race team members are now in STEM-related careers or pursuing graduate degrees in these disciplines.
Part of the NSF research included looking inward at RIT where a climate survey and examination of HR data trends led to the identification of barriers for women faculty. These ranged from the recruitment and advancement of women faculty to balancing work and life. RIT had only 23 percent of its female tenured and tenure track faculty in STEM disciplines, below the 30 percent average represented in U.S. colleges and universities, even though the number of female faculty had tripled at RIT over a 15-year period. Further data revealed gender-based, average salary gaps existed at each faculty rank, and that women left the faculty ranks at a rate nearly twice that of their male colleagues. These findings mirrored national trends for women in STEM careers in academia and in industry.
Among the Connect@RIT project goals includes attracting 30 percent female applicants for RIT STEM faculty positions, at least 75 percent of STEM departments achieving a critical mass of female faculty, retention rates for female faculty that closely mirror those of male faculty, and an increase in the percentage of women in academic leadership positions to a level which maps to their overall representation at RIT. The finish line for the project is five years out and the researchers have plenty of work ahead. But we are confident they will have a similar finish to last year's race team.
In summary, a diverse and inclusive workforce is crucial for attracting and retaining top talent. This is especially true for colleges and universities, like RIT, that specialize in innovation. RIT has historically been a leader in developing new technologies, systems and approaches. Our faculty and research teams often partner with business and industry leaders on research and development initiatives. In order for us to effectively continue in this capacity - to cultivate the best and brightest minds and to be an innovation resource for industry - we must proactively encourage diversity.
Diversity isn't an altruistic aspiration; it's a competitive demand.
Related
Popular in the Community