You and your cat could be having so much fun together.
Not just snuggling on the couch watching TV (you don't need help or inspiration for that). But how about taking your cat out hiking, paddleboarding, mountain climbing, canoeing and camping? Yes, you and your cat. Camping.
Adventure Cats, a wildly inspiring Instagram account and Facebook page, features cats whose humans are already taking them on incredible outings. It aims to show you a world of activities that you and your favorite felines could both be enjoying, with tutorials on things like how to walk your cat on a leash, cat first aid, and other how-tos that'll help folks "enjoy the great outdoors with their cats in safe and responsible ways," says founder Laura Moss.
The website is set to launch in early October.
But Moss is hoping that Adventure Cats will do more, even, than just enrich your and your cats' lives.
Given that some 1.4 million cats are euthanized every year in shelters across the country, she's also aiming to get more cats out of shelters and into homes, by showing what marvelous companions these meowsies can be.
"While cats have a reputation as being lazy and aloof, there are actually plenty of amazing cats out there who will hike alongside you or even scale a mountain with you," she says. "These are the fearless felines that Adventure Cats wants to share with the world."
"I've talked to owners who do all sorts of activities. The list so far: hiking, camping, climbing, canoeing, kayaking, biking and even surfing," Moss added. "We walk dogs, so why not cats? They deserve a little adventure in their lives too."
A big emphasis is on the unique nature of cats. They aren't like dogs, who can be leashed up and basically brought along anywhere.
Cats should be voluntary participants in these adventures; the outings should never be forced or rushed.
"You should never just wrestle your cat into a harness, throw some kibble in your pack and think you and Fluffy are going to hike the Appalachian Trail," Moss says.
So committed is she to this approach, that even while Moss documents the most venturesome cats, her own two rescue purr-balls are taking things at a snail's pace. Which is just fine with her.
Get in touch at arin.greenwood@huffingtonpost.com if you have an animal story to share!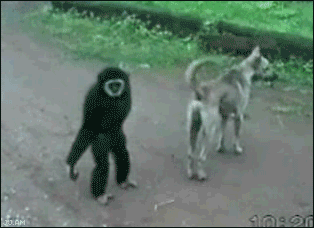 Animals Tricking Each Other
Support HuffPost
The Stakes Have Never Been Higher
Related
Popular in the Community