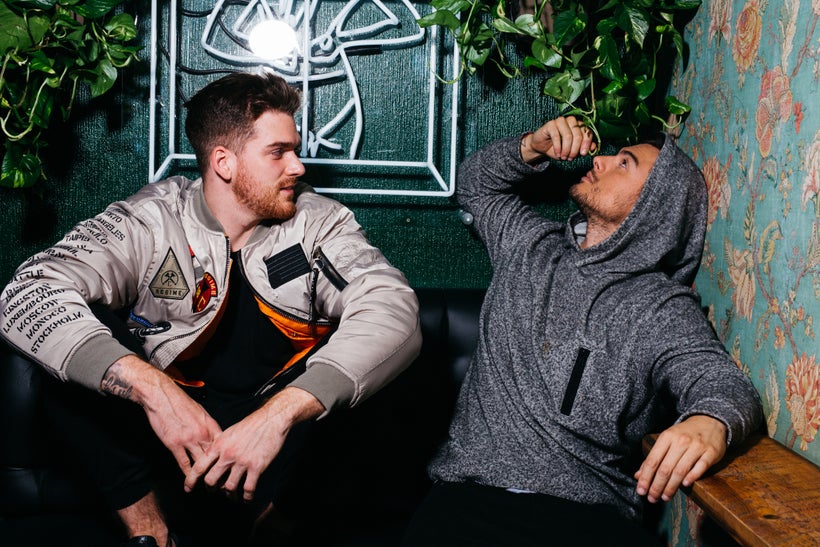 Leighton James and Christian Srigley are pumped to take on 2017. Better known as Adventure Club, the duo is currently celebrating the release of their debut album, Red // Blue. In a recent interview, James told me that the future is looking bright for one of the hottest EDM acts in the game today.
"Dude. We are on cloud nine right now. Not to sound overly cliché or anything but it has been a long time coming. We've been talking about this album for I want to say about a good three years now," James said. He continued, "It feels like such an accomplishment to finally get it out there and to get the reaction and support that all the fans have been giving us so far. Without sounding negative about it, I want to say it has been a relief and a weight off our shoulders to finally get this body of work that we are proud of out into the world." Before Adventure Club found success on the electronic scene, James had a different vision for his path in the music industry.
"I was looking to start a band...a hardcore band along the lines of Every Time I Die. Any of those kinds of bands that would play on the Warped Tour. In my immediate circle of friends, I had no real musicians that I could start a band with. So I put out a flyer to all the high schools around. Christian answered the ad. He was the only guy to actually answer the ad now that I think about it," James smirked. He then went into detail about his first encounter with the guy that would go on to become his best friend. "He showed up to my house. Back then—you had to understand, Christian was a lot bigger than he is now. He was going to the gym a lot. This guy showed up in a wife-beater with an amp and a guitar in the same hand. So it was pretty intimidating at the time. He had a bunch of piercings," he playfully said. James continued, "We didn't really speak much for the first month when we were jamming out. We just kind of nodded at each other every time we were riffing. One night we went out to the bar and got pretty drunk. You know that scene in the movie Step Brothers, where they finally realize they pretty much have everything in fucking common? They go, 'Oh my God. We are best friends.' That's what Christian and I had that night." James let out a huge, glowing laugh. He followed up by saying, "Ever since then, we had that unbreakable bond. Kind of like blood brothers. Through thick and thin. We've been in numerous bands together. We started Adventure Club together." It was with Adventure Club's unique sound that the guys would go on to achieve their highest level of success in the music business.
"Adventure Club kind of started because at the time, nobody was trying to remix the songs that we wanted to hear. Bands like Thrice and Brand New. All that kind of stuff—we just wanted to hear a little bit of an electronic spin on it. Our production skills weren't top notch at the time but we knew what we wanted to hear. So Christian learned a lot from a bunch of tutorials, visiting different forums and watching a lot of YouTube videos," James nodded his head. He continued, "We just did our best to put our music out there. Thankfully it was really well received by all the blogs and our Internet growth just went on this skyrocketing trajectory in 2012." Since taking the world by storm, there has been no looking back for Adventure Club.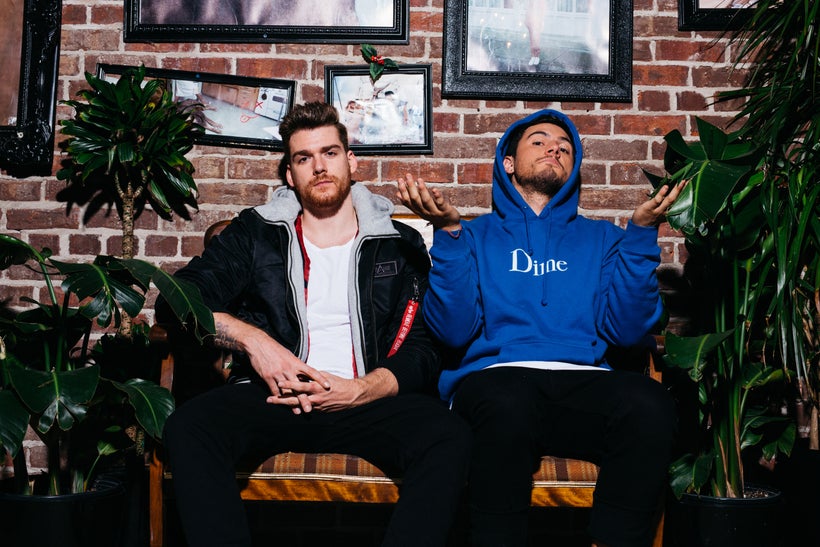 James and Srigley have been festival favorites amongst fans of dance music. James decided to open up about one particular moment that he and his partner were most proud of. "I think Christian and I can both agree on this one. When we started Adventure Club, we kind of made this list of goals that we wanted to accomplish. At the top of the list, the thing we wanted to get done the most was to play this one festival. As soon as we played that festival we could sleep at night knowing that we accomplished everything that we ever wanted to," he dramatically paused. He then revealed his answer. "That festival was Coachella. We headlined that festival in 2014. What's so nice about that festival is that it's not uniquely electronic music. You get bands from every walk of music. To be able to play that festival...we played electronic music and indie spins. The crowd was just so receptive to everything that we wanted to play. It was a nice crowd to play in front of," James fondly remembered. He elaborated, "We played there both weekends. We brought up a bunch of our friends. It was that one moment where we looked at each other along with our manager and went, 'This is fucking awesome.' I can't believe we got to play that stage in front of 100,000 people. It was that moment." Adventure Club is now looking forward to creating more moments in 2017.
"In 2016, we didn't tour as much as we wanted to. We can't really write on the road. So we need to be at home. Grounded. Have our structured routines before we start writing. Now that our album is out, our touring schedule for 2017 is just insane. From North America to Asia to Australia to Europe. We are really focused on touring and bringing more of a live aspect to our show," James hinted. He went on to say, "We are going to start with just guitars. Eventually we want to transition to more of a live band kind of thing without losing the appeal of having an electronic dance music show. We are just so excited to hit every city again with all of this new music. I think every city is going to be special. To just focus on one city or one place out of the batch is unfair."
James pointed out that since he and Srigley have taken the oath of sobriety, there is a new energy and focus in Adventure Club. James proudly stated, "It has been about a year and its helped us be more efficient with our writing. It really grounded and centered us. Our live shows are that much tighter now because of it." Fans all over the world respect the duo for turning over a new page in their careers.
Before James left, he wanted to share his gratitude for Adventure Club's supportive fanbase. He told me, "I want to give a huge, huge thank you to all the fans that stuck with us for the past five years. The people that waited patiently for us to put out new music. The people that constantly come out to shows to say, 'What's up!' The people that listen to our music and spread our vibes. Thank you. Adventure Club would be nothing without the fans. We look forward to seeing everyone during our 2017 tour."
Calling all HuffPost superfans!
Sign up for membership to become a founding member and help shape HuffPost's next chapter
This post was published on the now-closed HuffPost Contributor platform. Contributors control their own work and posted freely to our site. If you need to flag this entry as abusive,
send us an email
.