Part of my job is to look into the future and identify what trends are emerging in the adventure travel market, both in the near and longer term. I use multiple sources of data, including our own inquiry and booking data, to predict the most popular destinations, experiences and travel patterns for the coming year.
Below are my top six predictions for the hottest adventure travel trends for 2013:
1. Rise of the Adventure Honeymoon
Forgoing the cookie-cutter honeymoon, more newlyweds than ever are celebrating their matrimony with an adrenaline-filled adventure tour. With the increased legalization of gay marriage, Access Trips is experiencing an increase in gay honeymooners as well as straight.
I spent my own honeymoon trekking in Nepal on my first visit to the Himalayan nation. Each day we woke up to the most incredible mountain views, enjoying rich cultural experiences and a great work-out. We still joke about the hardest day of the trek when my husband left his wedding band on a bench only to realize it after an hour of intense uphill hiking. He sprinted back down with one of our guides, who helped him buy it back from a local boy for 100 rupees (about $2), and hiked back up to me, eager to confirm that he still had a place in our tent that night.
With the stress of wedding planning, it is a relief for couples (myself and my husband included) to have a team of experts put together a once-in-a-lifetime adventure, to help things run smoothly from start to finish.
2. Booming Epicurean Experiences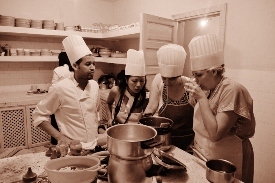 With unprecedented growth over the past year, cooking tours will be more popular than ever in 2013. Access Trips experienced a 94% increase in bookings for culinary tours between 2011 and 2012 alone. We are meeting demand by adding more cooking trips to our portfolio, like the Thailand culinary tour that we launched earlier this year and the culinary tour to California's wine country that we launched just this week.
An exotic haven close to continental Europe, Morocco will continue to be a popular destination in the coming year. Access Trips experienced almost 200% growth in bookings to Morocco in 2012 over 2011, and is expecting about 50% further growth in 2013.
What I love most about Morocco is the variety of experiences you can have in a single trip. In the ancient imperial cities of Marrakech and Fez, you can wander through centuries-old markets as the sellers tout their wares and craftsmen create works of art using many of the same techniques used by their fathers and grandfathers. In the Atlas Mountains you can see how the native Berbers have lived for generations, as you hike, bike or ride horseback from village to village. On the coast you can surf, windsurf and just enjoy the laid back beach atmosphere while immersing yourself in the rich Moroccan culture. And in the desert you can ride a camel across the sugar-fine Saharan dunes and camp with the local nomads.
4. Emerging Himalayan Dreamland - Nepal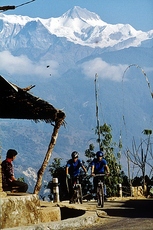 Offering travelers access to the world's most majestic mountain scenery, it is no wonder that travel to Nepal continues to rapidly increase. According to Nepal's Ministry of Culture, Tourism and Civil Aviation, travel to Nepal increased by 22.1% from 2010 to 2011. Access Trips is offering a brand new mountain bike tour in Nepal to meet booming demand in 2013.
As I mentioned earlier, Nepal is where I spent my honeymoon, and it holds a special place in my heart. From legendary Kathmandu, where the colors, sounds and smells both assault and stimulate the senses, to the untouched mountain villages high in the Himalaya, you will feel connected to Nepal and its people long after you leave. In fact, you might find you can't help but come back!
5. Beachcomber's Hidden Treasure -- Nicaragua
Featuring unspoiled golden sand beaches and lush terrain, Nicaragua is one of the most pristine surf travel destinations in Latin America with some of the world's most consistent, uncrowded waves. With Nicaragua now considered one of Latin America's safest nations, it is no surprise that travel to Nicaragua has grown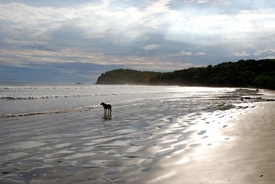 approximately 8% annually for the past five years according to INTUR, the Nicaraguan Tourist Board. The total number of tourists traveling to Nicaragua is still only about half of Costa Rican tourism, making it a hidden treasure for the adventure traveler.
My family visited Nicaragua for the second time just a few months ago and were blown away by the gorgeous beaches, the incredible surf that is as good for beginners as it is for experts, and the kindness of the people. It is still a developing destination that is learning to accommodate North American service expectations, and most people do not speak English -0 but hey, that's part of the adventure!
6. Financial Uptick Promotes Long Lead Trip Planning
With the economy on the upswing, travelers are once again beginning to plan and book vacations well in advance of their travel date. For the last couple of years, people were planning their trips very last minute due to an unsettled feeling about the economy and how it might impact them personally. This year we are seeing bookings move more toward three to six months out and our guests are interested in venturing further afield. Where are you planning to go next year?
Leave a comment below and tell me what you think the hottest adventure travel trends will be in 2013.
Surfing photo courtesy of Adriana Zehbrauskas. Cooking photo courtesy of Ben Jones.