Perpetually living in a sunny California bubble can be warm, but blinding at times. Though there are so many events within a 100 mile radius, geysers of festivals exist beyond my bubble that I am slowly discovering. Having ventured out to a few international festivals, the Midwest was an unlikely locale to explore. Discovering the Midwest fest of Infrasound Music Festival in Black River Falls, Wisconsin has changed my life and my entire perception of music festivals.
In the lush and dewy forest of Camp N.C.N. (No Clothes Necessary) dwells a cozy little festival called Infrasound. A small, swim-friendly lake equipped with rowboats, paddleboats, a small dock and fish who love to be fed Wonderbread, shimmered under the sun and wore a velvety shawl of mist in the mornings. With three humble stages, Meadow, Mendi's Beach and Bend, Infrasound brought me back to the true roots of a music festival: the music. There were no towering art installations, nor were the stages embellished in elaborate adornments. With simple designs and projection surfaces, the music itself painted a vivid enough image that no amount of adornments, embellishments or structures could imitate.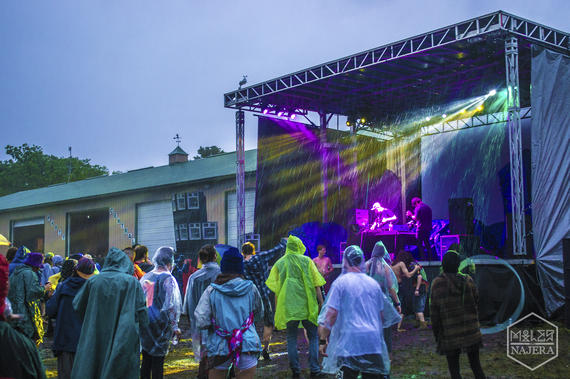 The modest setup of the festival is a representation of ego, or lack thereof. When removing the ego of grandiose facades, you are left with something pure and genuine. The spirit of music needs no decoration to inspire the hearts of its admirers. The festival's humble veneer, however, in no way means that it was without extraordinary art, lights and kaleidoscopic projections.
The live art and installations that were present had to be discovered through exploration. The campgrounds were peppered throughout a fern-floored forest with air that smelled of rich soil and chlorophyll. As I traversed deeper into the woods with mud on my feet and stars in my eyes, I discovered an intricate web of interconnected neon yarn that formed a delicate grid all around me. Following the grid, I watched it weave itself in perfect harmony with the trees which upheld it. Installed by an artist called Neural Patterns, the yarn was straight and mathematical, a series of intersecting vectors creating lines and right angles in an organic world of curves and chaos. A beautiful metaphor for the duality of nature. One of the simplest, yet complex, art installations I have yet to see.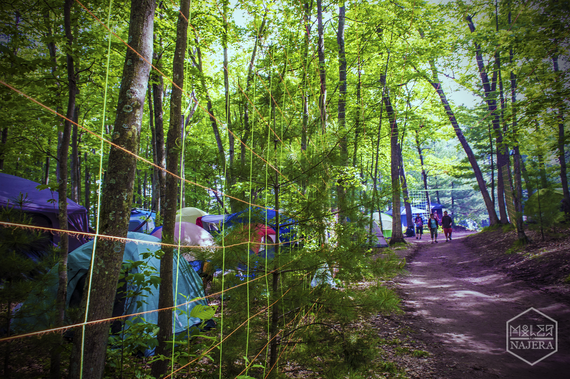 Neural Pattern's theme of weaving continued with a live artist I gazed upon at the main stage. Vibrating directly in front of a giant stack of Funktion-One speakers, custom built frames with protruding pegs lining its surface were woven with brightly colored plastic string in hyperbolic geometric patterns. Watching a live artist work with string instead of brushes was a very unique, tactile experience. As his spools of plastic string lay in a pile beneath his easel they resembled a smattering of paints on a terranean palette.
For those who enjoy the sensual strokes of paint on white, the Mendi Beach stage began as a simple white pyramid with a high slit that barely revealed the performer inside. As the festival progressed, I realized this was not just a stage but a canvas. A live artist glided across its surface with Technicolor paint pens. The end result was a civilization of dripping, morphing creatures who watched with amorphous eyes as the dancefloor breathed and bounced in unison. Benga, Bentone, Unicorn Fukr, Tsuruda, and even someone called Slayer performed at Mendi, rattling our teeth with bass, dubstep and more.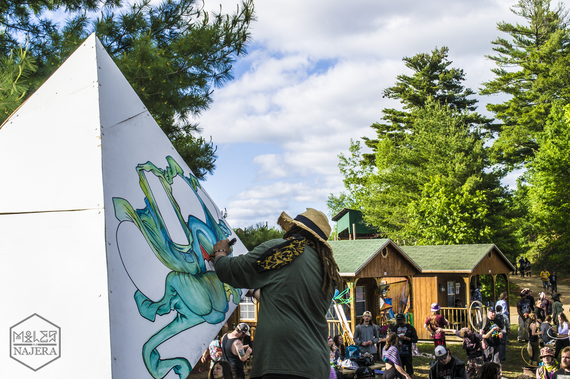 Even the rain could not stop our need to worship live music. While Mendi's Beach stage had sand, and therefore the driest dance floor, the Bend and Meadow stages did not. Donning plastic rain-ponchos in a vivid array of colors, people danced beneath the falling water as the mud became deeper and goopier. While some chose sandals, boots or sneakers, many chose to mob it like a hobbit, feeling the silky mud engulf their bare feet.
The Bend Stage hosted Kompozart, Atyya, Goopsteppa, and Bil Bless, to name a few. Kompozart controlled the rain sending viscous sound-thoughts into the stratosphere. Cosmic music he created while the sky precipitated. "The contagious loving vibe inspired me to intimately express more love in my music production so others can feel what we shared," Kompozart described when I asked him about his Infrasound experience.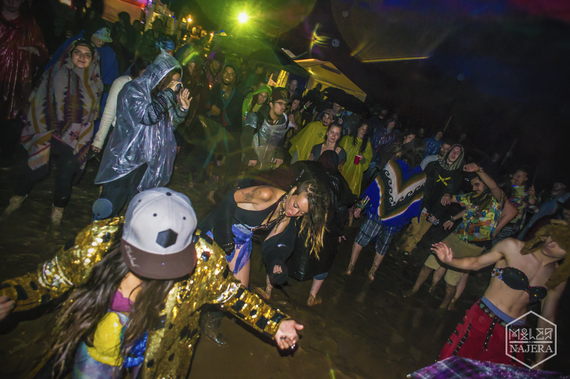 While the rain exponentially poured during Atyya and through Goopsteppa's set, the dancefloor had no intention of dispersing. Puddle stomping and muddy squishing became integrated into everyone's dance routines. A bubble fairy waved her magic wand and materialized floating, iridescent orbs, a pristine vision of color amidst a muddy debacle.
The Meadow Stage, or main stage, housed some of the most epic artists in the underground. Among the many were Mr Bill, Orphic, Youngsta, Bogtrotter, Ott, Freddy Todd, KLL SMTH, Thriftworks, The Widdler, Bluetech, Perkulat0r, Mumukshu, Russ Liquid, The Opiuo Band, Ozric Tentacles, and fan-favorite, the legendary Tipper playing two sets: an uptempo set at Meadow and downtempo sunrise set at the lake. All of these artists shook our souls from our wet feet to our third eyes. The energy radiating from the audience to the stage was powerful enough to reignite a dwarf star. Mumukshu slathered our souls in bass, The Opiuo Band kept us warm and dancing, master of brass Russ Liquid wooed the audience, psychedelic jam band Ozric Tentacles hypnotized spectators with a commanding presence, and Tipper... well...
Unlike most music festivals, Infrasound ran from Thursday to Saturday with no Sunday lineup. The crowning Chakra on a perfect weekend was Tipper's lakeside sunrise downtempo set. As we paddled out on a rusty boat with Jerry-rigged oars constructed of pipes, plywood and duct tape, mist rose from the water like tufts of cotton. At 4 a.m. and near freezing temperatures, loyal patrons lined up stadium style with chairs and air mattresses as Tipper's custom lakeside setup was being assembled. Upon his first drippy bass drop, lighter's sparked and clouds of pineal paradise tickled my taste buds. As Apollo's light crept towards us across the lake like a sundial, Infrasound ended not with a bang but a bloop.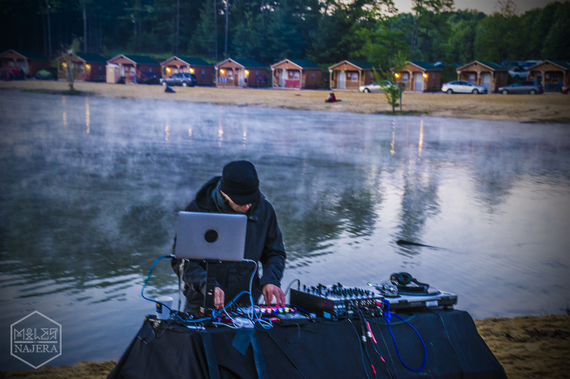 Alex, David, and I are truly blessed to have so much support from the underground scene, artists and fans alike. It's a beautiful thing to bring people together for the purpose of spreading love through music. We are forever grateful to everyone in the Infrasound community.

-- Taylor Winum, co-founder of Infrasound
In addition to an otherworldly lineup and one-of-a-kind art, I felt a warmness from the festival founders that I have not felt at any other festival. While I am usually swallowed in a sea of media correspondents, Taylor Winum, Alex Heiligman and David Liberman made me feel warm, welcomed, and appreciated. Ego-free and happy as can be, the festival is a reflection of their passion for life, not profit. A rarity in the entertainment business. So I thank you Taylor, Alex, David and the many other hard working, always-smiling, staff for creating such a glorious place for us to play. Infrasound taught me to appreciate the complexity of simplicity and the simplicty of happiness. As long as I have music, not mud nor rain can sully my joy.
Stay tuned for more information about Infrasound Equinox on September 17th-19th, 2015!
PHOTO GALLERY
Infrasound Music Festival 2015
Calling all HuffPost superfans!
Sign up for membership to become a founding member and help shape HuffPost's next chapter