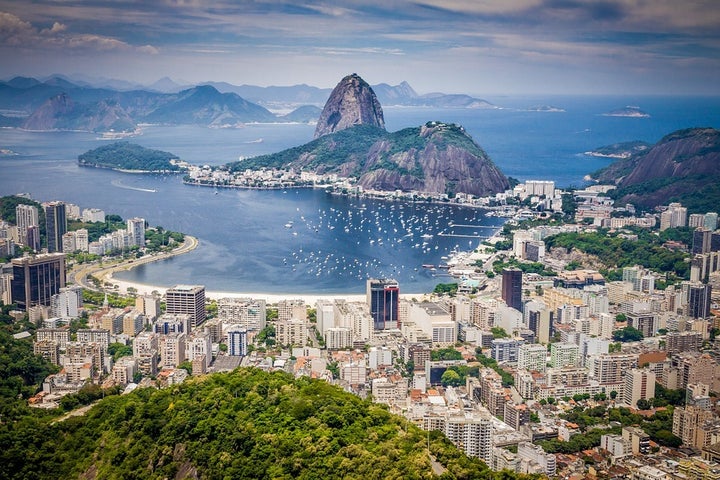 If you haven't applied for a visa yet, do not fret. The Brazilian government has extended a visa waiver for up to 90 days from June 1 - September 18 to promote visitors from select countries. Check their website for qualifications.
It is a common misconception that Brazil is a Spanish-speaking country. The official and predominant language is Portuguese. Prior to departure, download language websites and apps such as Duolingo or a pocket dictionary.
Brazil uses the currency Real, which is exchanged at $0.25. Most businesses accept credit cards as well as cash. Exchange money before departure to have Real upon arrival. Do not carry all of it on you at once.
4. City Orientation for Safety:
Familiarize yourself with the city map of Rio and keep it with you at all times. Be aware of your surroundings. Most of the games are centered in four neighborhoods (Deodoro, Maracanã, Barra, and Copacabana) which are recommended. Brazilian experts advise avoiding Favelas (slums of Rio) to ensure your safety.
As a rule of thumb, drink only water in manufacturer-sealed bottles and cans. Avoid containers with broken seals; they may have been refilled. Don't miss the Games sick in your hotel room. It's always better to be safe than sorry!
Read the research. Health experts' offer mixed views on whether it will be a challenge during the Olympics. However, they all definitely recommend pregnant women avoid travel to Brazil. Remember to pack and use insect repellent and read the CDC website precautions before travel.
The Summer Olympics occur at the end of Brazil's winter. Highs will be around 20 degrees Celsius (70 degrees Fahrenheit), so pack jeans and a light jacket for outside. The Brazilian beaches are beautiful; if you can brave cold air, bring your swimsuit to lounge by the beach between events.
Confirm a set price before entering the taxi in Rio; they are readily available and fairly priced. Have a map in hand to confirm the correct direction and that they are not taking advantage. BlaBlaCar, Uber, and other ridesharing services are available. Recent taxi driver protests against ridesharing may create challenges. Check with local news before departure for the best modes of transportation.
Rio hotels are somewhat limited due to high-demand. The Brazil government has advised guests to stay in Airbnbs.
Leave flashy items such as expensive jewelry and watches at home. Limit your phone and camera usage as you make yourself a target for muggers and pickpockets.
Sharon Schweitzer and Shannan Bloomstrand co-wrote this article. Sharon Schweitzer, J.D., is a cross-cultural consultant, an international protocol expert and the founder of Protocol & Etiquette Worldwide. She is accredited in intercultural management, is the resident etiquette expert for CBS KEYE We Are Austin, popular on-air contributor, regularly quoted by BBC Capital, Investor's Business Daily, Fortune, Inc., The New York Times, The Vancouver Sun, and numerous other media. She is the best-selling, international award-winning author of Access to Asia: Your Multicultural Business Guide, named to Kirkus Review's Best Books of 2015.
Shannan Bloomstrand is a Summer Intern with Protocol & Etiquette Worldwide. She is a senior Language and International Health major with an emphasis in Community Development and a minor in Biology at Clemson University. Feel free to connect with Shannan at http://www.linkedin.com/in/shannanbloomstrand or follow her on Twitter @shannanbloom.
Related
Popular in the Community