Instagram is a fun and great way to connect with other artists in many disciplines. Musicians, writers, poets, filmmakers, even amazing hairdressers, have contacted me after seeing my work on Instagram. It's so purely visual, totally emotive, short, quick and focused.
Johnny Polygon, @sirjohnpol, was following me for about a year before he asked, "Do you do commissions?" I found out that Johnny, an R&B singer song writer, is a big fan of my work and wants me to do art for his next album I Love You, Goodnight. He said, "I was actually thinking of doing art for each song inspired by the lyrics. I can't draw for $hit though, ha..." After listening to Polygon's music I was entranced. His rhymes keep going off in my head.
"Who Wants To Be the King of Ashes?" One song's rhetorical question inspired this work: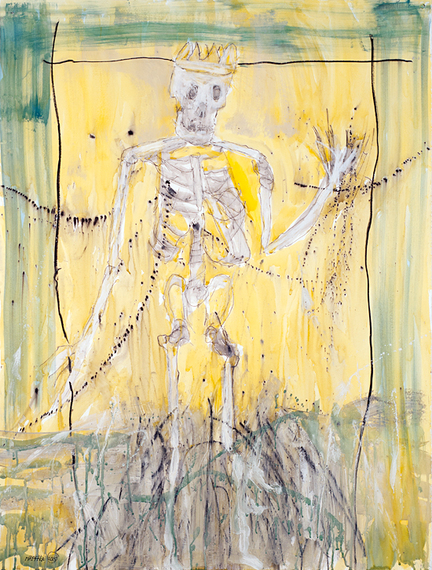 For the cover of the forthcoming CD and Vinyl I made this: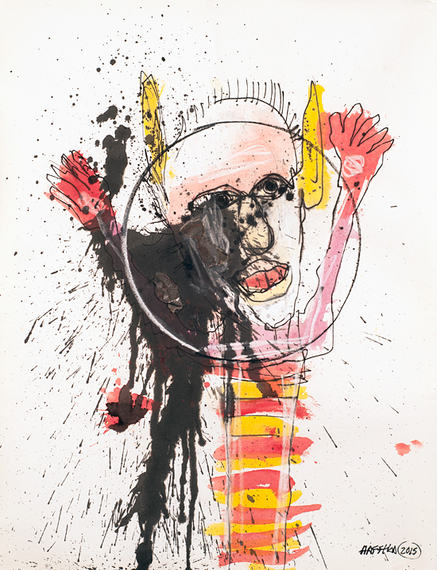 Which is also for the song "I'm so Ugly."
Oliver Luckett, CEO of The Audience, a total social maven and magician, said of Johnny Polygon - "He's got an incredible body of work. He reeks of authenticity, and he actually has a career as a home-grown touring artist. He's the perfect content creator."<
Another enchanting encounter on Instagram was meeting the young man Suhayb Ibn M Zarroug, a budding art dealer based in Hartford, CT, who is consumed with a passion for art and has a following of many young and interesting artists. He followed my work on Instagram for a while and then came over and brought with him Andrea R Osborn II, a talented young filmmaker and photographer. They flew in, literally, by helicopter, to my studio from Danbury, CT, and made this film about my work.
The amazing musician Devonté Hynes, who followed my work on Instagram, asked me one day if I could paint him for a poster for his Central Park Concert. I was honored.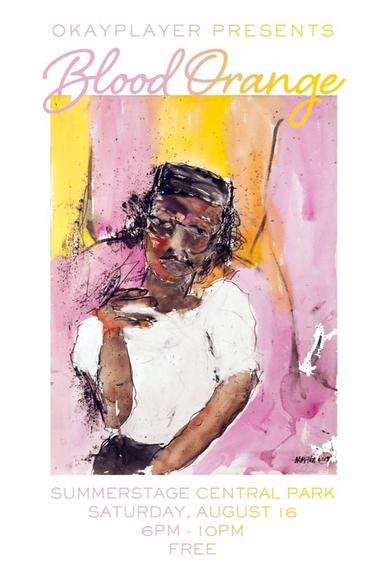 I went to Hynes historic concert in Central Park and was blown away by the love his audience have for him and his love for his audience. He came out before the concert to meet people in the crowd. I think my wife and me were the only people in the audience that did not know each and every song by heart. Really, it was a mind-blowing performance that I am sure will not be forgotten. I propose Dev become a NYC Central Park tradition.
One of Devonté Hynes followers, who started following me on Instagram because of the poster, was interning for an art dealer who is opening a NYC Gallery with branches in Las Vegas, San Francisco and China. We are now working together and my work can be found at Georges Bergès Gallery in Soho, 462 West Broadway, NYC.
I also connected with Justin Brunell of NYC Aesthetic on Instagram. Now he is making a film about my work. The film has interviews with some of the most prominent poets, musicians and art lovers of our time. They are those I painted portraits of, like the poets Tom Sleigh and Rosebud Ben Oni, the actor and storyteller Edgar Oliver, the modern classical composer Noah Creshevsky and other people I admire. Painting portraits is very important to my work. It is an opportunity to meet and know people from all walks of life in a deep and personal way. Painting takes more time than a photograph and it goes beyond what we are most often accustomed to in profiles.
So my advice to artists is "INSTAGRAM it." I started with Instagram after Oliver Luckett, who recommended it, said to me "just feed it." Just like the White Rabbit of Jefferson Airplane, "Feed your head." The rabbit hole of Instagram is a cool way to get support for an artist.
Calling all HuffPost superfans!
Sign up for membership to become a founding member and help shape HuffPost's next chapter