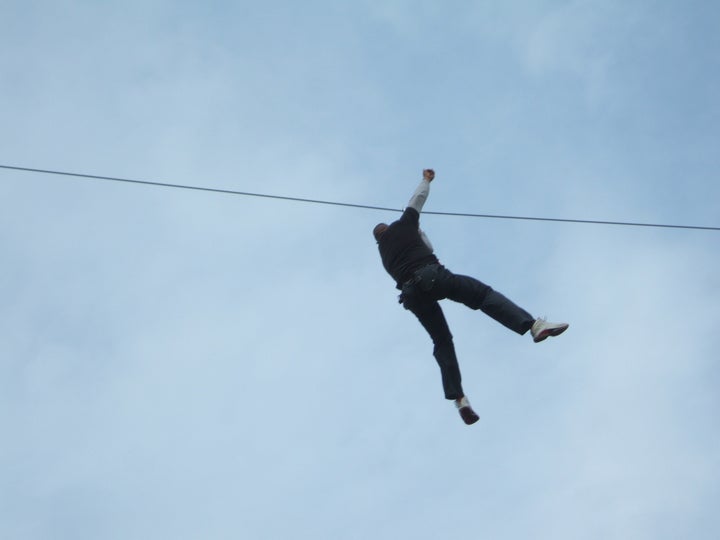 "I've been to Puerto Rico seven times and I've never left the Ritz Carlton," said the man next to me with a proud chuckle. "I've never even been to Old San Juan."
My knuckles whitened as I gripped the plane's armrest and gasped.
Beyond the debonair confines of his favorite luxury resort, this man was missing Puerto Rico's thrilling adventure side: swinging through jungle vines, navigating rivers by kayak in complete darkness and racing around secluded island roads on motorbikes.
For first timers to the island -- or even those looking to break away from the traditional beach getaway -- grab your zip line gloves and fasten your helmet straps: Puerto Rico just got wild.
Camp Culebra Island

Let the wind whip through your hair as you pass sandy knolls that dot Puerto Rico's eastern archipelago on your way to secluded island paradise. Sail to Culebra Island from the port town Fajardo where ferry tickets sell for $2.50 round trip at the harbor. Upon docking, trek through town to Carlos Jeep Rental and check out a motorbike, which run for $45 per 24-hour period. Then, cruise the paths that encircle the island, stopping at Zoni Beach on the northeastern end. As the sun descends, set up camp on one of the Caribbean's most pristine sandscapes: Flamenco Beach. Rent camping gear either on site from Tent City (when the host is around, which is rare) or from Ken at the more reliable and lower-priced Culebra Bike Shop next door to Dinky Dock Restaurant.
Zipline Through the Jungle

Adrenaline junkies: conquer The Beast -- the highest zip line in the world. You'll speed 65 miles-per-hour, headfirst down a 4,745 feet-long cable that sails straight through the forest fog. Before reaching the extreme pinnacle of Toro Verde Adventure Park, work your way there via other thrill-seeker activities throughout the jungle canopy such as rappelling waterfalls, balancing along suspended rope bridges, and cruising other shorter zip lines.
Toro Verde Adventure Park is located in Puerto Rico's Toro Negro Forest in the south central region. For reservations, call (787) 867 7020 or visit their website at http://www.toroverdepr.com/
Hike El Yunque Reserve

Head for the hills. The only tropical forest in the United States National Forest System, El Yunque offers ample hiking trails, many that lead to waterfalls worth an afternoon swim (if you can compete with the crowds). Watch for endemic coquí frogs, but worry not about encounters with wild cats or poisonous snakes: you wont find any of those here. One of the most popular and less challenging treks, La Mina Trail begins at the Palo Colorado Ranger Station at KM 12.2 on Route 191. For an up-hill pursuit better suited for experts, hike El Toro Trail: a twelve-mile roundtrip trek to the highest forest peak at 3,523 feet. Find your way there via Route 186 at KM 10.8. Rental car recommended.
Kayak Bioluminescent Bays

Grab your kayak and paddle about the narrow channels that lead to La Laguna Grande. This is where the magic begins, where the waters thriving with bioluminescent phytoplankton glow like shooting stars. La Laguna Grande in Las Croabas, Fajardo, Puerto Rico is one of three bio bays on the island that maintain ideal conditions for a rare breed of dinoflagellates: phytoplankton that glow in the dark. Other bays include La Parguera on the Southwest and Mosquito Bay in Vieques. Tours depart daily from San Juan as the sun goes down. Keep in mind the experience is much better when there's no moon. Also because of the sensitivity of the species, kayakers are not allowed to wear bug repellant containing Deet and all items including cameras must be kept in a dry bag, otherwise they are not permitted.
Off-Road the Wild

Race through forest terrain and sugar cane fields on rugged off-road vehicles, careening straight through the mud and over-hanging vines. At Hacienda Campo Rico, a 2300-acre estate just outside of San Juan, adventure abounds. Dust off after UTV rides, then hike through the mangrove forest to reach caves that echo with bats and house native Taíno Indian art on the walls. The location also offers other expeditions like horseback riding and dune buggy safaris.