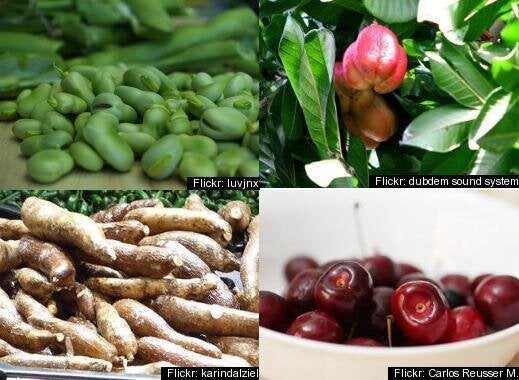 As much as New Yorkers love the city, there's nothing we love more than a getaway. That's why when I found out that the launch of Huffpost Blogger Cathy Erway and Akiko Moorman's supper club Hapa Kitchen was going to be a benefit dinner for the Queens County Farm Museum, I could not hold myself back from buying a ticket. And convincing four friends to come with me.
Supper clubs, where excellent amateur chefs who are passionate about food host under the radar dinner parties in people's apartments for a relatively cost, are my new obsession. Why go out for an anonymous restaurant meal where you are just another customer when you can have a completely unique food adventure, hang out with the chefs, and actually talk to people you don't know at a fraction of the cost of a similar quality restaurant evening? I'm sold.
I'd never heard of the Queens County Farm until I sat next to its head farmer Michael Grady Robertson at a One Big Table supper club. An NYC parks department-owned 47 acre farm in Floral Park, Queens, it's been a working farm for over 300 years, and is a very last remnant of the city's agrarian tradition. The farm is a living, breathing education center where people can take tours or just wonder around and see historical, sustainable agriculture practices in action.
After surviving the experience of Friday rush hour at Penn Station, my posse and I were whisked out to Queens on the LIRR. When we arrived at the farm, we were invited to explore in the musty wet spring evening. "Check out the cow over that way, her name is Daisy," we were told. "She's 23 years old!" (Apparently that is very old in cow years?) As soon as we started walking around everything started to feel so much calmer and all that frenetic energy the city demands of its residents seemed to fade away. We saw the rows of salad greens the farm sells at the Union Square farmers market, chickens with shiny feathers prancing around, ducks, clean and happy (and swine flu-free) pigs poking around in their pen, and a butterfly garden. I noticed that when I looked in one direction I could immediately feel confident I was in the middle of Amish country, turn in the other direction and I could see tall city buildings. This is the magic of urban agriculture.
I was charmed before I even had my first bite.
But what a first bite it was -- fried wonton wrappers with edamame hummus. Hapa Kitchen is inspired by poly-cultural culinary influences from Asian cuisine, with a focus on local, seasonal and organic. I tried to restrain my appetite as we munched on the hummus, curried deviled eggs and lamb pate. One of the servers handed out flowers with hair clips for women to put in their hair (the maypole and garland weaving had to be canceled because of the rain. No really, there was gonna be a MAYPOLE.) My inner hippie child, who I deeply try to hide in my everyday life, swooned.
After some appetizers and a glass or two of wine from the New York Wine & Grape Association, the farmers who'd raised the lamb that we'd be eating in multiple courses that evening from Apple Pond Farm gave a little talk. Based in the Catskills, Dick Riseling and Sonja Hedlund run an organic farm where they humanely raise animals and and power themselves through green energy. They've now helping other farms green their operations, and have become a renewable energy education center. When people think of organic farmers, it may unfortunately come with connotations of prissy idealists. This couple could not put that stereotype further out of your mind. Dick is a gruff but grandfatherly man with a deep voice, a white beard and a potbelly. When he started talking about how he felt mother earth was seriously hurting, he was so cast against type you couldn't not take him seriously.
And then we were off to the farmhouse for dinner. I somehow managed to forget my corset and hoop skirt, which would have been a perfect aesthetic fit. Long wooden tables with lanterns, stone hearths and fireplaces going, several small rooms with intimate tables -- hello 19th century!
There were sometimes leisurely pauses between the courses -- maybe the cooks were scrambling with their ambitious dinner for 40, but it gave us plenty of time to drink more wine, move to other tables, and further chat up our dinner companions. This was not the sort of night you wanted to go by quickly.
When the menu advertised a meal "featuring lamb," they weren't kidding. Lamb from Apple Pond was featured in every course but dessert, but with very good reason. This was the kind of lamb that was so decadent and flavorful in its many preparations that it made me question the lamb-like substance I'd been thinking was lamb all these years. I particularly liked the savory-sweet combination of lamb gyoza with apples, honey and yogurt sauce, and the Taiwanese-style "Three Cup" braised lamb with turnip-apple puree was so stupendous, that when one of the waitresses came by with an extra plate of it, thinking someone hadn't gotten one yet, we implored her to leave it with us and I and my 5 tablemates lapped it up in spoonfuls. The dish that I had to pick my jaw up off the floor over, however, was dessert: Curry carrot ice cream with cinnamon-sugar dosa. Yes, it was as exciting as it sounds.
At the end of the meal I tracked down both Cathy and Michael to tell them how great it was, and how much fun I'd had. They both, separately, looked at me sort of wide-eyed, and replied with a humble, "Really?" As if they couldn't quite believe it has all come together as the rousing success that it was. Yes, really. The only thing left I could possibly ask for is a seat at Hapa Kitchen's next dinner.
For a parting gift, here's the recipe for the Curry Carrot Ice Cream courtesy of Cathy Erway's awesome blog, Not Eating Out in New York.
Curry Carrot Ice Cream

(makes about 1 quart)

1 cup heavy cream
1 cup whole milk
1 cup coconut milk
1/2 cup packed finely shredded carrots
4 egg yolks
3/4 cup light brown sugar
1 1/2 tablespoons Indian or Japanese curry powder
squirt of lemon or lime

In a small bowl, beat the egg yolks and brown sugar until fluffy and the lighter in color. Set aside.

Combine the milk, cream, coconut milk, carrots and curry powder in a medium saucepan. Bring mixture just to a boil, then reduce heat to very low. Let simmer, stirring occasionally, for 25 minutes. (Do not let boil.)

While beating the egg yolk mixture, pour in a small spoonful of the hot milk mixture and continue to beat. Repeat process with a larger spoonful, while beating, then repeat again, and again. (This will temper the eggs, so that they don't cook lumpy.) Next, scoop all the egg yolk mixture into the hot milk mixture. Return heat to medium-low. Cook about 8-10 minutes longer, stirring frequently with a spatula to scrape all corners of the bottom of the pot. Do not let boil. The custard should be just thick enough to coat the back of a spoon, but have no lumps.

Let custard cool completely, then transfer to an airtight container and completely chill in the refrigerator at least 2 hours. Add the squirt of lemon or lime juice. Follow your machine's instructions for churning length. Add the chopped nuts in the last minute of the churning process. Transfer ice cream to an airtight container and freeze for 2 hours to "ripen."
Popular in the Community