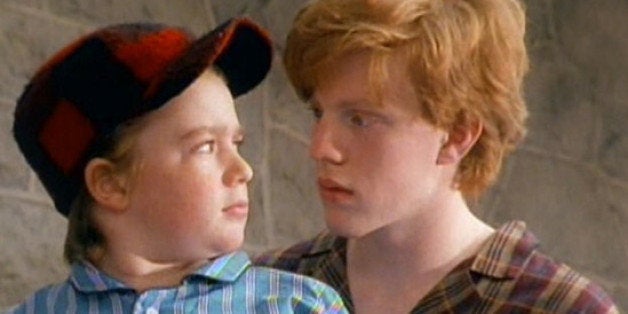 On Nov. 28, 1993, Nickelodeon debuted a show that ran for only three seasons. It was last seen in reruns a decade ago, its third season never appeared on DVD, and it has yet to appear on any streaming service. So why has every recent reunion of the cast of "The Adventures of Pete and Pete" turned into a sold-out, rapturously received event?
It can't be just because both leads are redheads (though that cannot be discounted as a factor).
Thanks to nostalgia and a stellar reputation that's still spreading via word of mouth, the fan base of "The Adventures of Pete and Pete," a goofy, heartwarming and surreal show about two red-headed brothers and their lovably strange world, shows no signs of going away.
"The kids in the show were off the beaten path a little bit -- the kids that we were portraying," co-creator Chris Viscardi said in an interview conducted at San Diego Comic-Con last July. "I don't know if we necessarily knew, 'That's who we're targeting,' but that's who we clearly did connect with in a huge way."
In the last two years, the cast has reunited several times for various celebrations of the show in New York, San Francisco, Los Angeles and Portland, Ore. -- events that have been lovingly and lavishly covered online and in social media. According to Viscardi and co-creator William McRobb, those events have gotten somewhat more ambitious along the way: They've evolved from panel discussions into full-blown celebrations that include the reading of key scenes from the show and the reunion of younger Pete's band, the Blowholes.
Marshall Crenshaw was among the rock 'n' roll luminaries who guest starred on the show back in the day; he played "Lightning" Mel Ratner, a meter reader and Blowholes bandmate. Crenshaw had never really been aware of the "Pete and Pete" fan phenomenon, so when the band took the stage at a reunion last year, he was "the most mind-blown person," McRobb said with a laugh.
One person hasn't been able to make it to some of the reunions: Alison Fanelli, who played older Pete's friend Ellen, is a pediatric surgeon, so is often unavailable for events. Talk about mind-blown: How many other successful TV programs starred kids who went on to be surgeons? That's just one sign of how different "Pete and Pete" was: Fanelli and stars Danny Tamberelli (younger Pete) and Michael Maronna (older Pete) are, by all accounts, well-adjusted and productive members of society, which is not necessarily the norm for former child stars. But then "Pete and Pete" wasn't like typical kids' shows in any number of ways.
Part of the appeal of the show, which started out as a series of short segments and specials before the official '93 debut, stems from the chemistry of the core cast, but also from the array of actors and musicians that it featured in supporting roles. Michael Stipe, Iggy Pop, Syd Straw, Gordon Gano of the Violent Femmes and Kate Pierson of the B-52s were among the many musical guests whom the show lined up (in part thanks to the influence of director Katherine Dieckmann, who also worked with R.E.M.). The presence of so many musical luminaries was part of the reason that I interviewed McRobb and Viscardi for a music publication in the mid-'90s. But the main reason was that, as is the case with most fans, once I'd seen the show, I was deeply hooked on its goofy yet humane worldview.
Steve Buscemi, Martin Donovan, Damon Young, Rick Gomez and J.K. Simmons, all of whom went on to become familiar faces on TV and in films, also played a variety of roles on the show, but the show's creators ranged far and wide to find guest stars who would make a certain kind of sense in the orbit of Pete, Pete and their parents, Joyce (Judy Grafe) and Don Wrigley (Hardy Rawls). Football player Art Donovan, sports commentator Frank Gifford and political pundit John McLaughlin all somehow fit into the Petes' skewed world. (McLaughlin appeared in an episode in which the brothers fought over Rolling Thunder, a bowling ball imbued with mystical powers. It still amuses me that the fate of "the celebrated sphere" was debated on the set of "The McLaughlin Group.")
The brothers' world, as strange as it could get, was resolutely familiar in many ways. Pete and Pete lived on a quiet suburban street and went to school every day; unlike many characters in later (and more broadly conceived) live-action shows aimed at kids and tweens, they had no superpowers, they were not wizards and they did not aspire to be pop stars. The show took it as a given that the kids would have strange and surreal adventures, but those adventures took often took place on that leafy street or at school, where a villain named Paper Cut roamed the halls. Pete and Pete were not somehow chosen to be famous or special; they created or responded to situations that made them and their friends feel special and that often helped them come to terms with the confusing challenges of childhood and adolescence.
Toby Huss, who played the memorable superhero Artie, the Strongest Man in the World, had to be coaxed into participating in the reunions, the creators said, but now he's an enthusiastic participant (though he won't don the costume again, alas). At some events, he and Tamberelli have read Artie's heartbreaking farewell scene with younger Pete.
"Nothing gets a bigger response than that moment," Viscardi said. The situation might have had its odd aspects -- most kids don't have their own personal superhero -- but the emotions of loss and love are universal. As surreal as the show could be, stories often revolved around relatable frustrations and everyday desires (Dad's desire to be declared the best vacation mastermind; younger Pete's quest to stay awake for days; an argument between older Pete and Ellen, which at one point involved a marching band playing "Love Rollercoaster" -- of course).
"We've always believed you don't have to go any further than your neighborhood -- you can have as many adventures as someone going to the moon," McRobb said.
Though many of their fans are in their 20s, 30s or beyond, they fondly remember the show's love of misfits, oddballs and the semi-surreal nature of everyday life. "'Thank God somebody was making a show about me, because no other shows were about me,'" is the sentiment they often hear from fans, McRobb said. "There was such intense emotional connection, because someone was speaking for them and to them and experiencing all that emotion and confusion and happiness and sadness."
McRobb and Viscardi are back at Nickelodeon as executive producers of the animated show "Sanjay and Craig," a show about 12-year-old boy and his talking snake, Craig.
After an era of more high-concept shows, "it's great for us to see Nick is kind of coming back around again to embracing that identity of being about kids and for kids, from a kid's point of view," Viscardi said. "It wasn't that way for a long time -- and they'd be the first to tell you that -- but it's becoming that place again."
They say that they've been gratified to hear of the influence that "Pete and Pete" had on the creators of well-regarded animated shows like "Gravity Falls," "Adventure Time" and "Regular Show." They cite "Louie" as a show that, like "Pete and Pete," has a very strong point of view as well as an affinity for unexpected digressions and whimsical tangents (albeit for a much older audience). They also said they felt a kinship with "Freaks and Geeks," another show that perfectly captured the humor and heartbreak of early adolescence. (I'd also propose the FX comedy "Archer" as a show that recalls "Pete and Pete's" hard-to-replicate mixture of sweetness, surrealism and intelligent wit, although you definitely don't want your kids watching it.)
So what's the future for the Wrigley clan? Sadly, there are no immediate plans for another reunion or new "Pete and Pete" projects, though the cast and the creators are still in touch frequently.
"It's kind of like, 'We got the band back together. Should we put out a record? Is that lame?'" McRobb said with a laugh. He and Viscardi aren't even sure why the show hasn't arrived on streaming services or why the Season 3 DVDs never came out, even though they did commentaries for it and signed off on cover art for the boxes.
"It's just this ongoing puzzle," Viscardi said.
But the legacy of "Pete and Pete" can be felt all over the entertainment world. Wrigley alums Janie Bryant and Scott Hornbacher are now wardrobe supervisor and executive producer, respectively, on "Mad Men," while Adam Bernstein, who directed episodes of the Nick show, has also directed "Mad Men," "Breaking Bad" and "Bored to Death," among other credits. The show's writers have gone on to work on any number of live-action and animated projects, including "Shrek," "Frasier," "Newsradio," "How I Met Your Mother," "Saturday Night Live" and "Buffy," among many others.
"We worked with all these really wonderful people, and [it was] kind of like our first time having a job in the business," McRobb said. "We just had a blast making every single episode."
Ultimately, "Pete and Pete" may owe its staying power to the fact that there really haven't been many shows like it, before or since.
"It was very much rooted in the world of a kid and the way kids saw life. We tried to tap into that as best we could, and there was nothing remotely like that going on in kids' TV for a long time," Viscardi said.
Popular in the Community