They say you shouldn't judge a book by its cover - but just this once, I wish you would.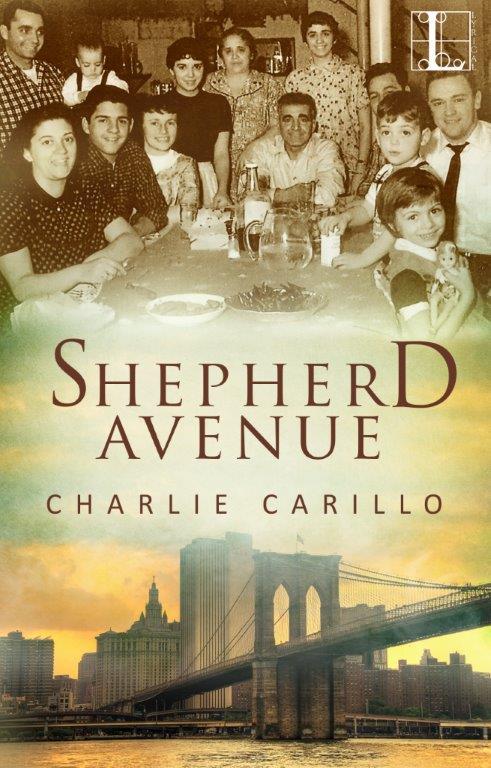 You're looking at the cover of my newly re-published first novel "Shepherd Avenue," and what makes this family photograph special is that it may be one of history's first "selfies."
See the man in the white shirt and tie? That's my late Uncle Gene, a German-American who happened to be a mechanical genius.
With the Carillo family gathered around Grandma's table at Christmastime in 1956, Uncle Gene set up the shot, rigged his camera with a timer and rushed back to the table in time for the "click."
Of course they all ridiculed him in the politically incorrect spirit of the time - "This won't work, you nutty German!" - until the picture came back from the drug store, and Uncle Gene had the last laugh.
(Boy oh boy, remember taking film to the drug store, and the sweet anticipation you felt waiting for that fat envelope full of pictures you could actually hold in your hands?)
Anyway, it worked! That's me in my father's arms, age one. The woman seated in front of us with the white collar is my mother, pregnant with my sister Mary.
Uncle Gene's photo really captures the spirit of my novel, originally published in 1986. It's set in the home of my Italian-American grandparents on Shepherd Avenue in Brooklyn, where we all gathered every Sunday, drawn there like boats to a lighthouse.
The passion! The lunacy! The laughter! The food! There was no place in the world I would rather have been than at 207 Shepherd, horsing around with my relatives in Grandma's basement.
(Which reminds me of a joke from those politically incorrect times: Why don't Italians commit suicide? You can't kill yourself by jumping out a basement window!)
One book would not be enough to tell this story, and when I wrote the soon-to-be released "Return to Shepherd Avenue," my wife Kim had a great idea for the cover - to re-enact that old "selfie" with the surviving family members.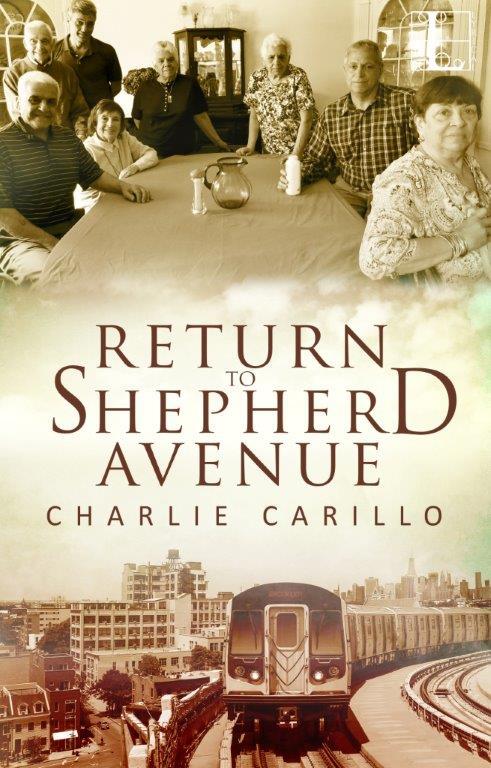 So here are the eight of us at my Uncle Sal's house, positioned as we were in the original photo, leaving gaps for the departed.
For the record you're looking at me, my parents, Uncle Sal, my aunts Jean and Anita, and my cousins, Frank and Carmela.
We kicked it around like old times, and the day flew by.
That's always the story when you're having a good time, isn't it? Back on Shepherd Avenue, it always felt as if we'd just gotten there when it was time to go home.
As in the original photo, Carmela is holding a doll, and Frank clutches a container of baby powder.
I didn't ask them to bring those props. They did it themselves. As you may have guessed, dramatics are deeply embedded in the family DNA.
By the way, the "Return" photo was not a "selfie." My wife took it. I doubt that any of us could have figured a way to do a modern-day "selfie" without screwing it up.
Somewhere, Uncle Gene is laughing.
Charlie Carillo is a novelist and a TV producer. His website is www.charliecarillo.co
REAL LIFE. REAL NEWS. REAL VOICES.
Help us tell more of the stories that matter from voices that too often remain unheard.
This post was published on the now-closed HuffPost Contributor platform. Contributors control their own work and posted freely to our site. If you need to flag this entry as abusive,
send us an email
.