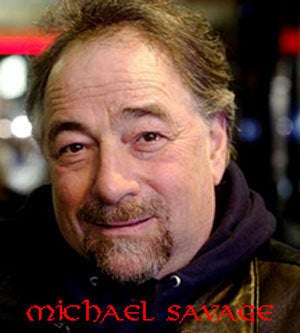 At least four major firms have pulled advertising from Michael Savage's nationally syndicated radio show following a campaign highlighting his inflammatory rhetoric. One other company, Geico insurance, is expected to follow suit.
The campaign, launched recently by Brave New Films, generated thousands of calls urging advertisers on the Savage Nation show to sever financial ties to the widely popular (and frequently offensive) talk host.
In less than a week, four agreed to pull their ads from the show, including Union Bank of California (whose representative says they were advertisers on the Savage show by mistake and were glad to be taken off), Intuit, Chattem, ITT Technical Institute.
"We are thrilled at the amazing response of the true patriots all over the blogsphere who responded to our NOSAVAGE campaign," Robert Greenwald, head of the film company, said in a statement. "People have called and emailed and the responsible sponsors have responded by pulling their ads and asking that their ads not be on this racist and hateful show."
But group who has segments run on the show is raising eyebrows by refusing to distance itself from Savage. The USO, a non-profit that does work for U.S. armed forces, wrote Brave New Films complaining about being targeted and even hinting at a lawsuit. The organization's lawyer Tony Bisceglie says it does not pay for the USO public service announcements that air on Savage's show.
"As a tax exempt not-for-profit organization, regulated by the Attorney General's Office of the state of California and the Internal Revenue Service, your organization may not engage in making false statements to solicit public support," Bisceglie wrote to Brave New Films. "Therefore, please take the necessary steps to remove USO from your website entirely to avoid further action on our part."
Bisceglie denied that the USO is considering legal action. But John Hanson, a spokesman for the USO, said the organization could ask for its PSAs to be taken off of Savage's program, and wouldn't. "Because then who is next?" he asked. "We provide no revenue for Michael Savage. We may improve his image. But we provide no revenue for him."
The reasoning was not enough to impress officials at Brave New Films who called it a lost opportunity for the USO.
"Considering the USO's role in the world," said Leighton Woodhouse, a spokesperson for Brave New Films, "we would have expected them to be the first to distance themselves from someone who is deliberately fanning the flames of hatred between Muslims and non-Muslims; we were sorely disappointed."
The campaign by Greenwald mirrors an earlier initiative taken on behalf of the Council on American-Islamic Relations. In both cases, Savage's invective was used against him as fuel for advertisers to rescind their financial support. Highlights of the radio host's statements include:
•To "save the United States," lawmakers should institute "outright ban on Muslim immigration" and on "the construction of mosques."
•"90 percent of the people on the Nobel Committee are into child pornography and molestation, according to the latest scientific studies."
•The U.S. Senate is "more vicious and more histrionic than ever, specifically because women have been injected into" it.
•Adherents of Islam would do well to "take your religion and shove it up your behind" because "I'm sick of you."
Brave New Film's video on Savage can be viewed here:
Interestingly, while Brave New Films and CAIR have run identical campaigns against Savage, the radio host has only filed a lawsuit against CAIR. His claim: that his comments were taken out of context and illegally made available.
A call and email to Savage's radio station was not returned.
According to an account in the New York Times, Savage broadcasts his show out of three "virtual safe houses" - whose location he will not reveal - and "is licensed to carry a pistol and does so," out of fears for his life. His program reaches an estimated eight million listeners a week on nearly 400 stations.
Popular in the Community