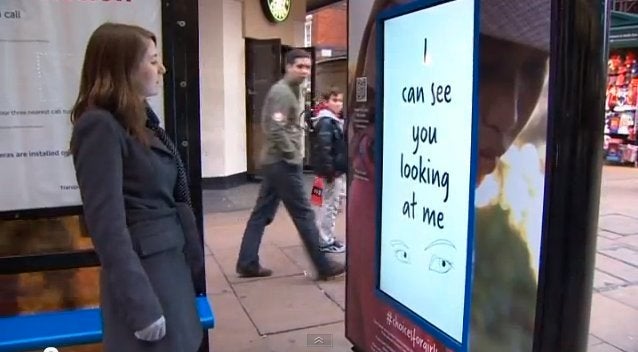 You may have noticed that if you searched for "bachelorette party gifts" online recently, the ads on the right bar of your Facebook page after your search may have been full of anatomically-accurate "male" drink stirrers and neon boas, or perhaps teasers for the NBC show "The Bachelor." For over a decade, online advertisers have used cookies -- text files that can identify your age, gender and preferences and track where you go and what you do on the Internet -- to target specific demographics.
But two recent offline attempts by advertisers specifically aimed at women have been causing a great deal of controversy -- and, some would argue, harm.
Plan UK's "Because I Am A Girl" campaign uses facial recognition software mounted on a bus stop and, if it recognizes a female face -- which the charity says it does accurately 90 percent of the time -- shows the viewer a video from the "Because I Am a Girl" campaign urging them to support the education of young women in developing countries. Men are just shown brief stats and a URL. Plan explained on its website: "We're not giving men the choice to see the full ad so they get a glimpse of what it's like to have basic choices taken away." While this is all well and good, are men really going to be upset about missing 40 seconds of advertising? Or is it more upsetting to walk up to a bus stop and trigger something with your eyes, just because you are a woman? And as Jezebel's Cassie Murdoch said, "you can bet this technology is going to be used to make sex-specific ads for products that are a lot less worthy, like mascara and Maxim."
The facial recognition ad was announced on the heels of Charles Duhigg's story in last week's New York Times reporting that a father had learned of his teenage daughter's pregnancy through a Target mailing addressed to her and filled with baby gear. The company had assumed she was pregnant by analyzing her buying habits, then sent her coupons for cribs and diapers long before she had broken the news to her family. Duhigg interviewed Andrew Pole, the statistician behind Target's pregnancy-prediction model used to identify women in their second trimester. According to Duhigg, new parenthood is one of the few moments when a person's brand loyalties are "up for grabs," so retailers try to target those customers early.
Pole admitted to Duhigg that not all prospective shoppers would welcome this strategy -- particularly pregnant women: "If we send someone a catalog and say, 'Congratulations on your first child!' and they've never told us they're pregnant, that's going to make some people uncomfortable," Pole told me. "We are very conservative about compliance with all privacy laws. But even if you're following the law, you can do things where people get queasy."
Comments from a Target executive Duhigg interviewed were even more unsettling. To avoid said queasiness, he said, the company now takes care to mix ads for diapers and strollers in with seemingly random items:
we found out that as long as a pregnant woman thinks she hasn't been spied on, she'll use the coupons. She just assumes that everyone else on her block got the same mailer for diapers and cribs. As long as we don't spook her, it works.
It's not hard to see why companies are specifically examining women's shopping habits -- women control over $20 trillion, or 70 percent of global consumer spending, according to BusinessWeek. And you could argue that Target and Plan UK are just doing what marketers have done digitally for a long time. But there are major privacy issues with some of the data collection practices of Google and Facebook, so why spread them offline?
What do you think: Is a company knowing your gender and whether or not you're pregnant part of creating a more tailored, helpful experience for consumers, or an invasion of privacy? Where do you draw the line between targeted advertising and making women feel like a target?
Related
Popular in the Community