Can you trace the source of your professional motivation to a single event or person?
As CEO of the American Heart Association and American Stroke Association, I'm privileged to interact with many amazing leaders in cardiovascular medicine, technology, business and beyond. I'm always fascinated by the backstory of how each chose the path into a particular field.
When it comes to medical professionals, some simply love the science. Others are drawn by the desire to help people. And then there are those to whom it's personal.
Dr. Steven Houser fits all three categories.
After four years of playing college basketball as an undersized power forward at a Division III school, the NBA didn't come calling for him. So he pursued a Ph.D. at Temple University Medical School in his hometown of Philadelphia.
Initially, neuroscience piqued his interest. He was studying the neuromuscular structure of lobsters when he got a call from his mom.
His dad was sick. Real sick.
What happened next changed Dr. Houser's career path.
The journey he embarked upon led him to become Director of the Cardiovascular Research Center and Senior Associate Dean of Research and Professor at his alma mater, now known as the Temple University Lewis Katz School of Medicine. And, I'm proud to say, he's also President of the American Heart Association and American Stroke Association.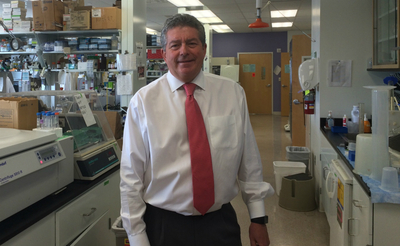 It's my pleasure to turn this spot over to Dr. Houser so he can share more about his Dad and for him to provide some practical advice on both health and life.
My father was part of The Greatest Generation. He was among the many Americans who grew up during the Great Depression and then fought for our country during World War II.
Robert Harold "Bob" Houser didn't talk much about his military career. About all he shared was that he was a radioman in the Navy and that he saw action in the Pacific.
I also know he came home with a three-pack-a-day smoking habit that he never kicked.
His cigarettes were always handy. They were there when he coached my baseball team, when we went fishing and when we were on the sofa watching our beloved Eagles and Phillies on television.
Being a smoker was common for his era. So was the fact my Dad probably never had his blood pressure or cholesterol checked. And then there was his diet; again, it was typical for the 1950s and '60s but not the kind of thing you'd find in an AHA brochure nowadays.
You can probably see where this is going: To a heart attack. Only there's a bit of a twist to it.
Dad missed a single day of work because of what he described as a chest cold. It took seven years before we discovered he'd suffered a heart attack. We learned this at the same time as he was diagnosed with congestive heart failure. He died within a year. He was only 51.
I was in graduate school at Temple University School of Medicine at the time, working on a thesis in neuroscience. All the time spent by his bedside got me interested in cardiology. I switched the focus of my thesis and, for the last 35-plus years, I've been working to stomp out the disease that claimed my Dad.
Along the way, I've learned a lot of lessons that go well beyond medical journals. I believe these themes are applicable to everyone. For instance:
Know your risks and make sure those you love know theirs. Then do something about it!
I can only imagine how much longer my Dad might've lived had he been exposed to preventative campaigns such as Life's Simple Seven.
Put it this way: If you don't regularly get your cholesterol and blood pressure checked, if you smoke, if you eat an anything-goes diet, then you are no better off than someone who lived (and died) several decades ago. Why wouldn't you take advantage of the tools and techniques now at your disposal to allow you to live a longer and happier life?
Maybe it's not you specifically, but people you love. Encourage them to get on the road to better health. Use my Dad's story as a cautionary tale if you must.
Prevention is everything. While much of my career is based on work done in my laboratory, we all know the best way to avoid a heart attack and heart failure is by staying healthy.
I work in Philadelphia, so cheesesteaks are always a temptation. But I only dabble occasionally -- and only when I've been keeping up with the rest of my fitness goals, such as regularly taking a brisk walk.
Believe in yourself ... even when others don't.
Early in my career, I had an idea for a research project. I applied to the National Institutes of Health for grant money to fund the research.
The NIH said no. So I tried again. I heard no again. The cycle repeated a third time.
I took a break from the NIH and sent my research proposal to the American Heart Association and was awarded $7,500. I appreciated it so much that I became a volunteer. Now I'm the organization's 80th president and the first Ph.D. basic scientist in that role.
Funny thing is, I've never gotten another research grant from the AHA.
I learned from my AHA success and then went back to the NIH for my next project and they've supported me ever since ... for grants totaling more than $25 million.
Preventing other families from enduring the devastating loss my family felt led me to this area of research. And after about 25 years of studying why failing hearts weaken and how to make them stronger, I felt that we had made progress but were not going to be able to go much further with this line of research.
So about 10 years ago, I decided to take a different path. I would still study what happens to a heart that's failing after a heart attack, but I would take on a new aspect.
Many of my peers couldn't believe that someone so established in one area would start over in another. But I felt energized by the challenge. The further I've gone down this new path, the happier I am to have made the change.
Maybe such a shake-up isn't right for you. But if you are thinking about making an abrupt change decades into your professional life, I hope my tale might help inspire you to go for it.