As part of our Blended Family Friday series, each week we spotlight a different stepfamily to learn how they've worked to bring their two families together. Our hope is that by telling their stories, we'll bring you closer to blended family bliss in your own life!
Sara Frost and her husband Russell have six kids together, all under the age of 14. Needless to say, things get a little crazy sometimes at home, but it's a unique brand of crazy she's come to love.
"My husband and I started out unsure of starting all over again. When you have kids, it's definitely a gamble in many ways," she told The Huffington Post. "Since then, we've learned tricks for disciplining as a team and a bond has definitely grown."
Below, the mom shares what she's learned from almost five years of blended family life.
Hi Sara. Please introduce us to your family.
There are six kiddos between me and my husband Russell. There's Candiss, 14; DJ, 10; Landen, 8; Makayla, 7; Jayden, 5; and Gavin who's six months old. Gavin is my son with Russell. I like to say the little guy was the one who sealed the deal and glued us all together for good.
Russell and I will have been together five years this August. We celebrated our first wedding anniversary on Valentine's Day.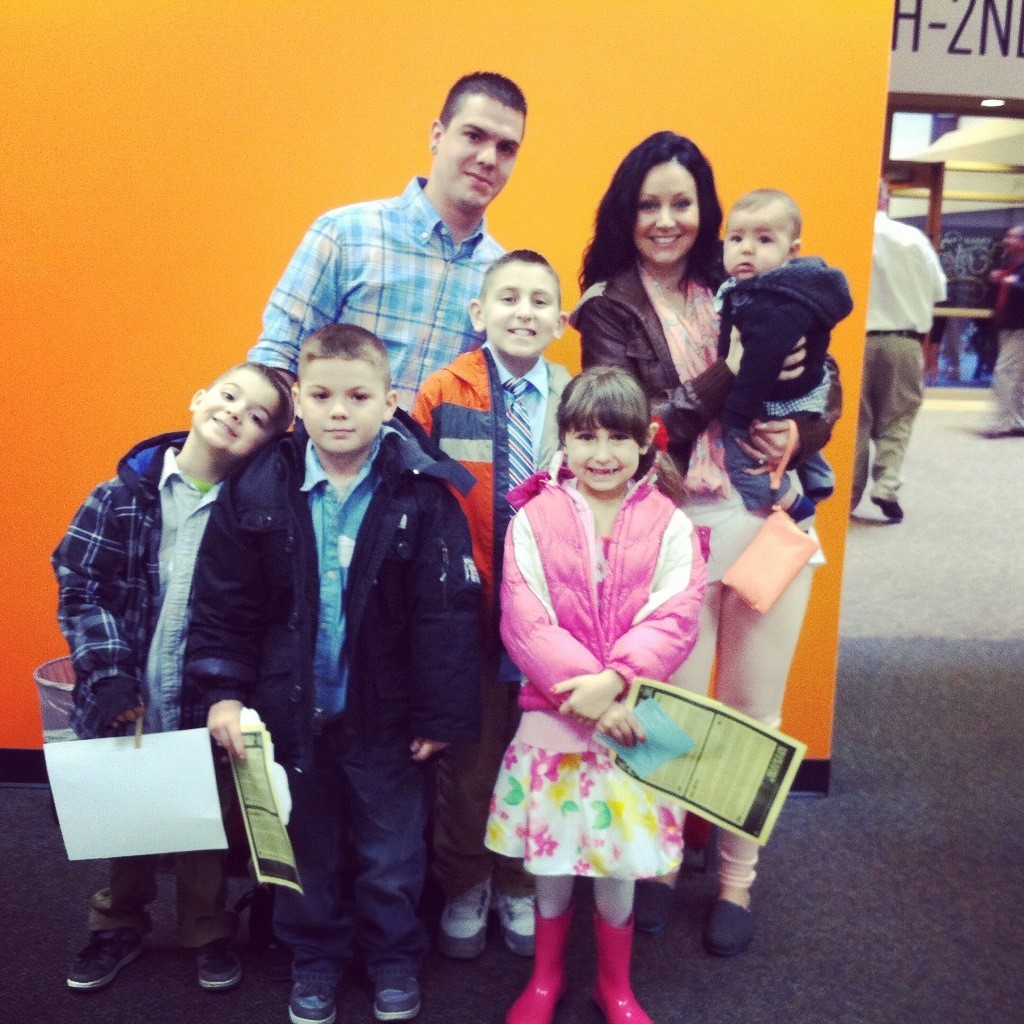 (Photo courtesy of Sara Frost)
What are some of the biggest challenges of blended family life?
The biggest one is discipline. It's rough getting another person's child to listen to you. And just keeping track of everyone when we go places is hard -- we do a head count when we go in and when we leave! And then of course, general kid challenges: Trying to keep them all from fighting with each other, getting them to do chores and absorb life lessons we try to teach them along the way.
What do you appreciate most about being a parent in a blended family?
The best part is all the extra love involved. Being able to teach kids different views and experiences from other types of backgrounds is also great; we live in New York but I'm originally from Colorado, so it was a major culture shock moving here. I also love having such a large family. My husband and I often sit back and think how sweet it is that no matter what happens in life, our kids will always have a group of brothers and sisters to fall back on.
How do you deal with stress with so many little ones under one roof?
Stress in any household is a given, but with six kids and two adults with their own parenting styles, tension can be high. We've worked out our discipline challenges by using behavior charts with the kids: if they do well, get caught doing something nice or complete a chore on their own without being asked, they're rewarded with something small. If they misbehave, they have something taken away from them and we make sure they understand why.
When you're starting to feel stressed as a parent, you have to remember to see the good in the situation and realize how important it is to have fun with the kids while they're still young. It's so rewarding when you teach them something new or watch them be silly. I love how they all are so different -- there's a variety of cuteness in our house!
What makes you proudest of your family?
I am proud of our family because no matter what we accomplish in life -- no matter what we have or don't have -- we all have one another. We have love. And all of our kids make us proud by accomplishing the little things in life that will someday be more important than they realize now.
What's your advice for blended families struggling to come together as a family unit?
In any blended family, the hardest thing is never really knowing if it will all work out between everybody. The kids are adjusting to a whole new world and a whole new setting and that can be rough. From my personal experience, it's a long road. I love where we are now but it took a lot of time. I have found if you try to find common ground or a common interest you can build a bond through that. If you're in the beginning stages and aren't adjusting well, know that it does get better. Just breathe and have faith. Life is one crazy journey; you might as well enjoy it with all the people you love.